Triple Chocolate Nutella Trifle Dessert Recipe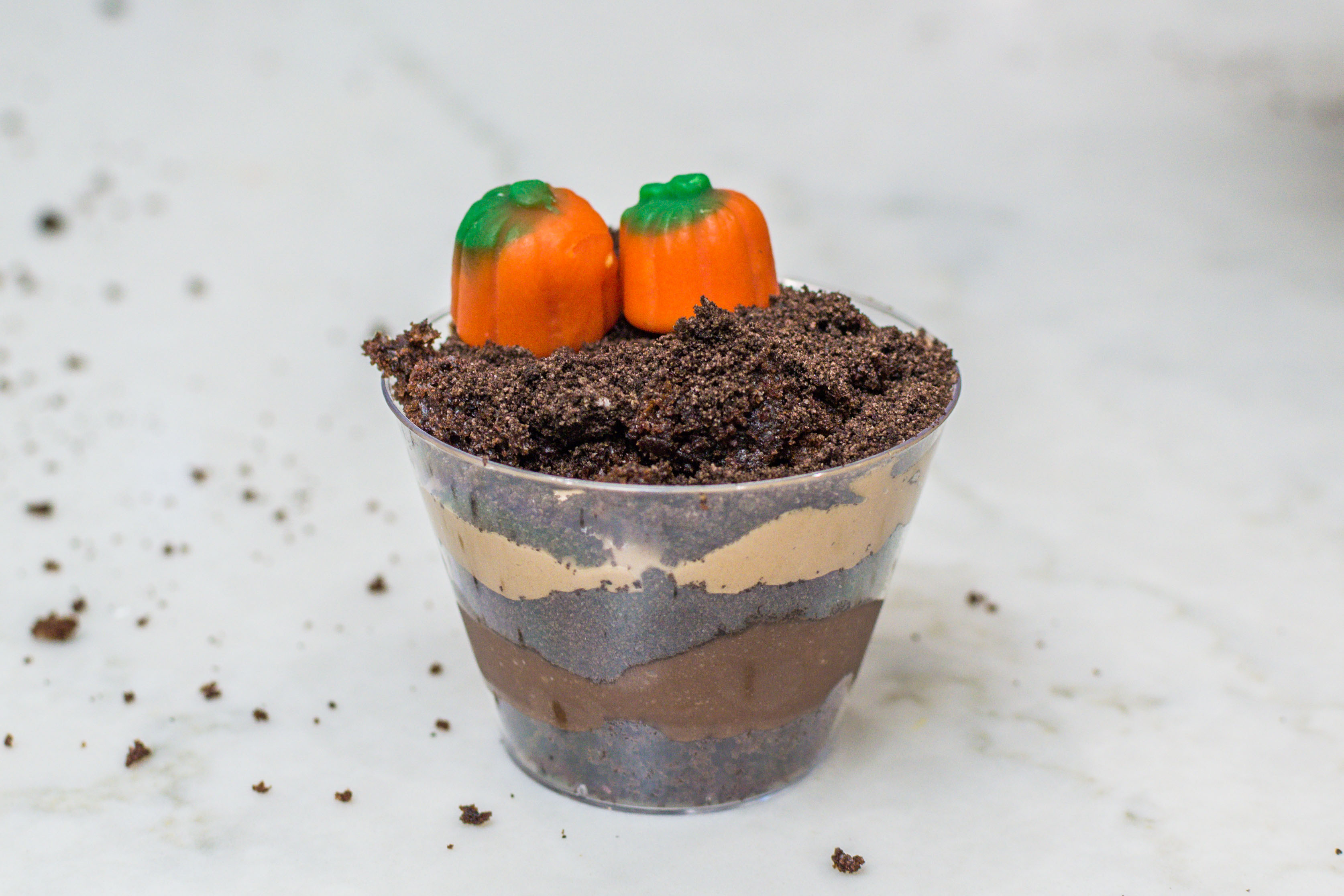 *This life-changing post may contain affiliate links, friend. Tap to learn more than you ever wanted to know.*
---
Have you guys ever seen the Friends episode where Rachel makes the trifle on Thanksgiving? She's famously a terrible cook and Monica finally lets her help with Thanksgiving dinner by making the dessert.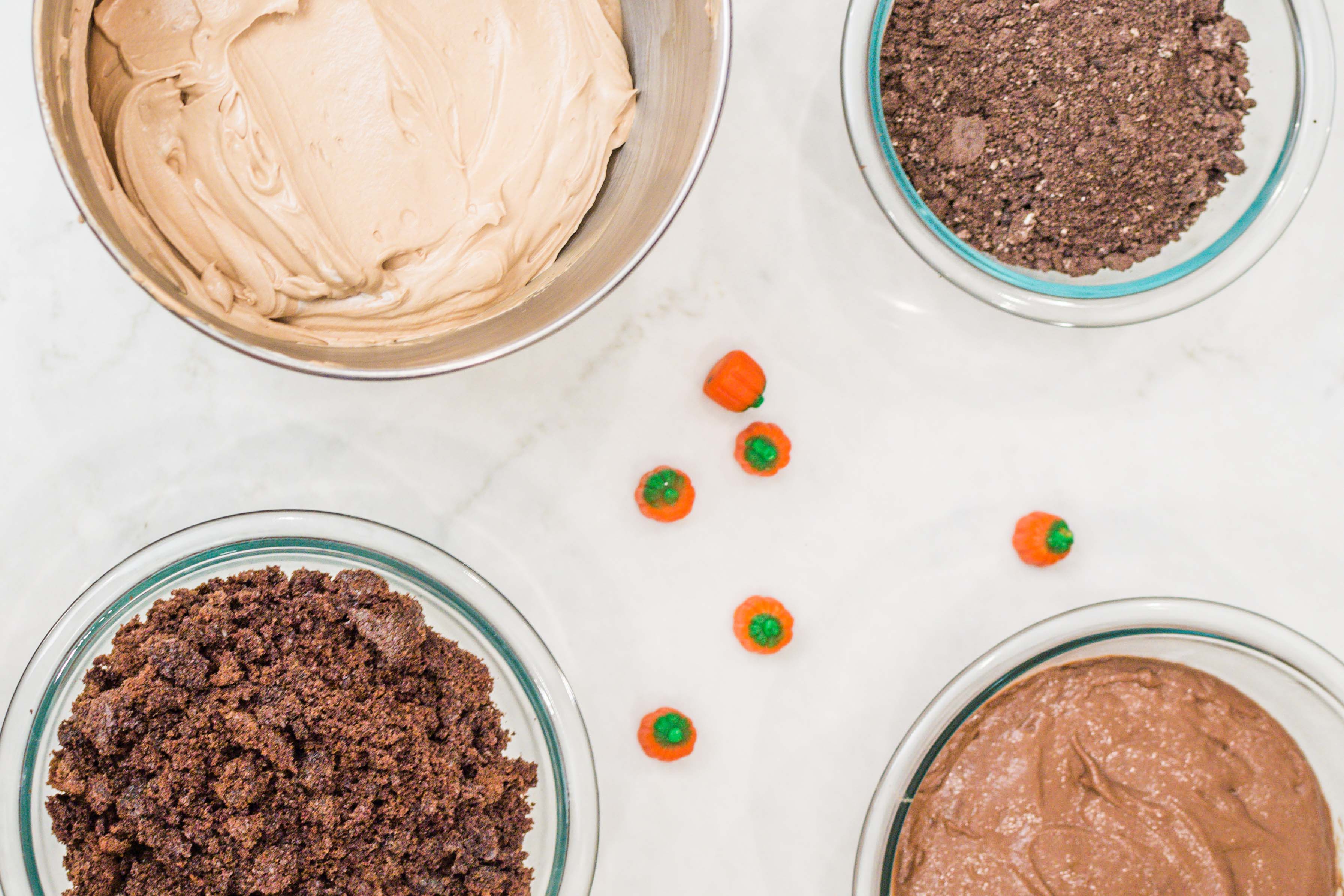 Friends: The one where Ross got high.
She decides to make a traditional English trifle and shows it off to her friends, proudly describing the layers as, "A layer of ladyfingers, a layer or jam, a layer of whipped cream (which I made from scratch), a layer of beef sautéed with onions…"
The cookbook she was using had its pages stuck together so she made half an English trifle and half a shepherds pie. And poor Rachel, who doesn't know how to cook, didn't even notice. Every time I hear the word "trifle" I always think of that scene.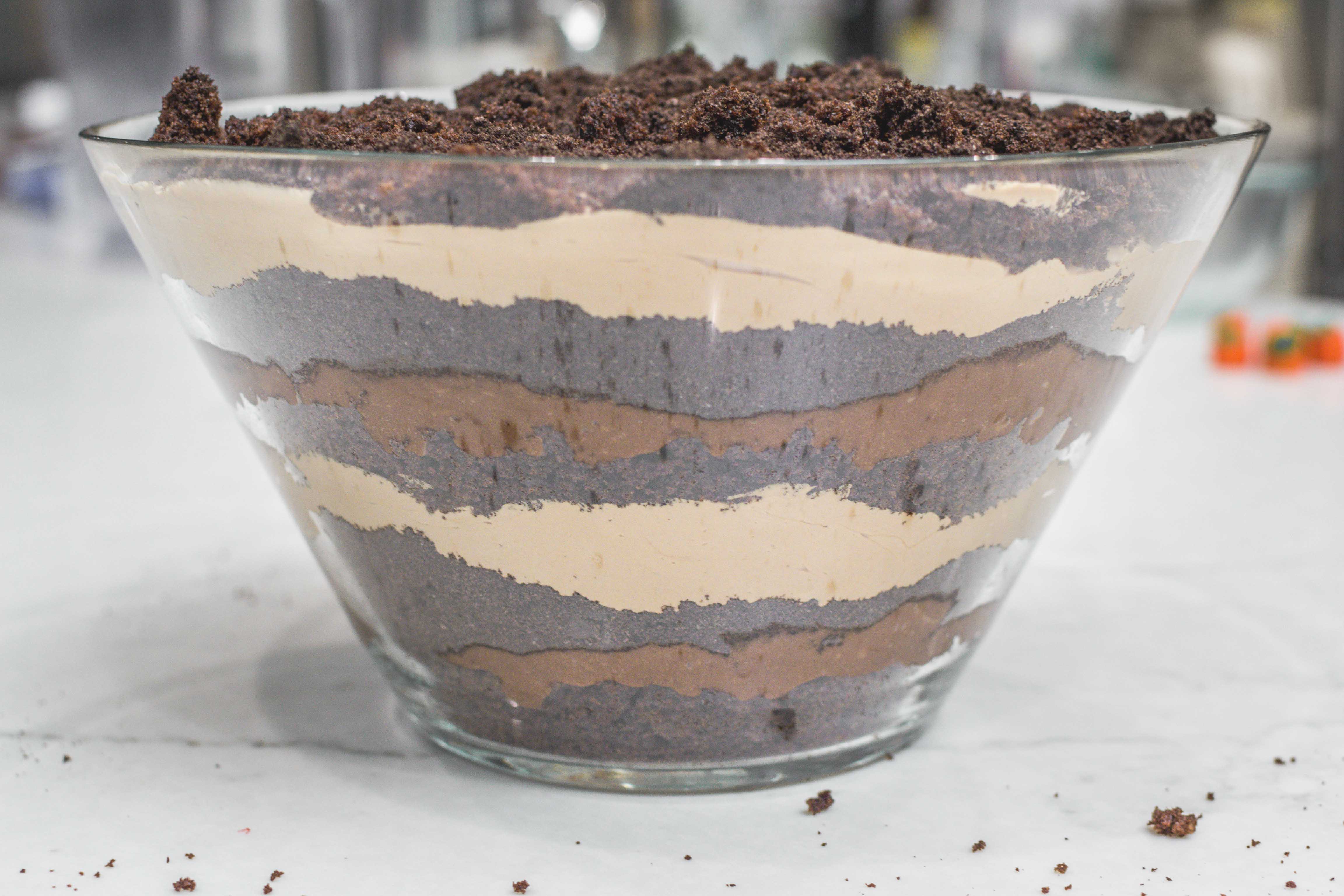 All the chocolatey layers.
This trifle is nothing like that trifle (thank goodness!). There are no ladyfingers, no jam and definitely no beef sautéed with peas and onions. But there is whipped cream. And it's Nutella whipped cream, so you know that's going to be good.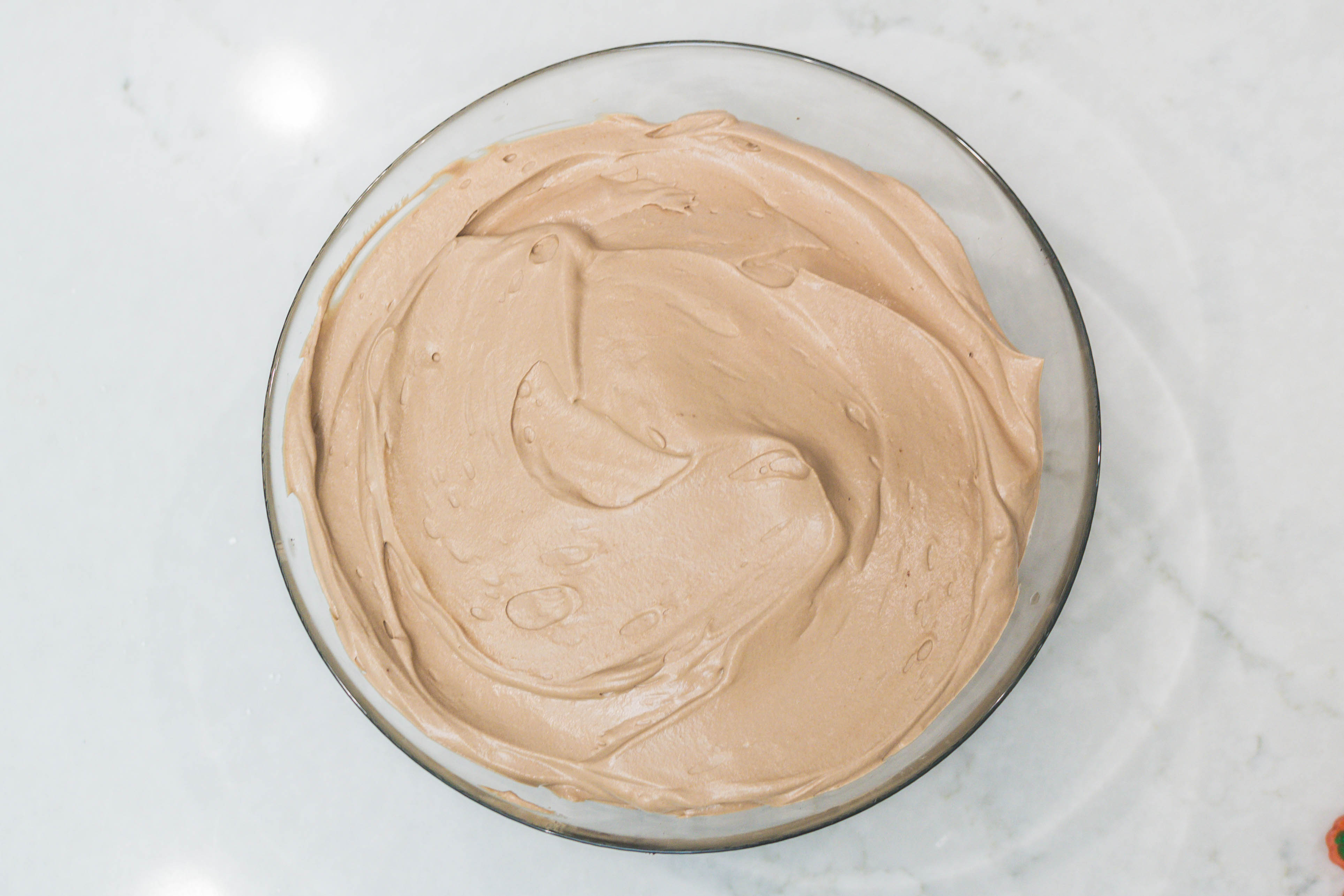 And it doesn't stop there. There's even more chocolate 3X in the form of chocolate pudding, Oreos and brownies or cake crumbles. Get. In. My. Belly.
The thing I love about a trifle is that it looks so pretty and fancy and like it took you all day to make and put together, but it's really pretty simple. It'll be our secret. You can also assemble it in a fancy trifle dish. Although a pretty, tall glass bowl works just as well.
This trifle can be assembled really quickly once the components are all made. It hits the spot for any occasion (I would DEFINITELY not judge you if you made it just because it was Thursday and you wanted a delicious treat), but look how cute it is for fall / halloween as a little pumpkin patch! Not fall? Simply replace the candy corn pumpkins with pieces of your favorite candy.
The cake or brownie crumbles mixed with Oreo crumbs look like dirt, so why not finish it with little mellowcreme pumpkins and pretend it's a pumpkin patch? Perfect for your fall party or get together. Fancy and so pretty, but also kind of just a giant bowl of dirt pudding for adults.
---
Trifle dessert recipe layered with ground Oreos, Nutella whipped cream & crumbled brownie or chocolate cake topped with mellowcreme candy corn pumpkins.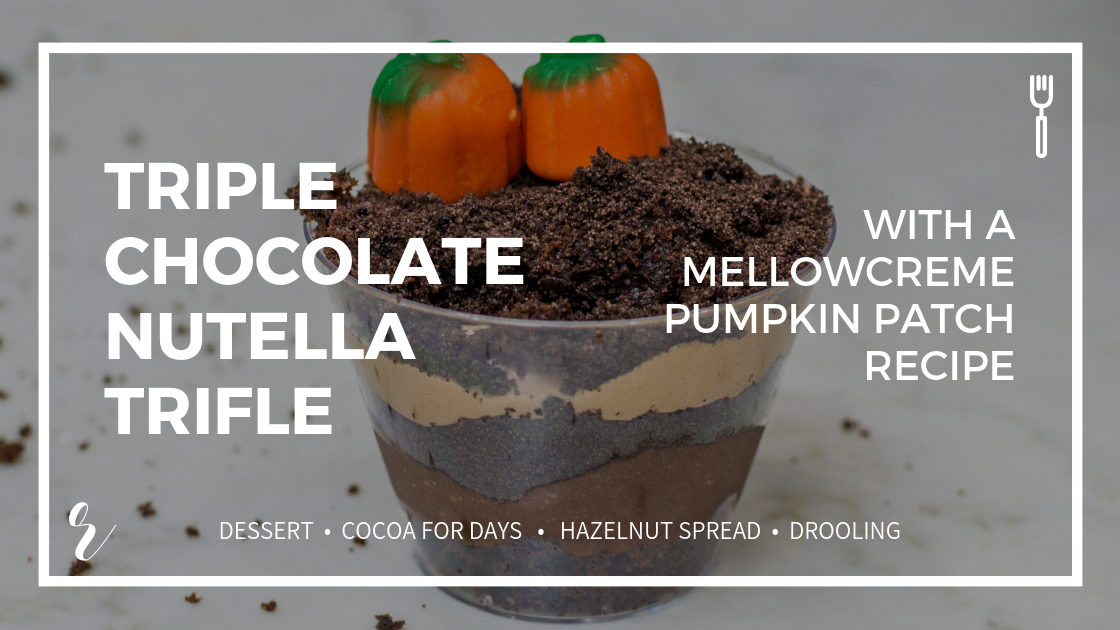 Ingredients – Nutella whipped cream
3 c heavy cream (very cold)
1 – 13 oz container Nutella
¼ tsp salt (super important to help balance out the sweetness)
Ingredients – trifle
3 ½ c chocolate pudding (or 3 ½ c homemade chocolate pudding)
Mellowcreme pumpkins (We bought a couple bags of this, picked out the pumpkins and ate the candy corn)
Directions & such
1
If you're making your own brownies or cake, make those first so they can cool. When they are cool, crumble them into pieces with your hands and set aside.
2
Make the pudding according to the directions on the package and set in the fridge to chill.
3
Dump the entire package of Oreos into your food processor and pulse until finely ground. Alternatively (if you like bigger Oreo chunks), place Oreos in a sealed ziptop back and whack gently with a rolling pin until they're broken up into your perfectly sized pieces. (This trifle isn't an exact science, just go with what you like.)
4
Make the Nutella whipped cream:
Pour the heavy cream into a stand mixer fitted with the whisk attachment or a bowl if using a hand mixer. Make sure the cream is very cold for optimal whipping. Beat the cream on medium-high speed with the mixer until soft peaks form. (Soft peaks means the whipped cream barely holds its shape and flops over immediately when the beaters are lifted.)
5
Add in the Nutella and salt and continue whipping, scraping down the bowl as needed with a rubber spatula until the Nutella is fully incorporated and the cream has stiff peaks. (Stiff peaks stand straight up when the beaters are lifted.)
Image source: Fine Cooking.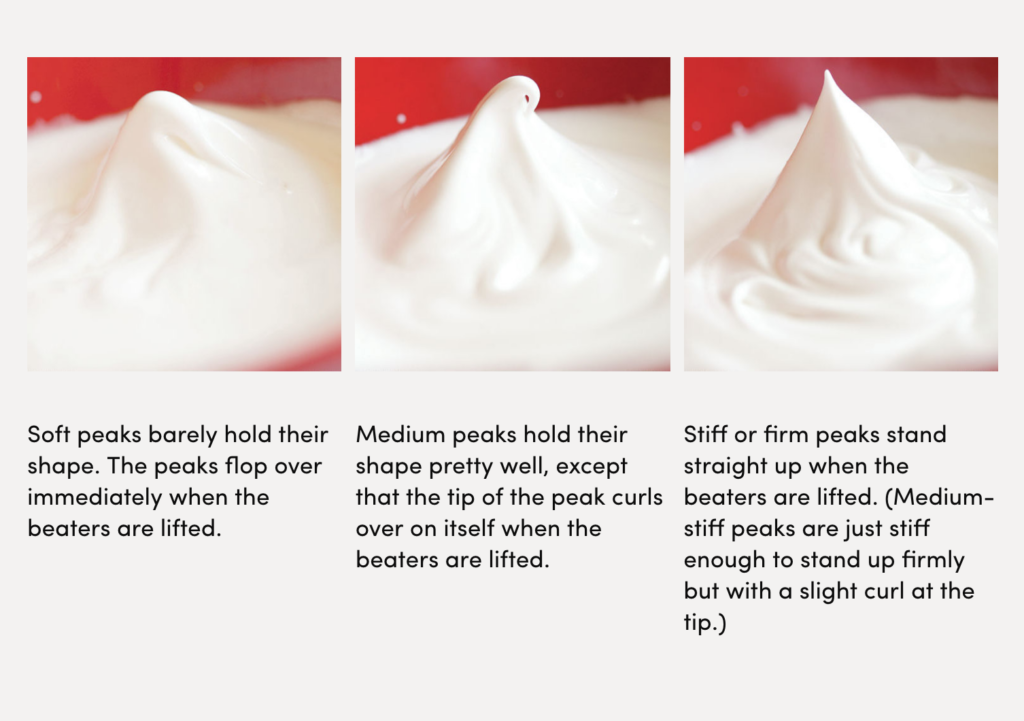 6
Assemble the trifle:
Begin with a layer of cake or brownie crumbles as a base. (You will have 3 layers of this so budget your cake / brownie accordingly).
7
Then layer pudding, Oreo crumbs, then Nutella whipped cream.
8
Repeat again with another layer of cake or brownie, then the rest of the pudding, most of the Oreo (reserve a small amount for the top) and the rest of the Nutella whipped cream.
9
Finish with a layer of combined cake / brownie and Oreo so that it looks like dirt. Top with the mellowcreme pumpkins for a pumpkin patch look.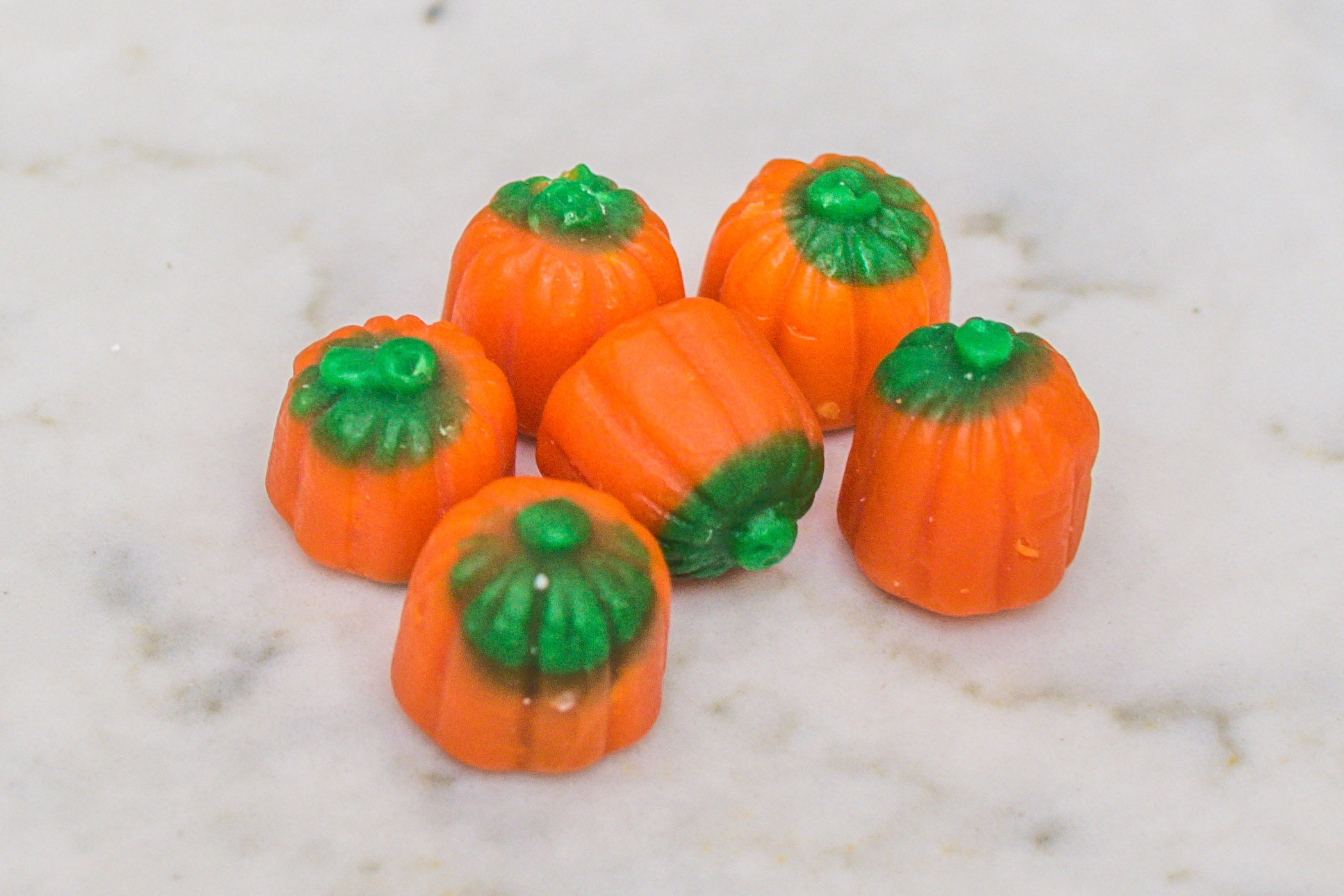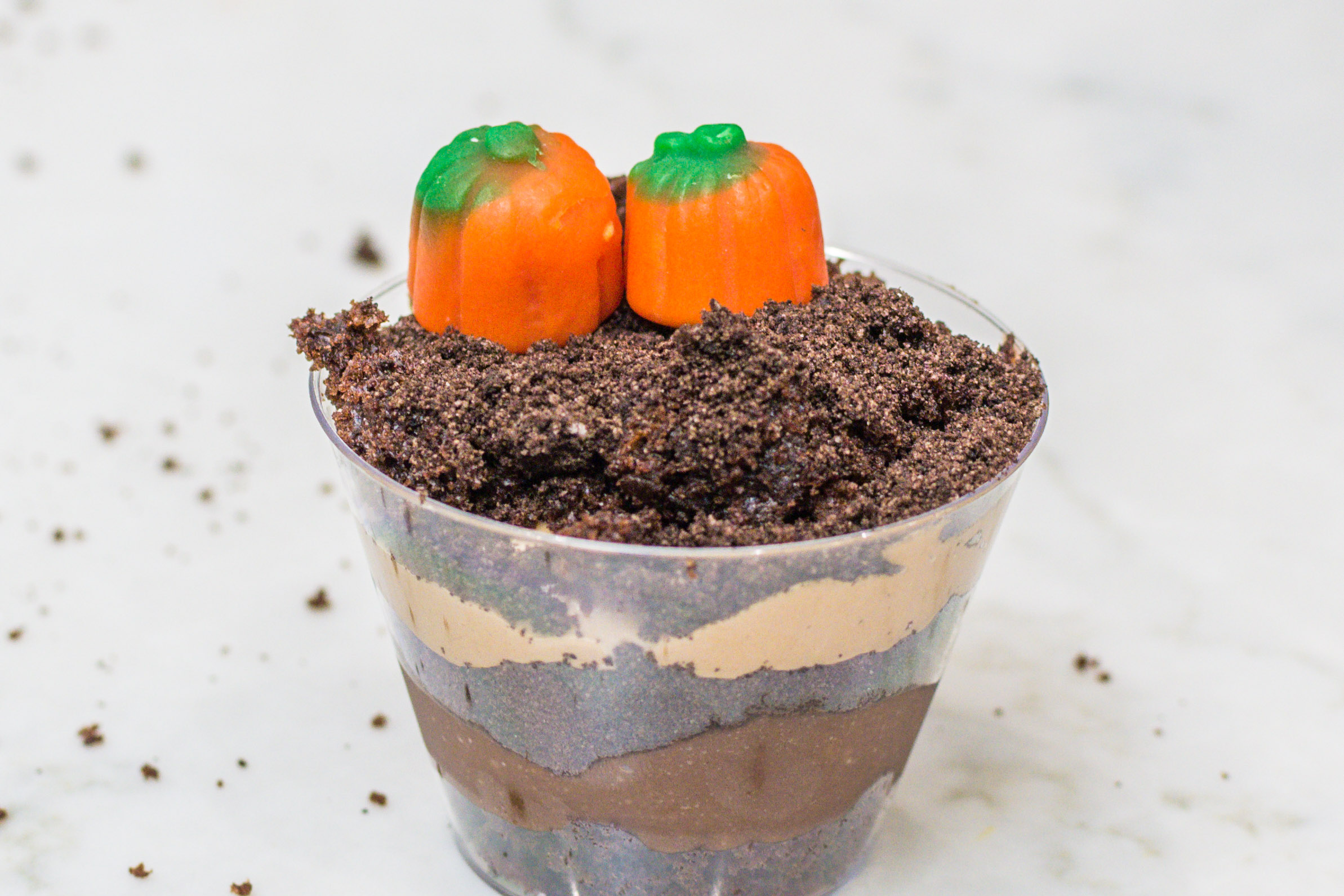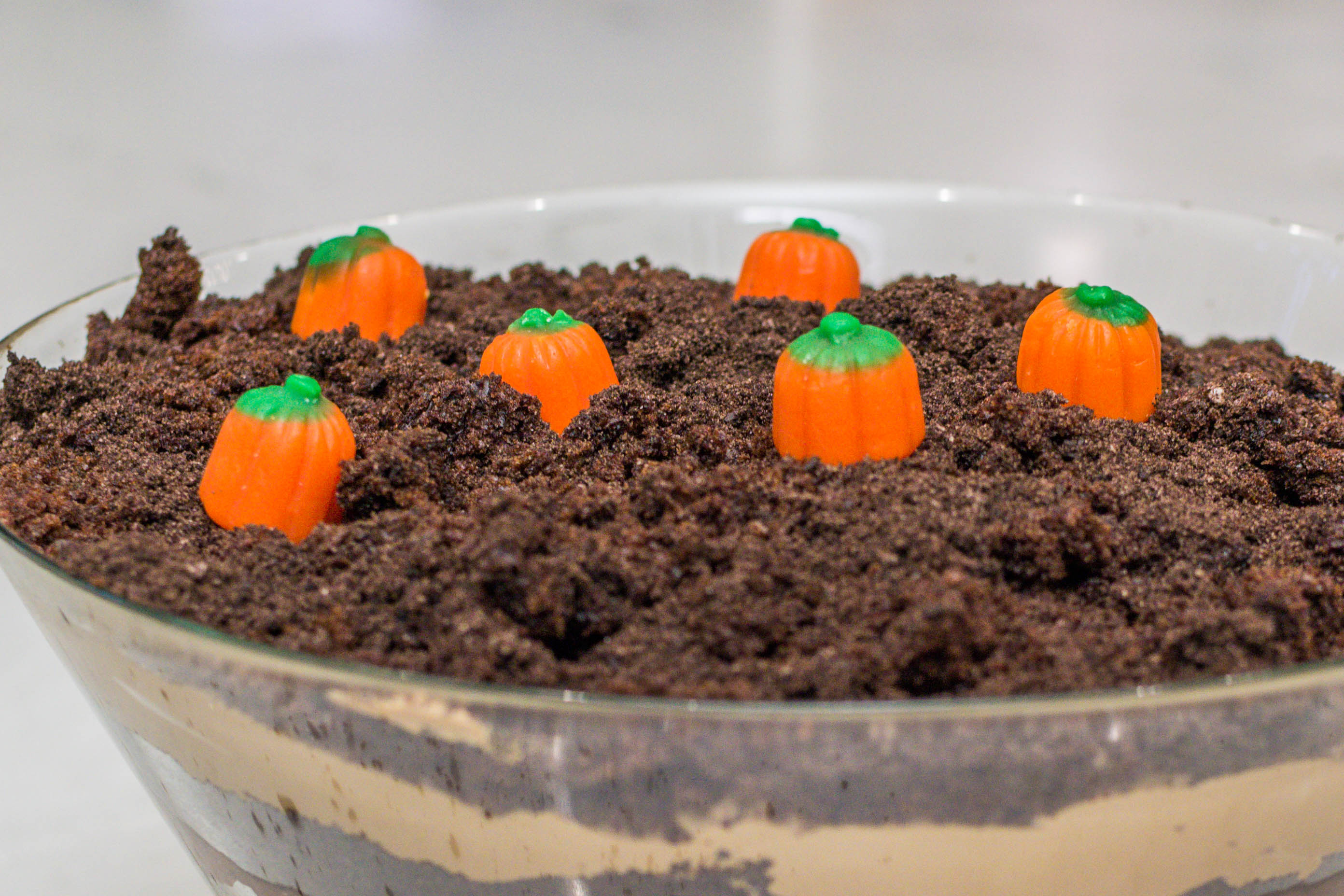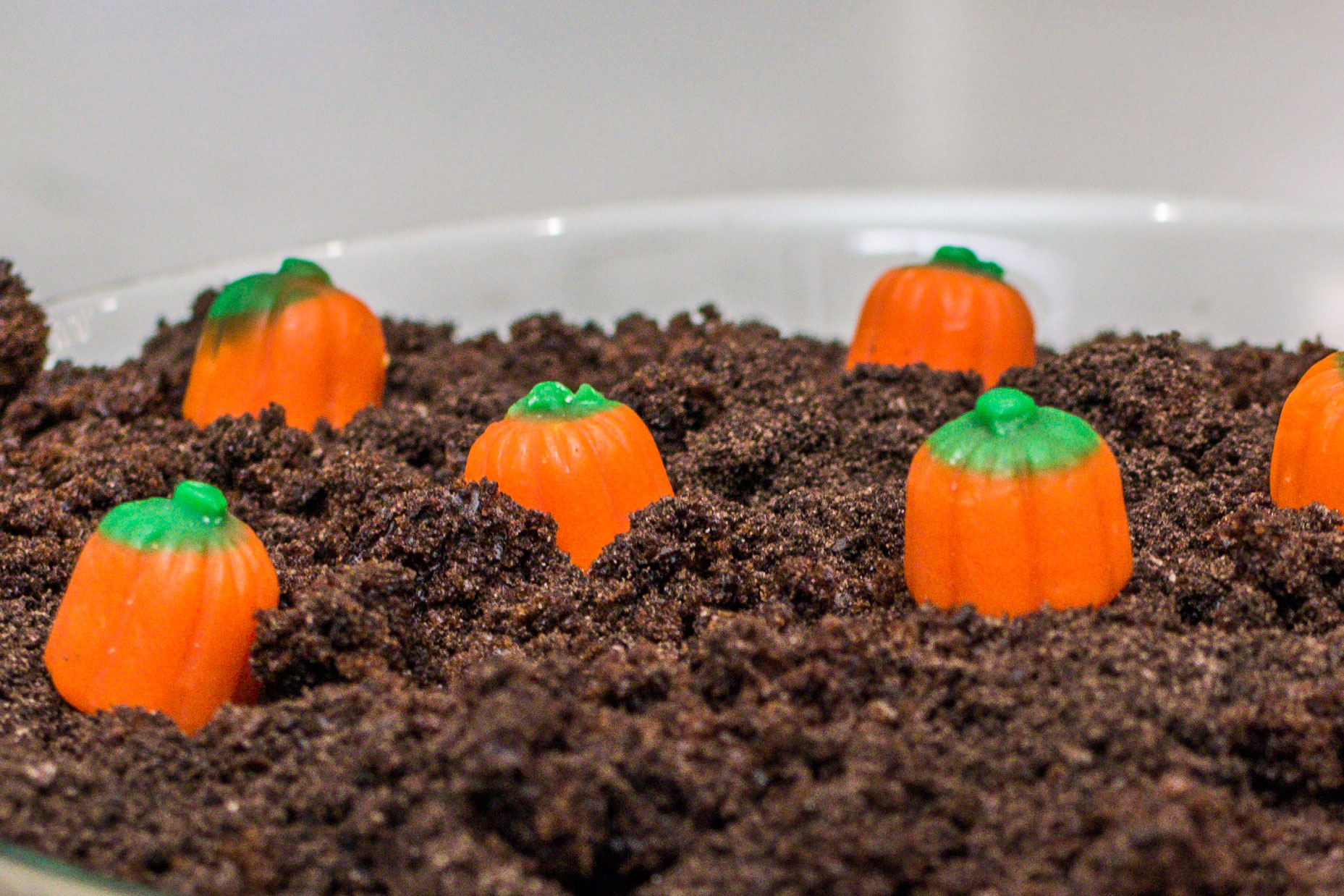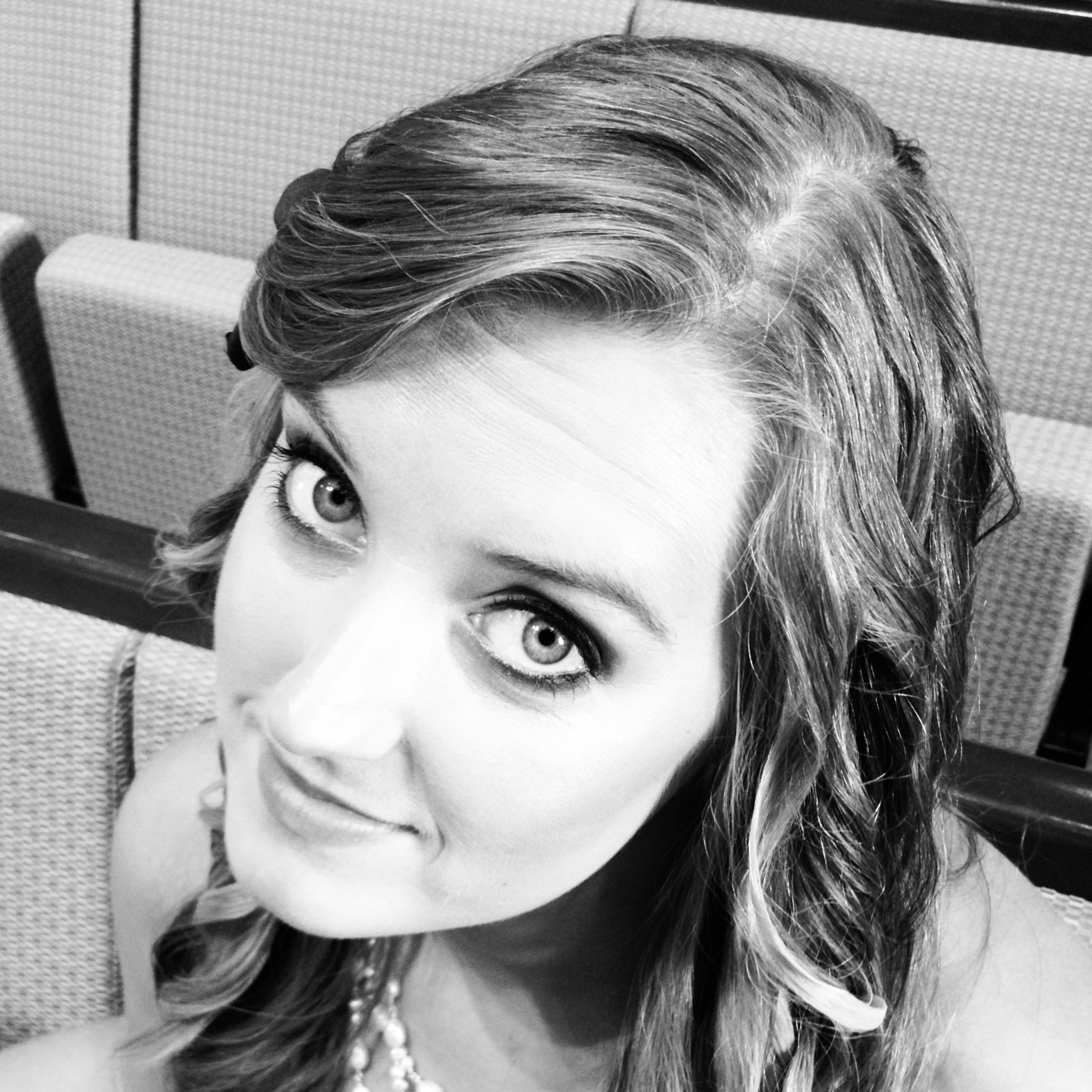 Mother-blogger (watch your mouth). Frugal Foodie. Never measured an ingredient in her life. Modern Minimalist. Hospitalitizer. The plan executor. The design eye. The sweet & salty, sugar & spice, fire & ice, no fuss, no frills, put your big girl panties on and take it like a woman. Achiever. Winner. The inclusivist. Your fierce advocate. Best friend to many. True to all.
---
---