57 Item Complete Gift Guide for the Beginner DIY Woodworker, Handy Homeowner or Thrift Store Refinisher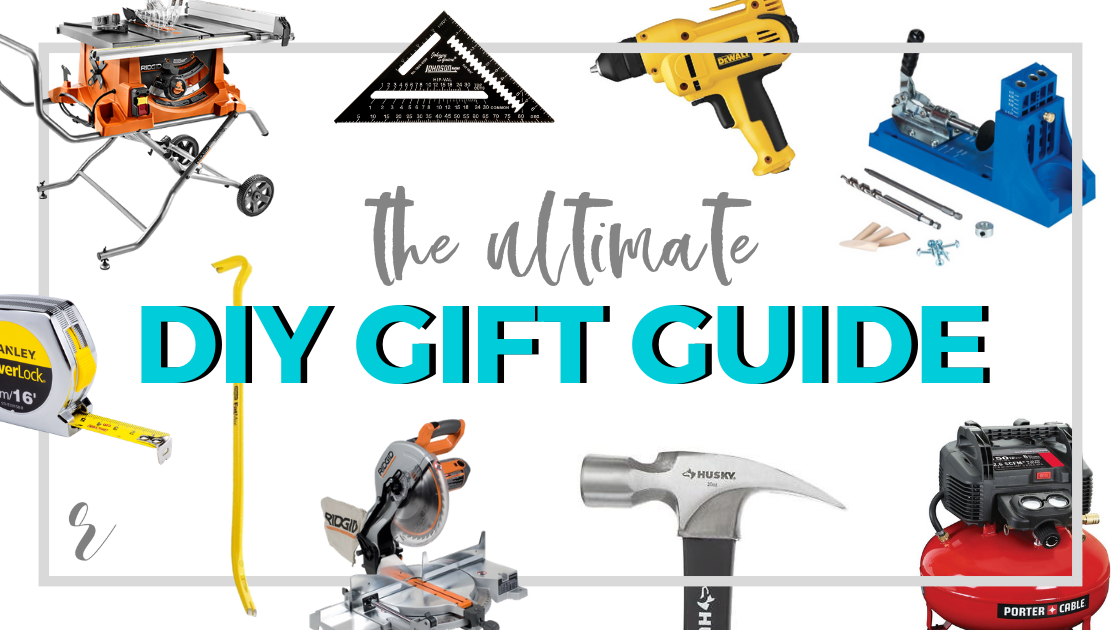 *This life-changing post may contain affiliate links, friend. Tap to learn more than you ever wanted to know.*
---
---
Your friend or family member is wanting to get deep into the DIY game? Or at least try their hand at creating something beautiful. There's a good chance it'll include:
Building rustic furniture.

Handcrafting custom wood decor pieces.

Upgrading up a space with new window or door casing, beadboard, chair rail and crown moulding.

Planning to renovate, reposition or remove walls.

Installing built-ins, bookshelves,

shiplap

or

custom shelving

.

Replacing the existing floor with hardwoods or the busted-up stairs with oak treads.

Refinishing existing, consignment or thrift store furniture finds by painting, whitewashing, antiquing or distressing.
You have
no
idea what to get them?
Search no more, friend. We bought our first short sale (not quite foreclosed on) at the ripe old ages of 23 & 25 with the intent of fixing it up. Here's the good news: we had ZERO skills, ZERO experience and we only owned an old cordless drill that I didn't know how to use. Over the 4 years we lived there, we learned how to DIY, acquired 95% of the 57 items below and borrowed the rest.
Anyone can learn to DIY. Including the friend you're graciously shopping for. That goes for you too! Find out what they're into and gift them a tool or accessory that will take their passion to the next level.
The gifts below are organized into categories. Each individual item offers a brief description, its practical uses and a rough price range – from low end to high end. The linked products are one tier above low end for optimal price savings AND quality that will last. Consider all of them "best value."
---
Don't table these contents.
Power saws.

Essential accessories.

Drills.

Pneumatic tools.

Demo day.

Wrenches.

DIY project kits.

Table making essentials.

Wood finishing & refinishing essentials.

Basic wiring equipment.
Note: keep an eye out for our "beginner DIY item must-have" icon: .

Not sure where the heck to start? Follow the icon for the most helpful, new DIYer items that we recommend.
---
Top 57 most useful DIY power & non-power tools.
POWER SAWS

Overview

: make ALL of your cross cuts (short wise) and rips (long wise) with only this powered hand saw. Cut both dimensional lumber and plywood with a free-handed approach. The gold standard for versatility and cost effectiveness. The only challenge: everything is a freehanded cut, without a guide. There's a learning curve for making perfectly straight cuts. If you need absolute precision, consider the miter saw for cross-cuts and the table saw for rips.

Price

: starting at $40 – low hundreds. For cordless options, lithium batteries start at $50 a piece, not including the saw.

Aka

: skilsaw, referring to a brand that created it in 1924.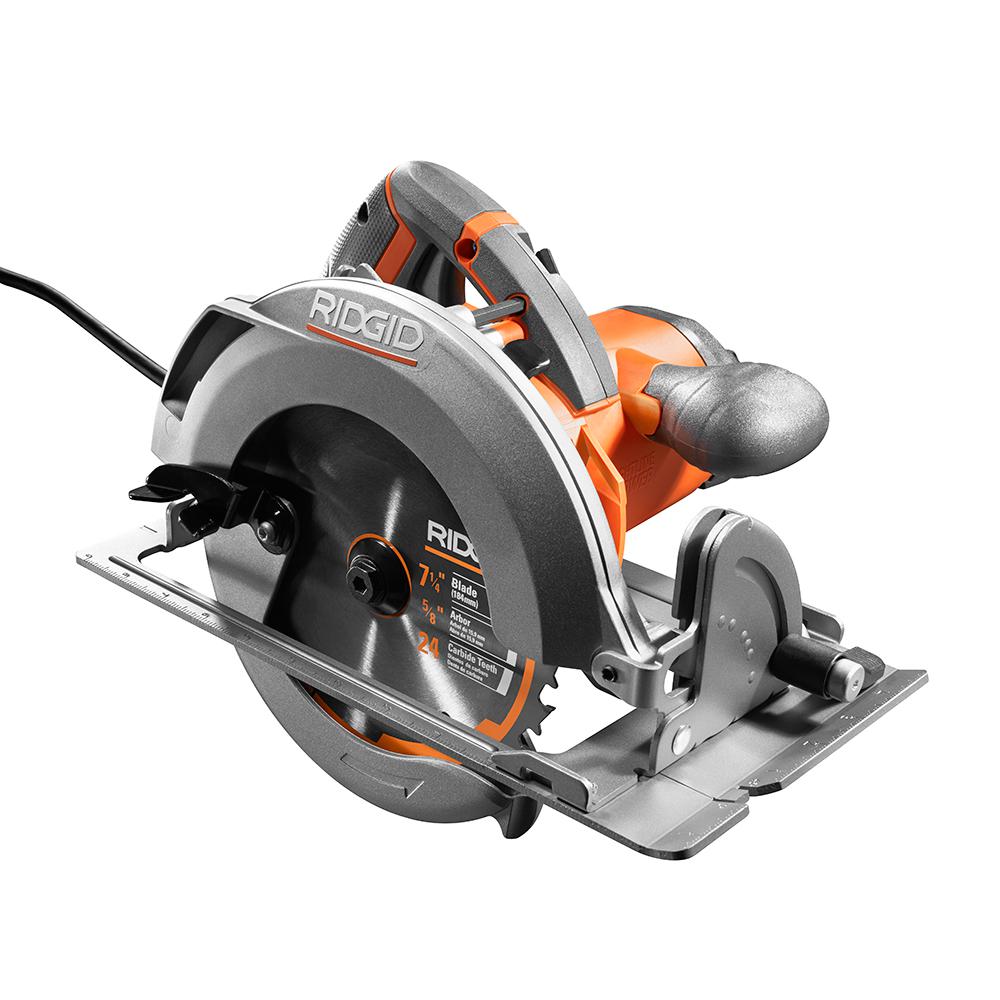 Overview

: the king of the cross cut (short wise). Precisely cut wood at any angle. Ideal for carpentry. Far more accurate than a circular saw. Sliding miter saws allow the saw to move forward and backward for a longer cross cut. A bevel feature allows the saw and motor to tilt from vertical to 45º for complex angled cuts.

Price

: starting at $90 – the mid hundreds.

Aka

: chop saw. Although a true chop saw is a metal & high-density material cutting saw with high horsepower.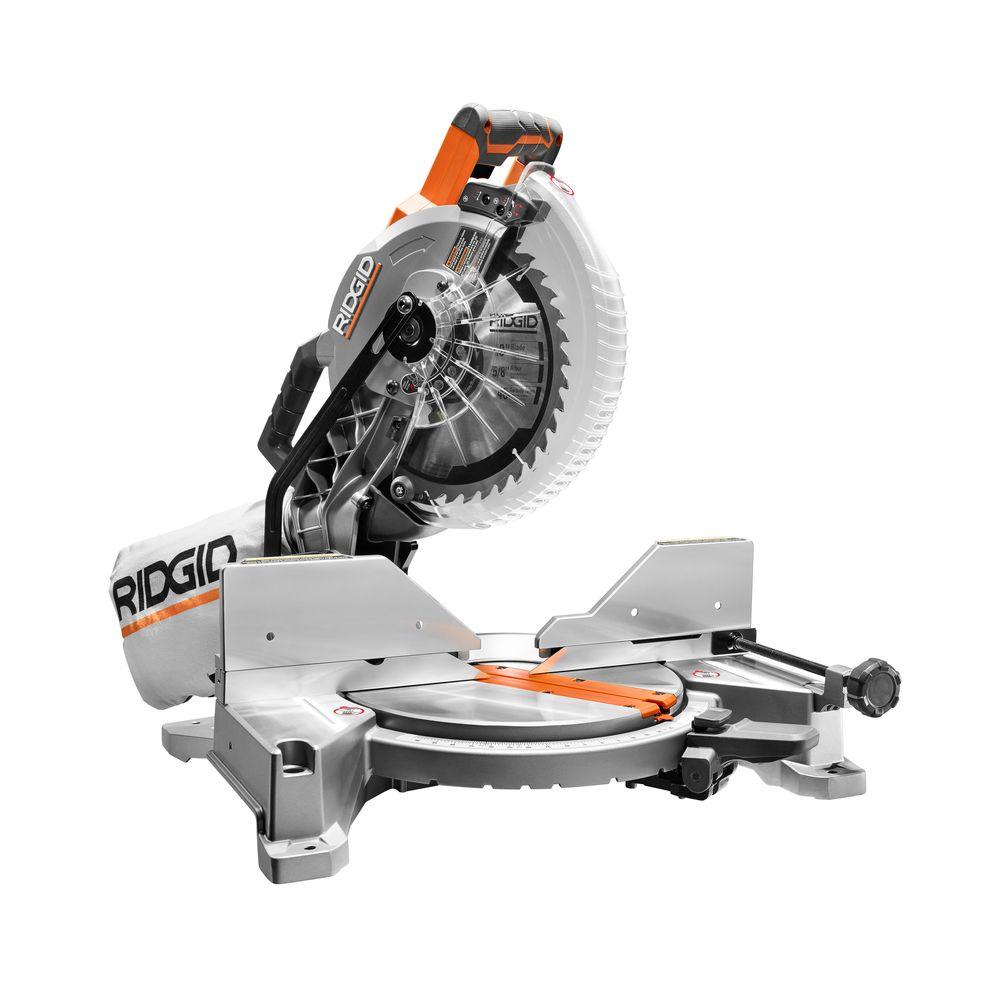 Overview

: the demolition go-to. Two-handed machine with an easily removable and invertible saw blade. The blade plunges forward and backward like a linear, oversized jigsaw. With the appropriate blade, the recip will cut metal, wood, wood with nails, remove grout and scrape paint or vinyl / linoleum. Up to 12" blades readily available.

Price

: starting at $42 – $200 for corded versions. Top of the line cordless combo kits with lithium batteries may be up to the mid hundreds.

Aka

: SAWZALL under the Milwaukee brand. Sometimes confused with a saber saw, which originated as a jigsaw – searching the term "saber saw" usually populates jigsaws and reciprocating saws, and rarely yields an oversized jigsaw.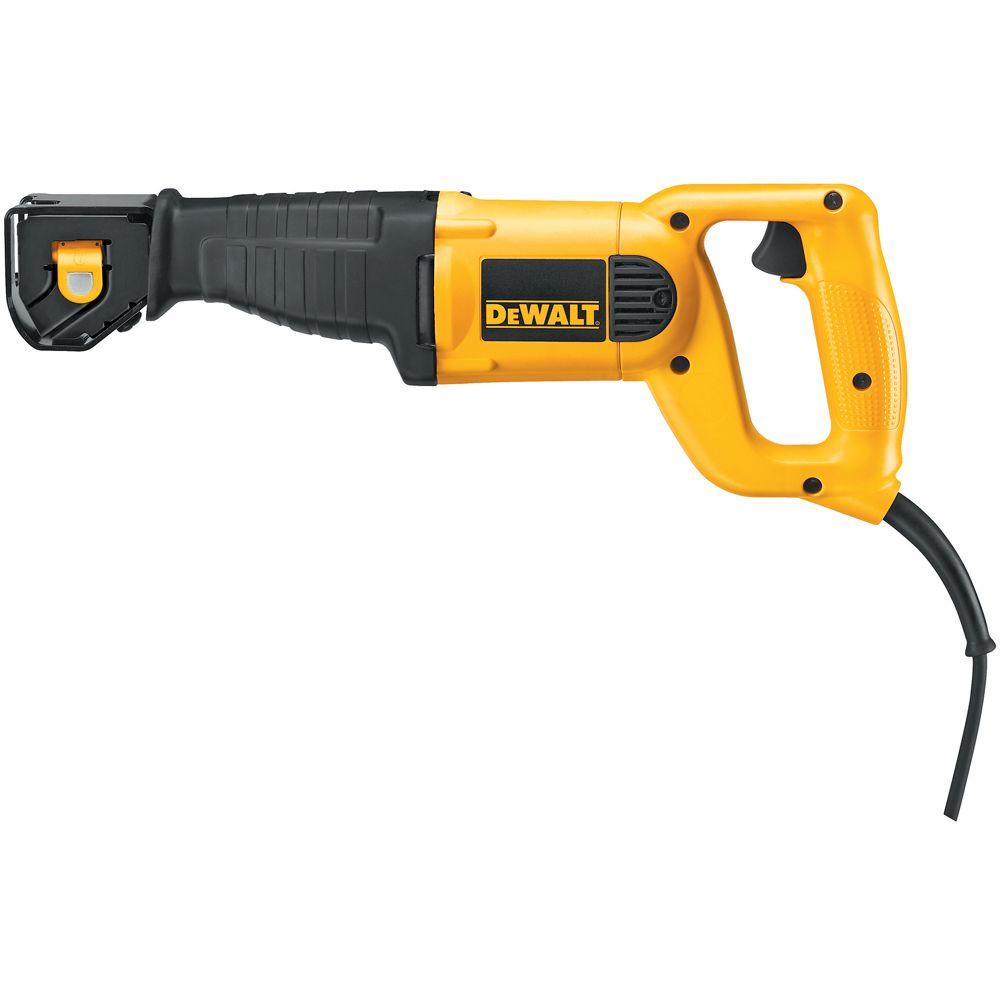 Overview

: the gold standard for ripping boards and plywood (longways). The adjustable fence allows for a perfectly square cut. The fence is a perfectly straight piece of wood or metal that runs parallel to the blade with a locking mechanism to hold it in place for a specific measurement. The blade rotates toward the user, positioned vertically. The tabletop is perpendicular the blade. The larger the tabletop & longer the fence, the easier it is to saw larger & longer pieces of lumber or plywood. Caution: likely THE most dangerous saw on the market. Use a gripper or guide or piece of scrap to push the wood through the blade to reduce your risk of finger loss.

Types

:

Portable / compact table saw. The compact versions are much more cost effective, easy to travel with, but require MUCH more finesse to cut longer boards straight. Not suitable for ripping wider pieces of plywood unless the fence extends.
Professional grade table saw. The ideal craftsman's long & wide board cutting tool. The larger table and longer fence allow for almost all plywood rips, ease of straighter cuts and a heavier build that ensures the saw table will NEVER tilt or teeter. The stand is built-in to the tabletop, and this bad boy is insanely heavy.

Price

:

Compact table saw: starting at $160 – $500+.

Professional grade table saw: starting at $530 – $2800+.
Caution: do NOT operate the compact version without an attached stand or bolted workbench underneath. The compact table WILL teeter and shift, dramatically increasing your risk of injury.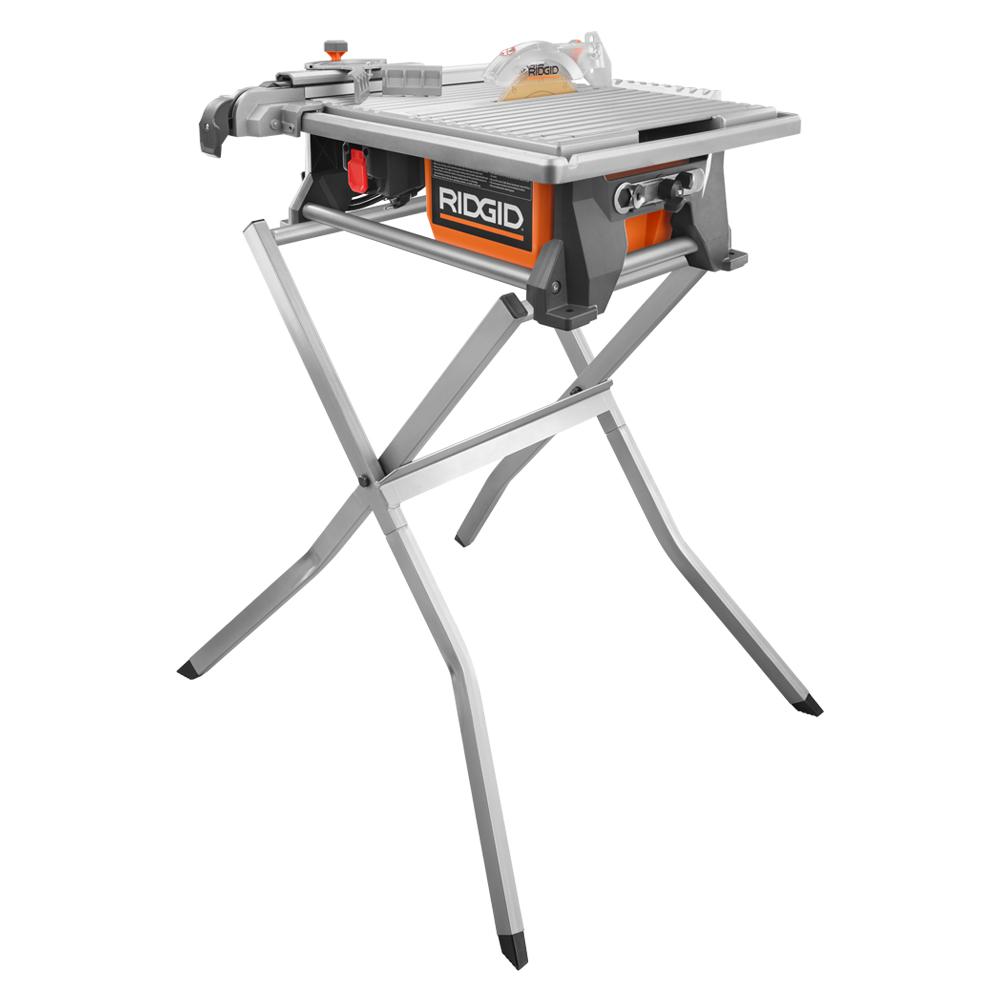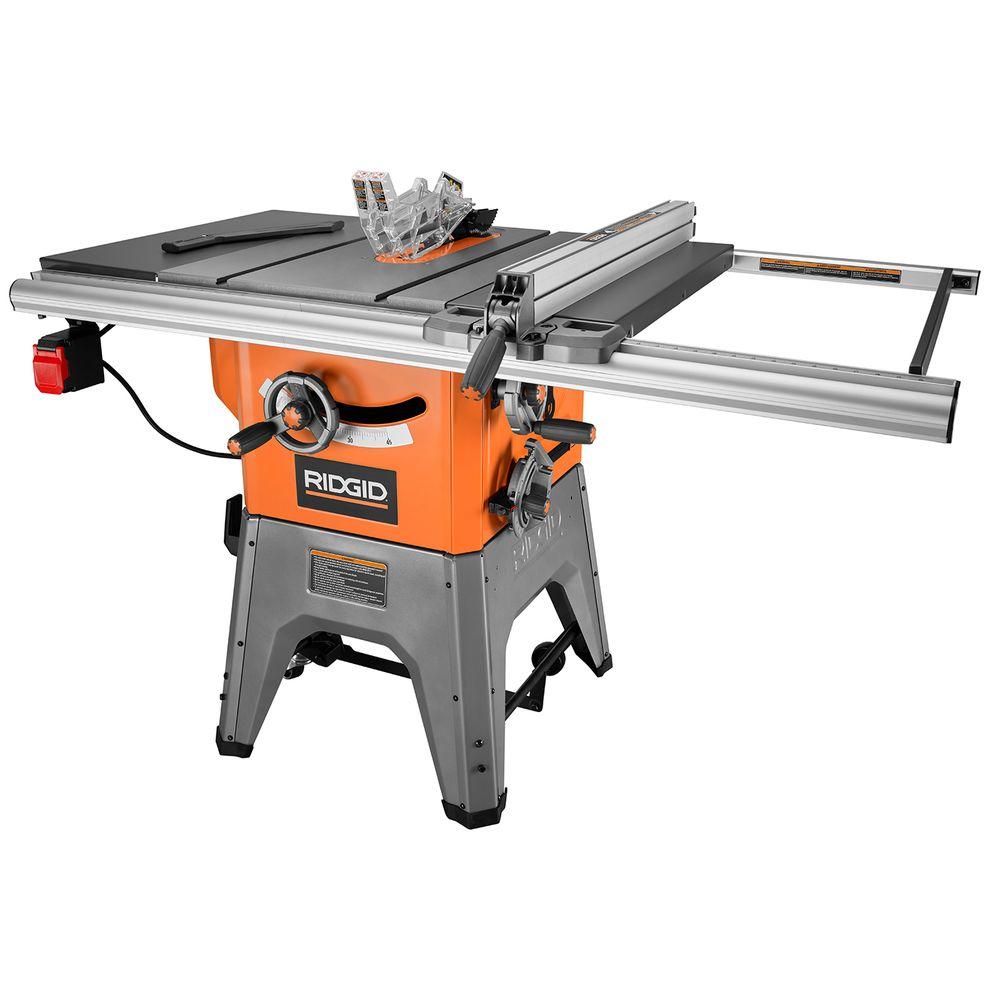 ---
ESSENTIAL ACCESSORIES
Overview

: The razor blade with a handle. Cuts drywall, carpet, thin plastic, thin wood, cardboard, some sheet metals and strips wire sheathing. The super sharp & versatile "pocket knife" for every handy-human. We recommend the folding version instead of the retractable version (box cutter). The folding version acts like a single blade Swiss Army Knife, closing to become about 50% smaller for safe and easy pocket storage. The utility blades are easily changeable whenever the blade begins to dull. If you want retractable, consider the foldable / retractable combo models.

Price

: starting at $5 – up to $20.  

Aka

: Exacto-knife, branded as "X-Acto." The true X-Acto functions more like a scalpel or hobby blade than a generic razor blade. Other semi-related names include: utility blade or retractable blade knife (think: packaging).

Overview

: possibly the most well-known and well-used tool ever. The tape remains coiled inside the device until extended. Smaller handheld versions measure from 1/16th of an inch up to 35 feet. Larger versions often measure up to 300 feet.

Price

: handheld version start at $3 – up to $40.

Aka

: measuring tape.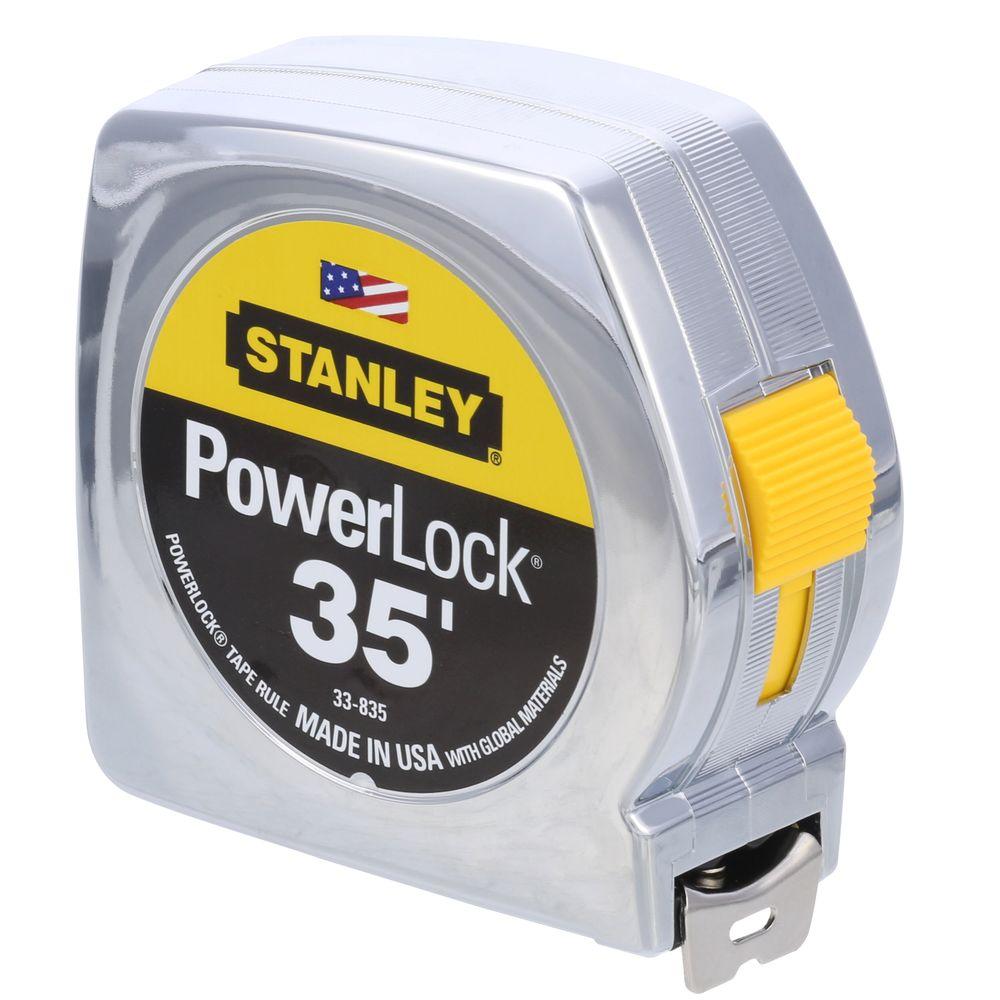 Gift idea #7. Level.
Overview

: a long, thin device that assesses if a surfaces is level (perfectly flat) or plumb (perfectly vertical). Basic versions use a bubble within liquid to determine when items are level or plumb. Some offer built-in magnets for ease of use on metal. More technological versions use a laser.

Price

: non-laser versions start at $3 – up to $130+.

Aka

: magnetic level, box level, I-beam level, line level and post level.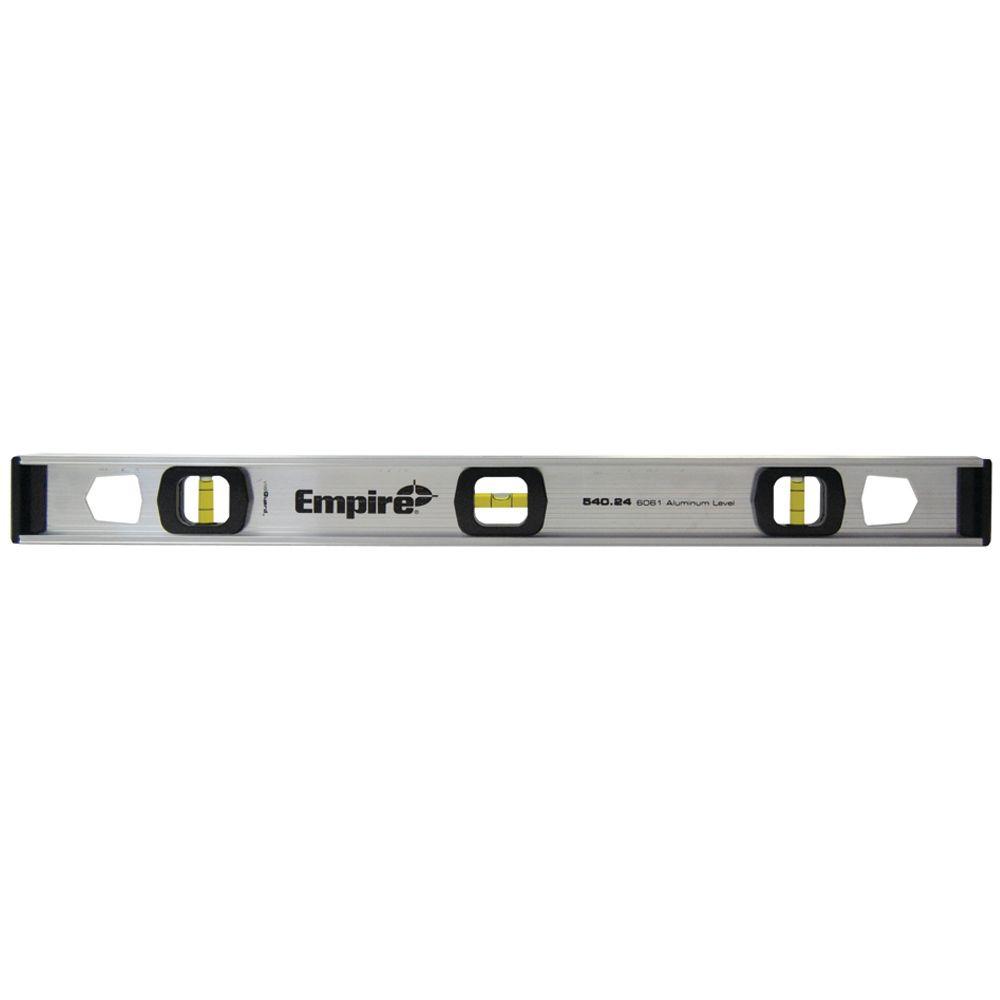 Overview

: these provide hearing protection from higher decibel power tools.

Price

: starting at $2.50 – up to $50+ for reusable / corded versions (many in a pack).

Aka

: versions include foam, banded style hearing protector, noise suppressing earphones, reusable corded ear plugs or disposable.
Overview

: eye protection when you're operating a power tool. Crucial when using any powered saw, pneumatic tools, demolition tools or gas torch.  

Price

: $3 to $72. From laboratory scientist vibe to clean & modern.

Aka

: eye protection.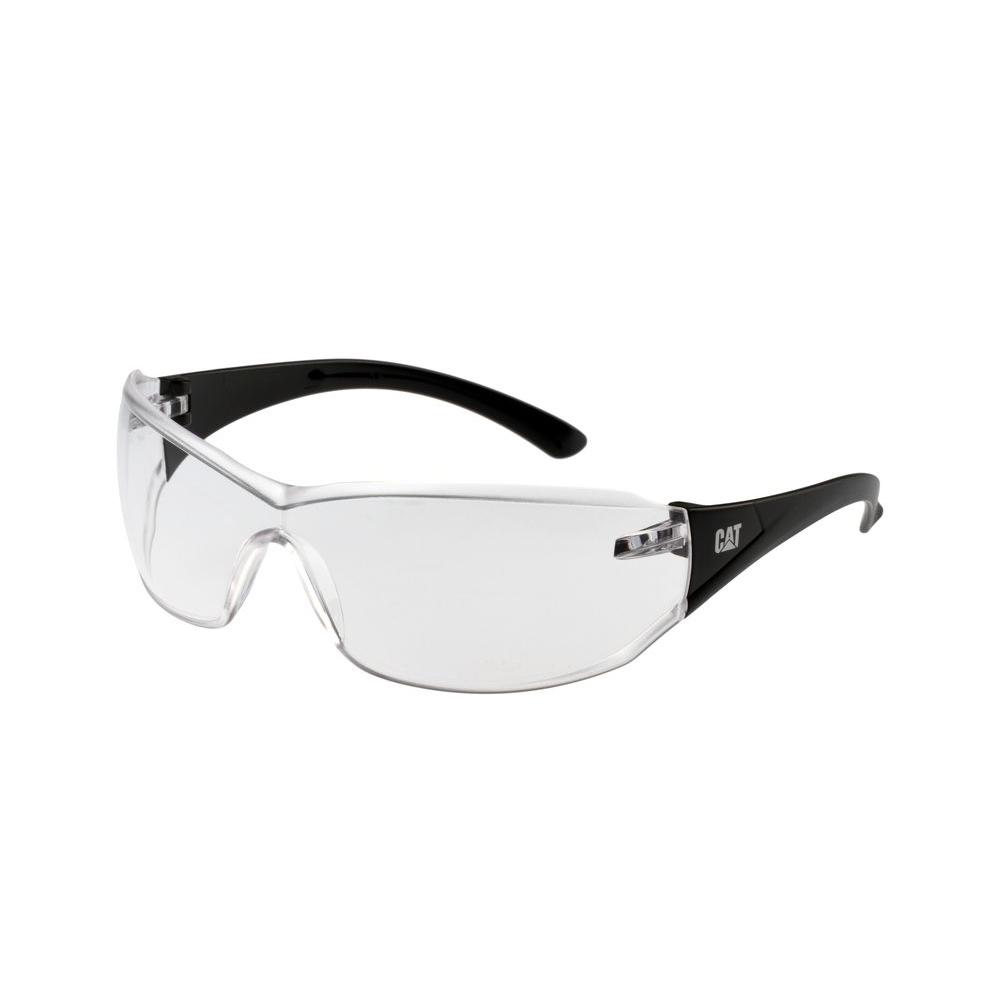 Overview

: the electronic device that enables you to find and mark vertical 2×4 studs behind your drywall. Whenever fastening nails or screws to drywall isn't structurally sufficient. Ideal for hanging very large pictures,

shelves

, cabinets, etc.

Price

: $8 to $100. It's either a "beep" to determine the side of a stud OR a digital visualization of the stud on a screen for nicer models. $10 to $20 should suffice.

Aka

: stud detector, wall scanner, ProSensor, stud sensor.
Overview

: the metal skeleton designed to hold and dispense a 10.1 oz tube of caulk, silicone, construction adhesive, general adhesive, sealant, etc.

Price

: $3 – $14 for most manual caulk guns. $40 to low hundreds for battery powered caulk guns. Unless you're paid to do this for a living, get a manual gun.

Aka

: adhesive gun.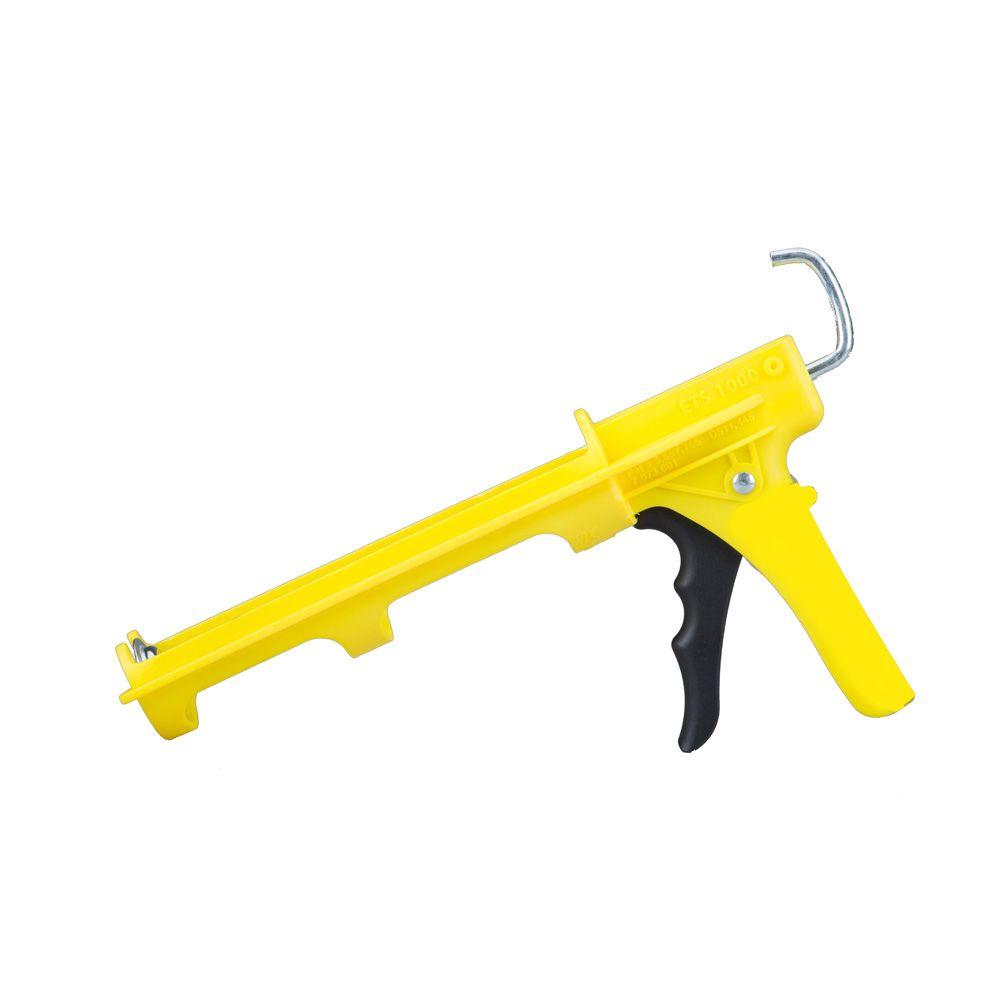 Overview

: like a longer yard stick. At 4 feet long, it's ideal for marking and cutting drywall, plywood, MDF sheets, or any material manufactured at 4' x 8'. The crosshead is positioned perpendicularly to the 4 foot steel piece to enable square lines without additional measuring.

Price

: $11 – $28.

Aka

: carpenter square.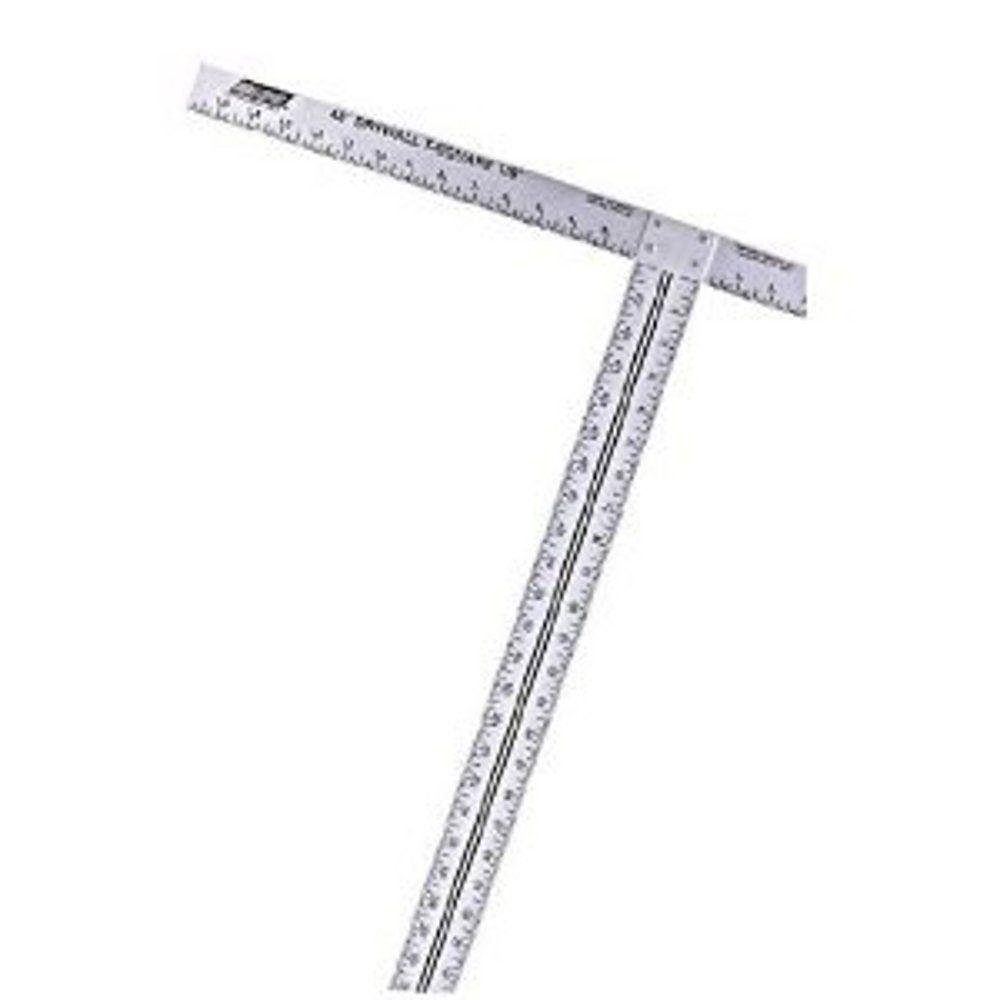 Overview

: the 45º triangular measuring tool. Quickly mark a square line on wood lumber. Mark angled cuts at any degree. It's a ruler with a perpendicular edge or lip that holds the tool in place for ease of measuring.

Price

: $4 – $17.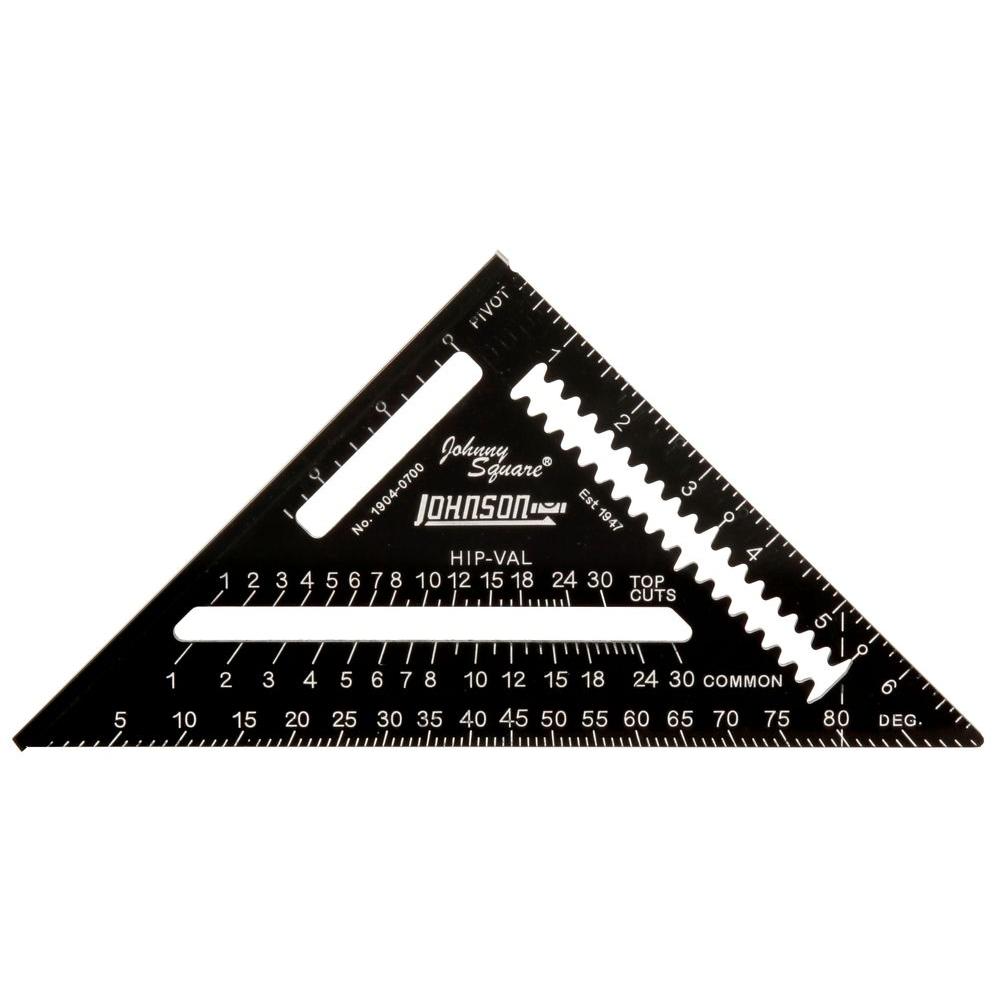 Overview

: the 1 inch to 6 inch semi-sharp metal or plastic blade with a handle. Used to apply wood putty, wood filler, drywall mud, spackling, etc.

Price

: $3 – $12.

Aka

: paint scraper, although these are usually too rigid for application of any compound, polymer, putty, filler or mud.
---
DRILLS
Note: for a detailed comparison of drill types, check out our Drill Comparison Post.
Overview

: the ideal rotational tool for pre-drilling holes in wood or metal. Corded means it's plugged in for more power. NOT used to drive in screws since there is no clutch to stop the drill from turning with a certain amount of resistance to prevent screw stripping.

Price

: $30 – $140+.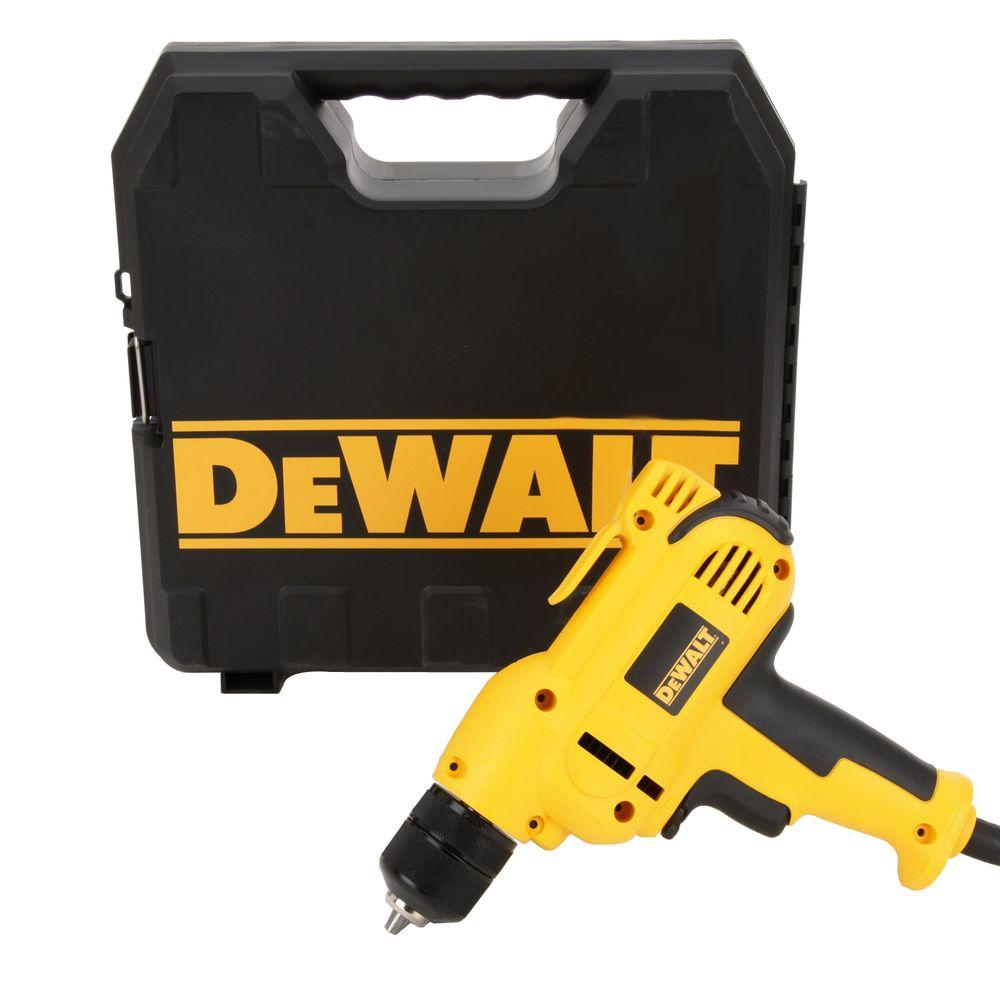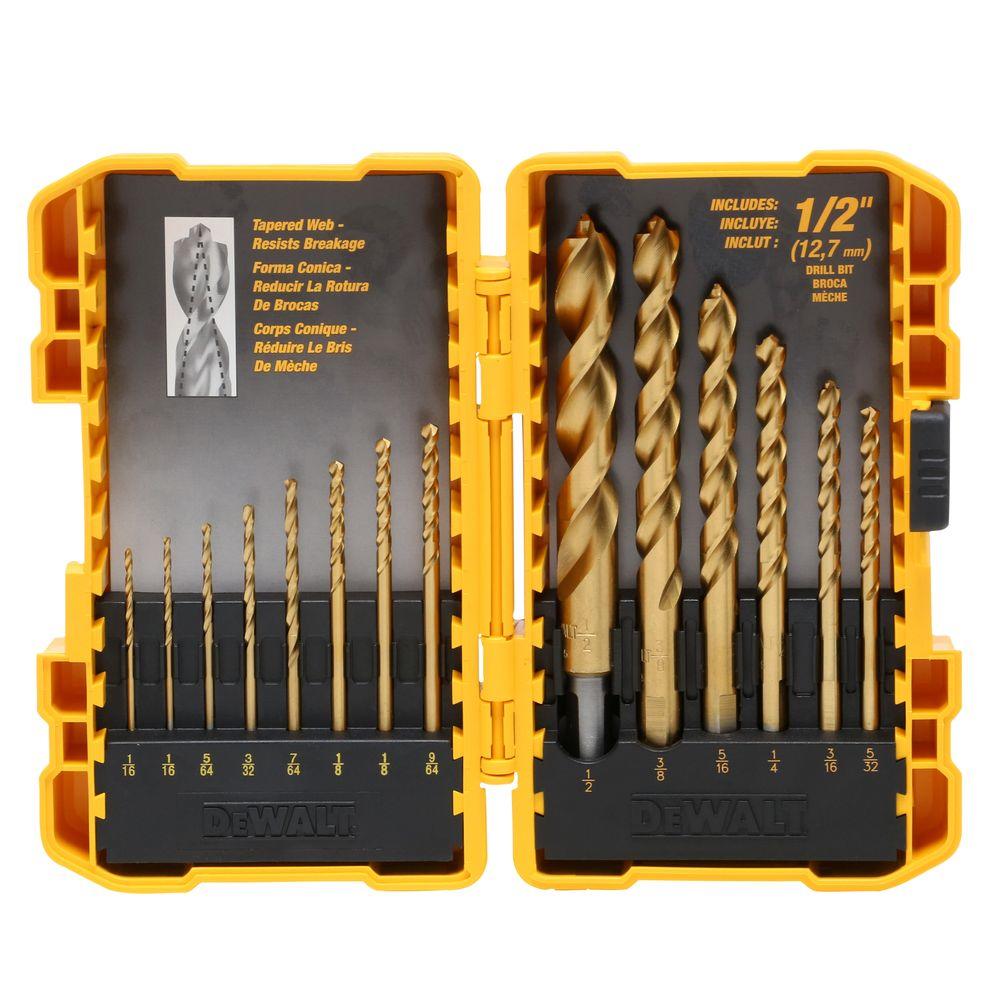 Overview

: the battery powered drill for everyday use. The clutch is ideal for installation of screws – stopping the rotation with a designated amount of resistance to prevent screw stripping.

Price

: $50 – $180+. Kits including a carrying case, 2 batteries and charger cost more than the drill alone.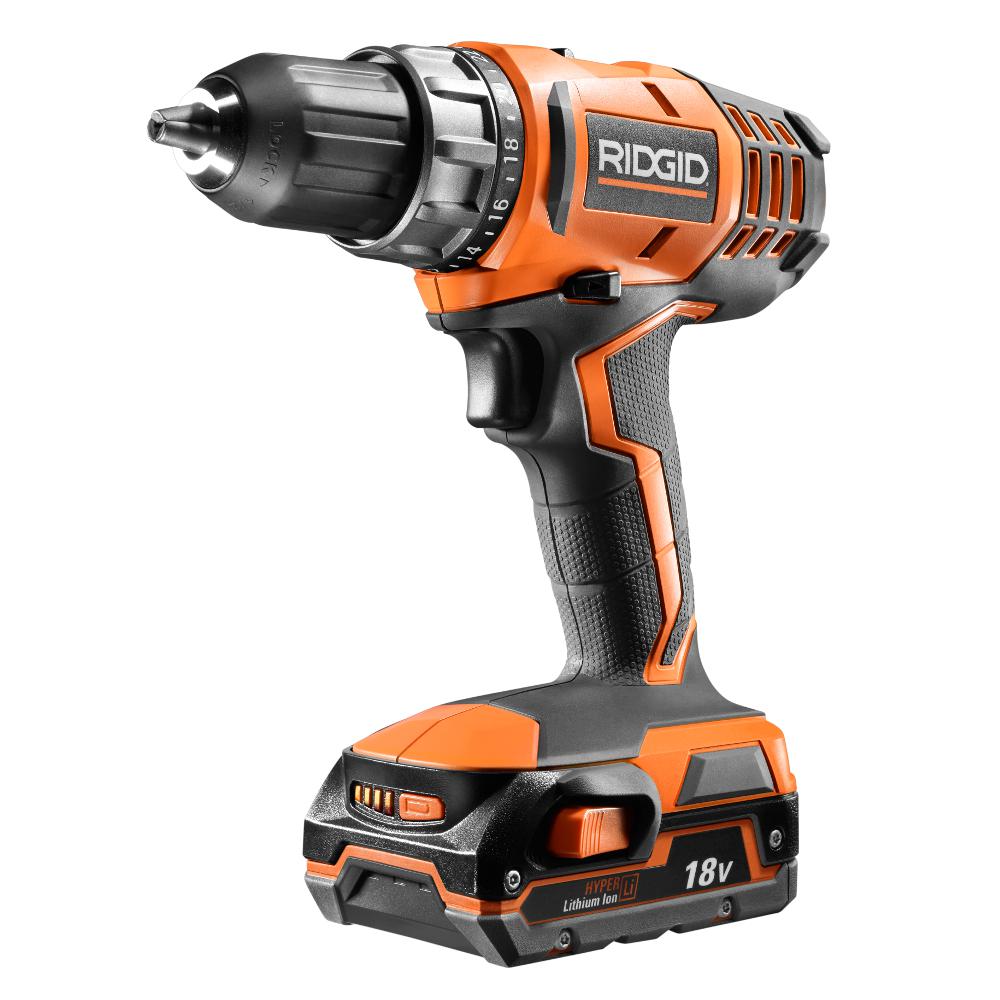 Overview

: the high torque (rotational force) cordless drill for heavier duty screw installation. 2-3x the torque of a standard cordless drill / driver. Built-in hammering mechanism that pulsates at a certain amount of resistance to ensure the screw doesn't get stripped.

Price

: $60 – $160+. Combo kits with case, batteries and charger will increase the overall price.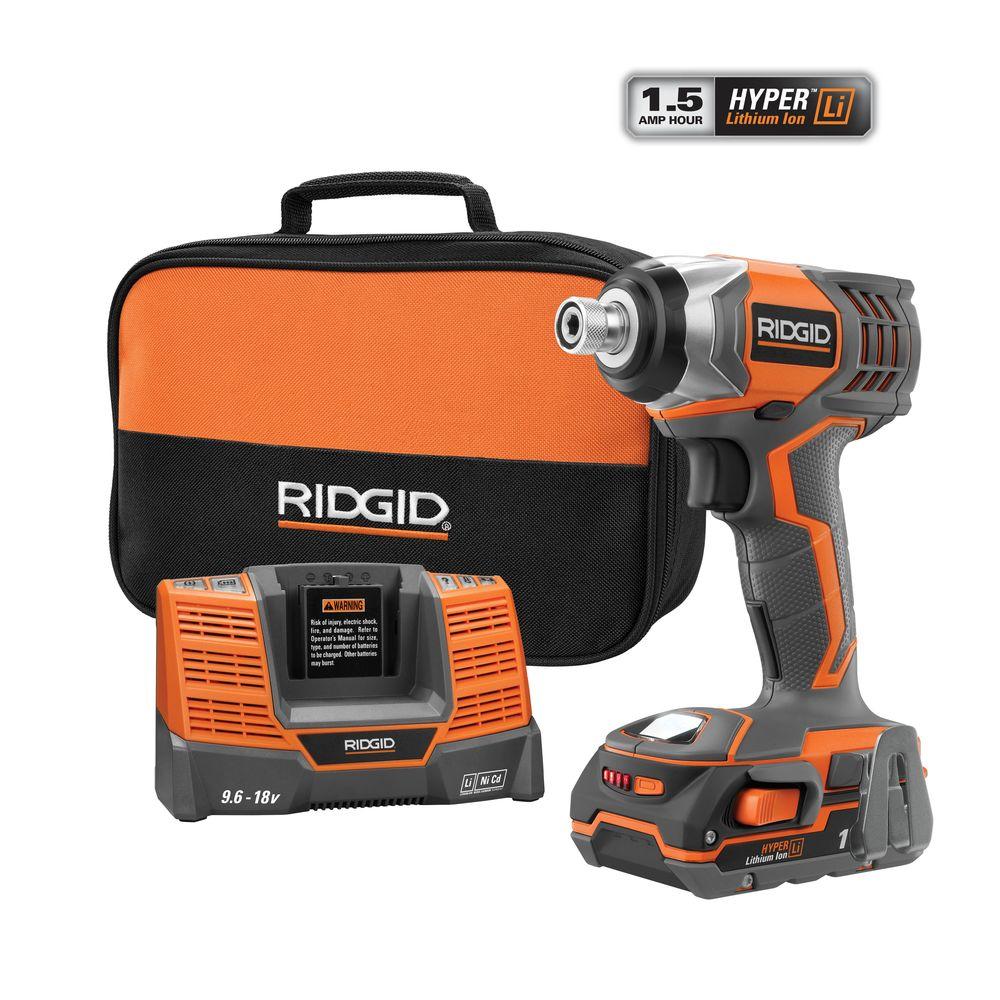 Overview

: combine the above cordless drill / driver AND impact driver to save money long term. One drill's clutch for finesse and controlled screw depth. Another drill's high torque for the raw power needed to sink any screw into almost any material.

Price

: $100 – $300.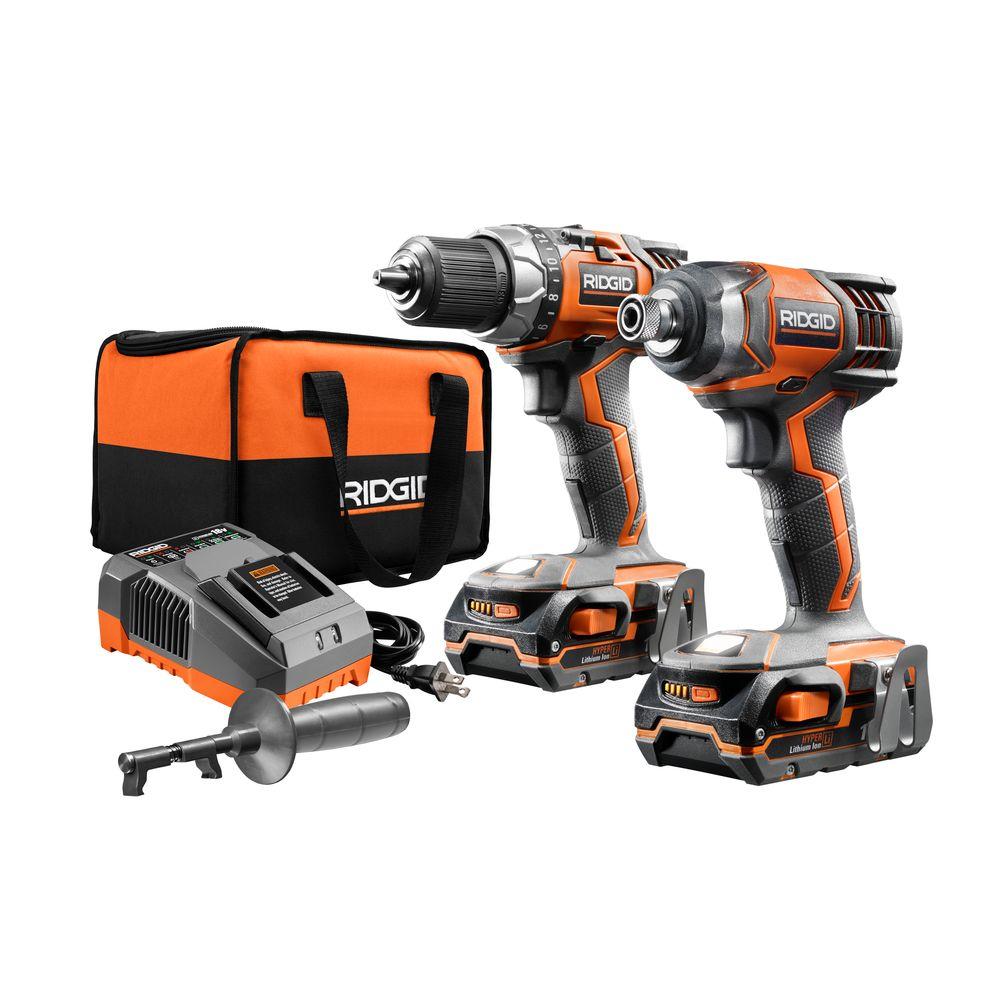 Overview

: the contractor, mason and tiling expert's drill. Very high powered rotational AND hammering mechanism to predrill into stone, cement, concrete, tile, brick and hardwoods.

Price

: $50 – $360+, not including a case.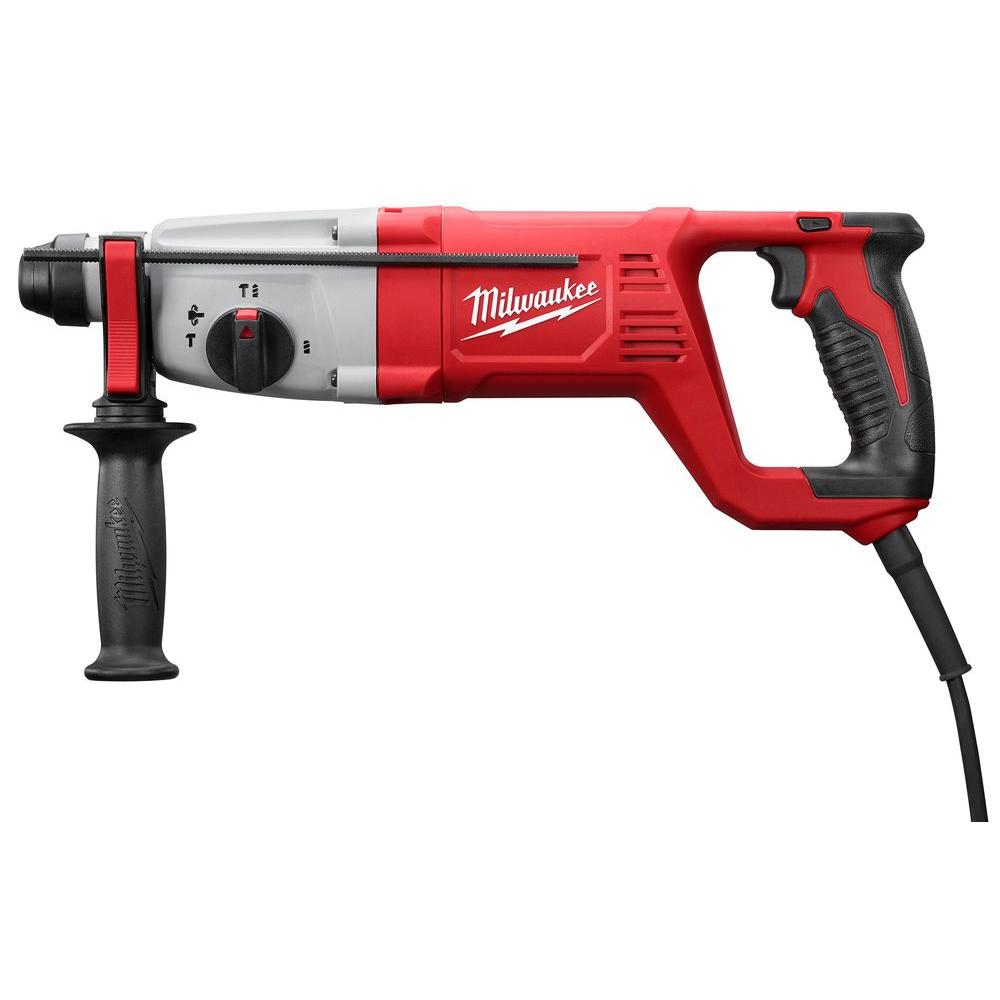 ---
PNEUMATIC TOOLS
Overview

: compressed air has so many functions. Pin nails, brad nails, finish nails, framing nails and spraying paint to name a few. Choose a 6 gallon tank or less for ease of travel for light-duty projects and renovations. The tank of air connects to a removable hose that connects to a nail gun, paint sprayer or nozzle. Consider a tank with a PSI rating of 135 and above to ensure ALL of your pneumatic tools will have sufficient pressure.

Price

: $70 – mid hundreds for light duty compressors (home use). Thousands for heavy duty compressors (contractors / worksite use).

Aka

: portable air compressor, electric compressor, pancake air compressor.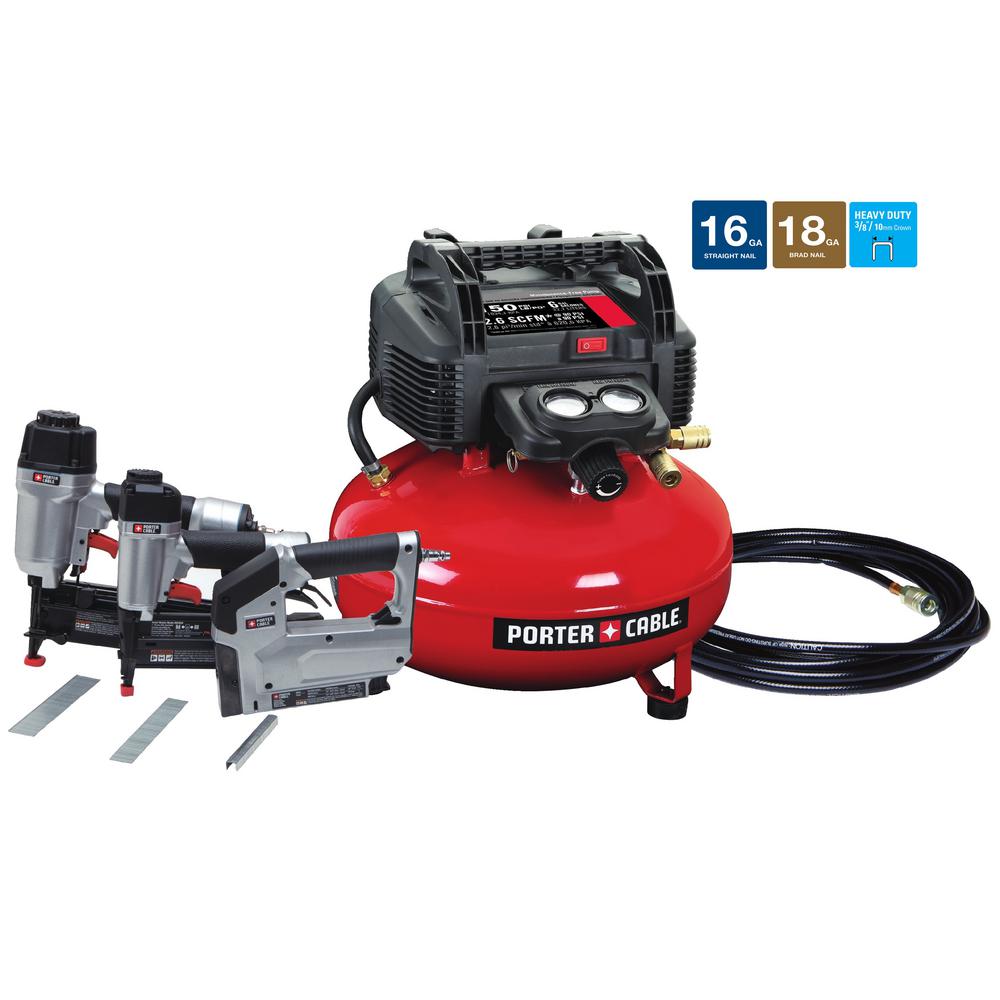 Overview

: the pneumatic nail gun that attaches to an air compressor. The pin nailer is ideal for installing thin moulding, trim and connecting small pieces of wood together. Pin nails are smaller than brad nails, which are smaller than finish nails and framing nails. Many pins are designed without a head or very small head to create minimal damage at entry. Only used with thin and light wood as pins are the weakest of the nails in this section.

Price

: $24 – low hundreds. Higher prices for battery powered options.

Aka

: pneumatic pin nailer, headless pin nailer.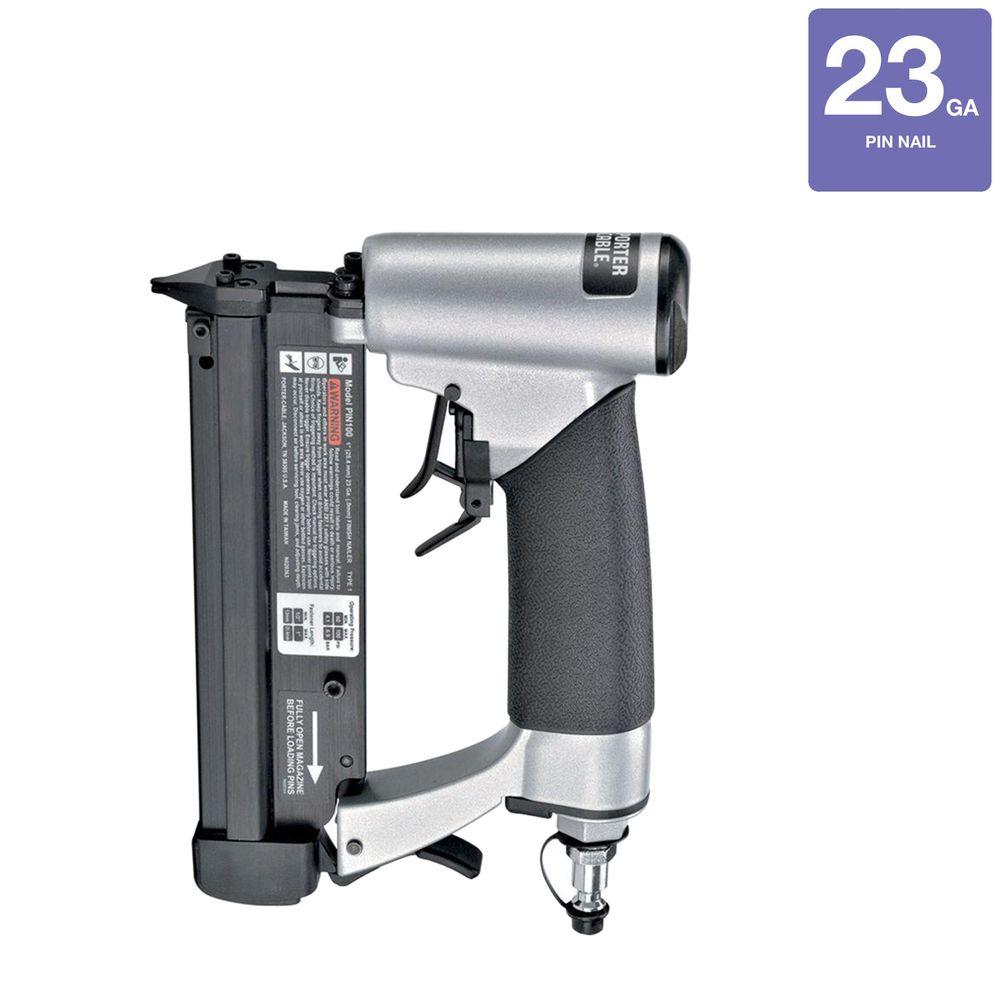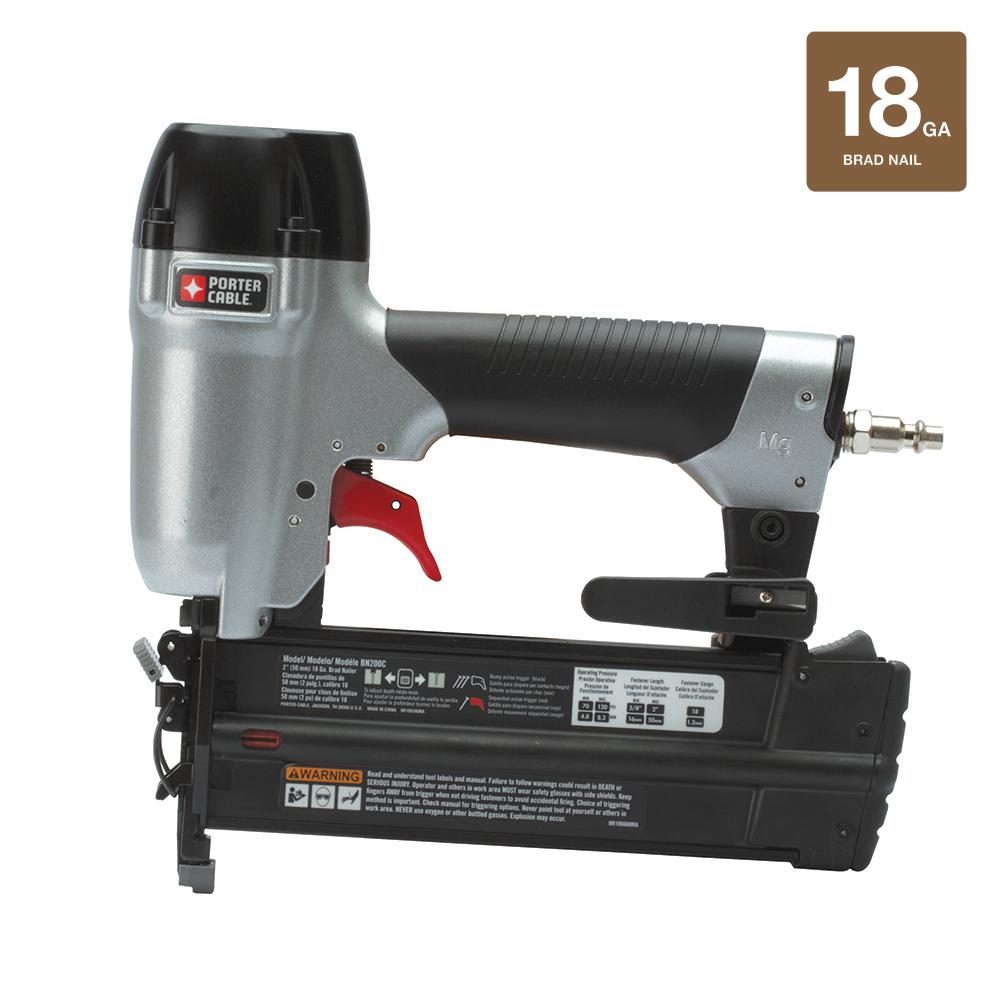 Overview

: the pneumatic nail gun used for installing trim, moulding and building light duty crafts DIY projects. Finish nails are a size above brad nails, but are still much smaller than framing nails.

Price

: $40 – low hundreds. Not including the battery powered versions.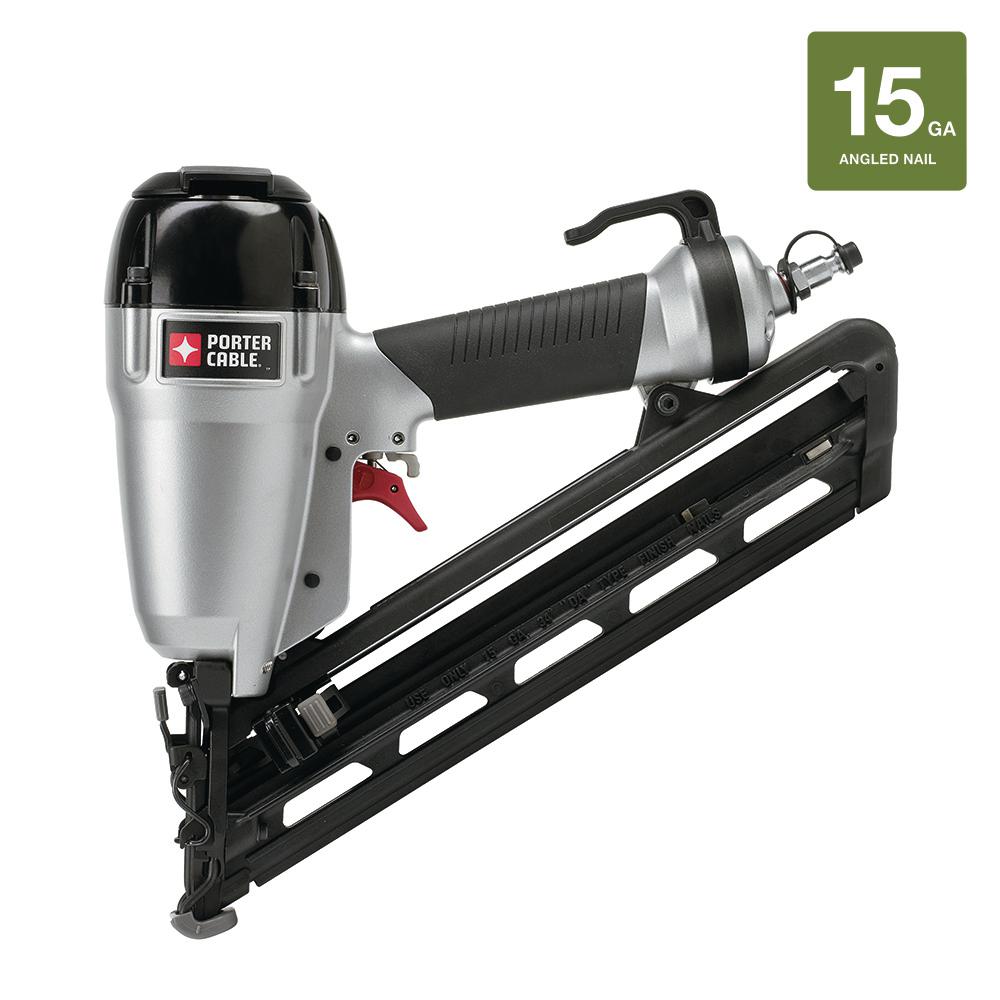 Overview

: the pneumatic nail gun used to connect dimensional lumber together. To build framed walls for homes, attach floor & ceiling joists, and all things residential construction. Your friend's use? How about a custom-built tiny house or shed?

Price

: $80 – mid hundreds.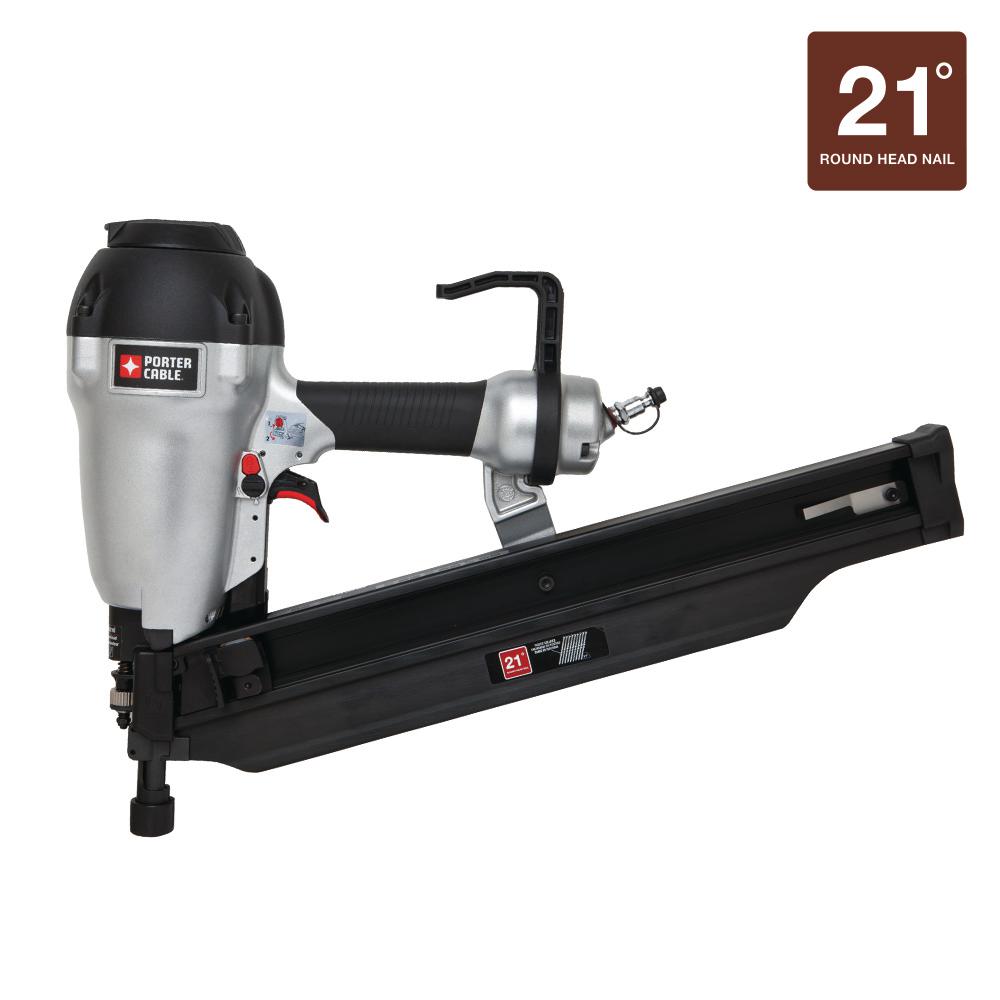 Overview

: the pneumatic paint applicator. The paint spraying device attaches to your air compressor hose, which attaches to your air compressor. Ideal for professional grade paint applications, e.g. kitchen cabinets, doors, built-ins and all custom furniture. Does not work without the compressor. Neither do any of the above nail guns.

Price

: $14 – $100.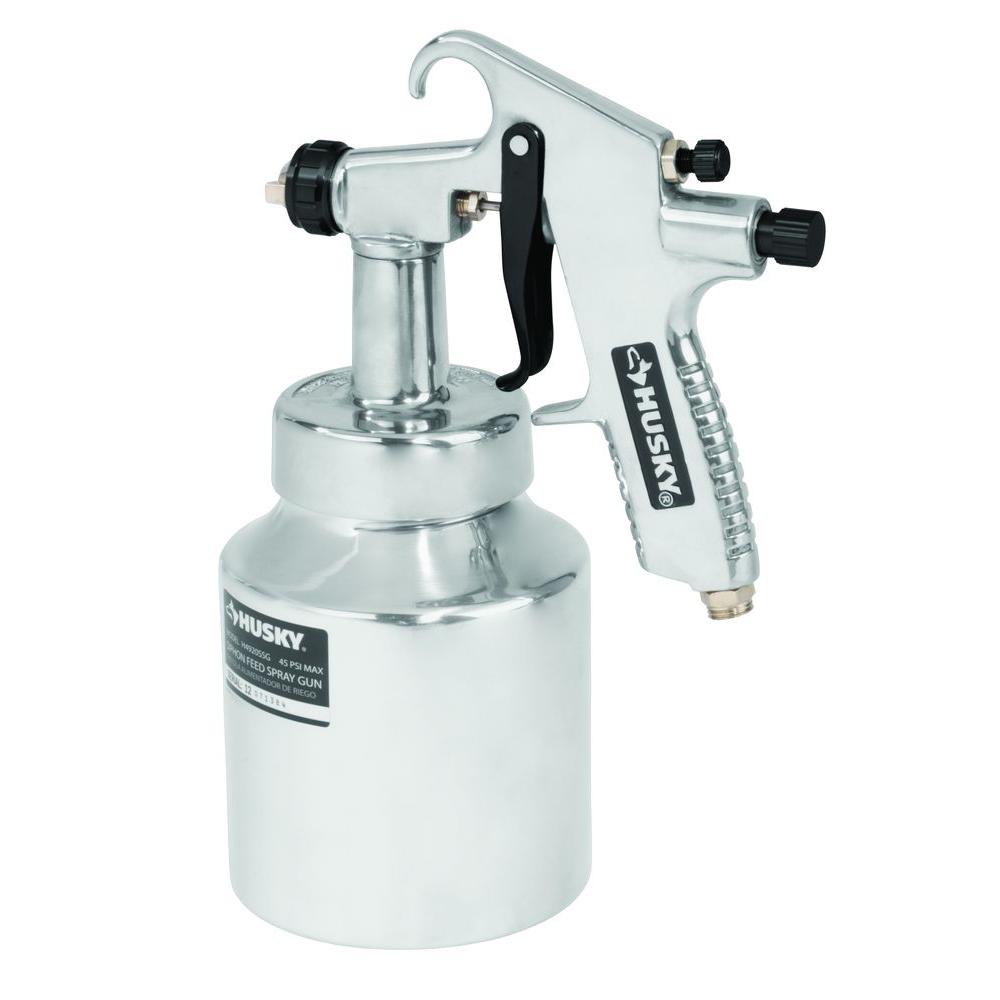 ---
DEMO DAY
Gift idea #26. Pry bar.

Overview

: the shorter, thinner, wider, mini crowbar. The perfect tool for destroying things around the house or home. Uses on #DemoDay: rip out drywall, remove nails, pry dimensional lumbers out of place, remove trim, replace moulding, wreck door & window casing, demo your old vanity / soaker tub / shower insert, pry cabinets from the wall (after removing screws), etc. Less leverage than a crowbar. Ideally paired with a 20 oz hammer, mini sledge hammer or mallet.

Price

: $4 – $14 for 7.5" to 15.5" long pry bars. Choose your type based on application.

Aka

: Wonder Bar, Ultra Bar, flat bar.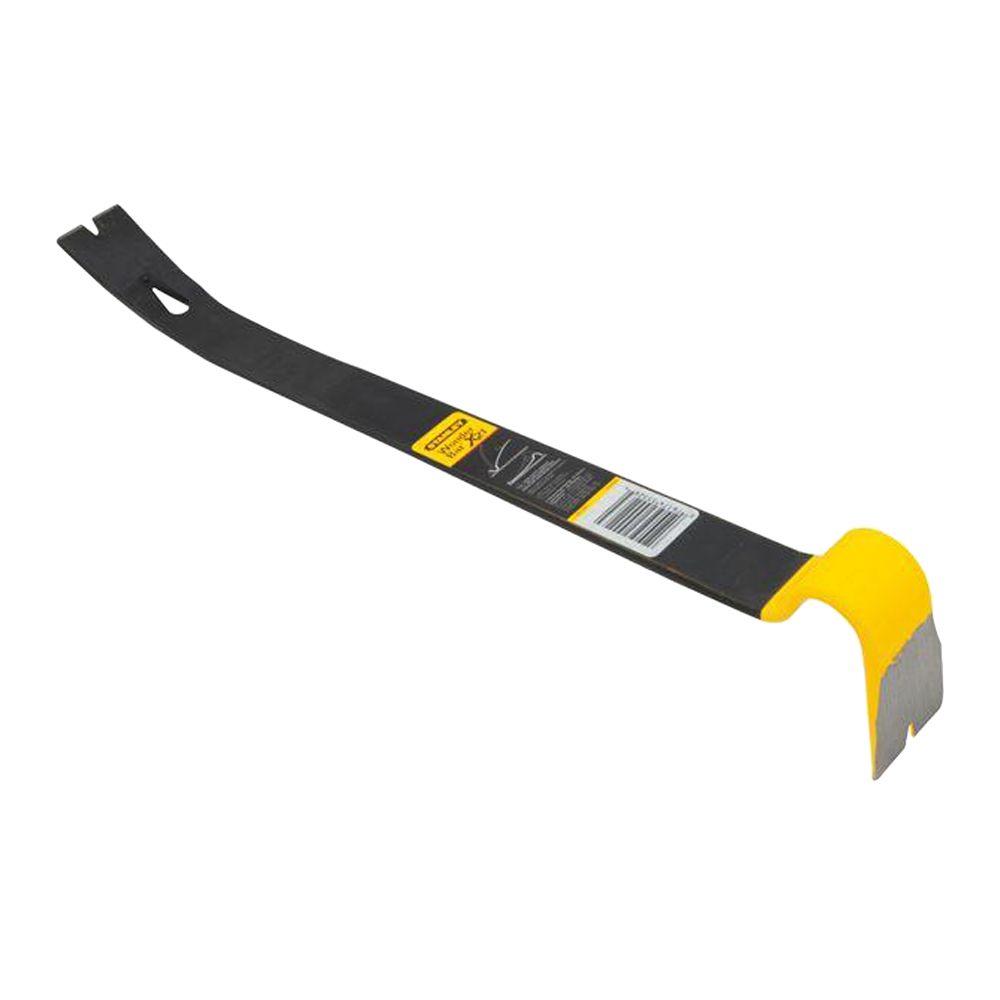 Gift idea #27. Crowbar.
Overview

: the pry bar's tall, skinny older brother. Usually between 18" and 42" for greater leverage and more significant destruction. Similar uses to the "pry bar" above without the precision or care. The only manual tool you want to use to remove slats from shipping pallets. The king of manual demolition. The weapon of choice for the bad guys in Home Alone.

Price

: $7 – $20.  

Aka

: wrecking bar.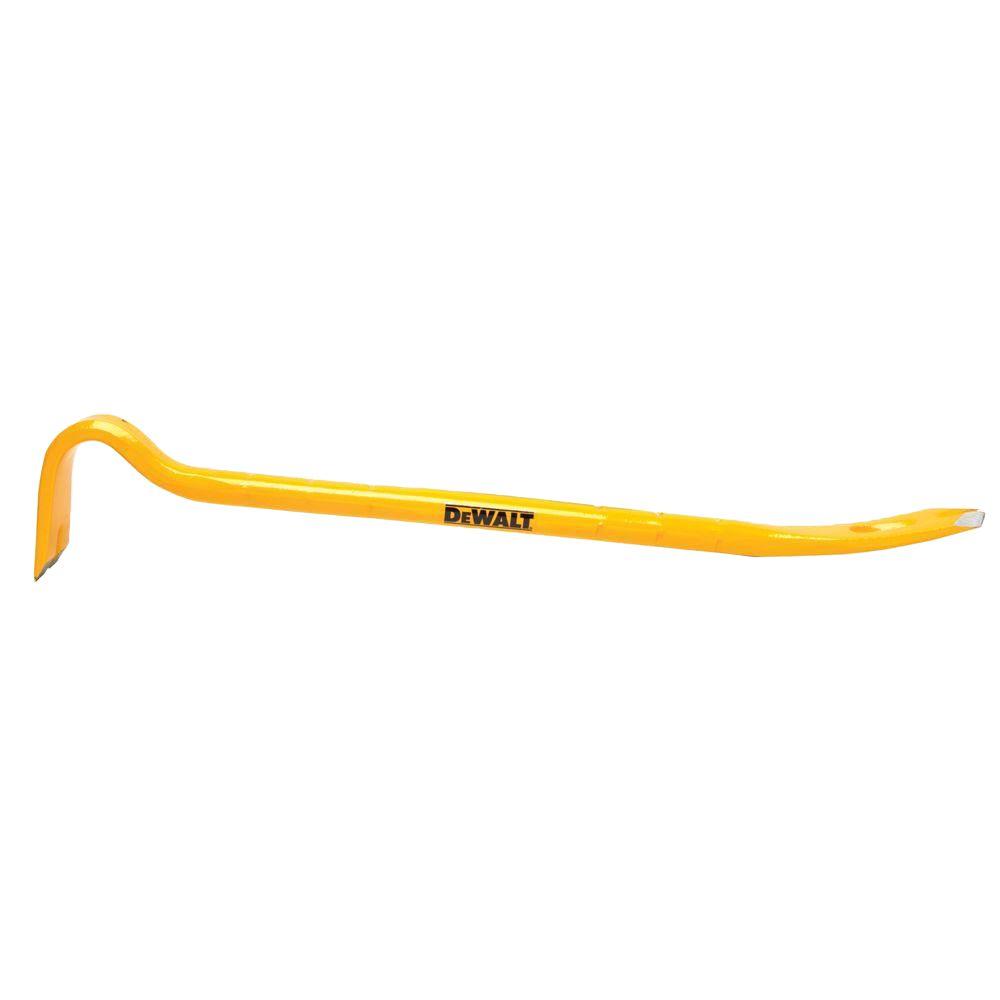 Overview

: along with the tape measure, the most known and well-used tool of all time. Perhaps one of the first tools ever created by mankind? Install nails, remove nails and demo anything & everything. The standard hammer weight is usually 10 ounces or 16 ounces. Opt for a 20 oz for additional wrecking power, leverage and umph.

Price

: $5 – $30.

Aka

: claw hammer, ripping hammer, all purpose hammer.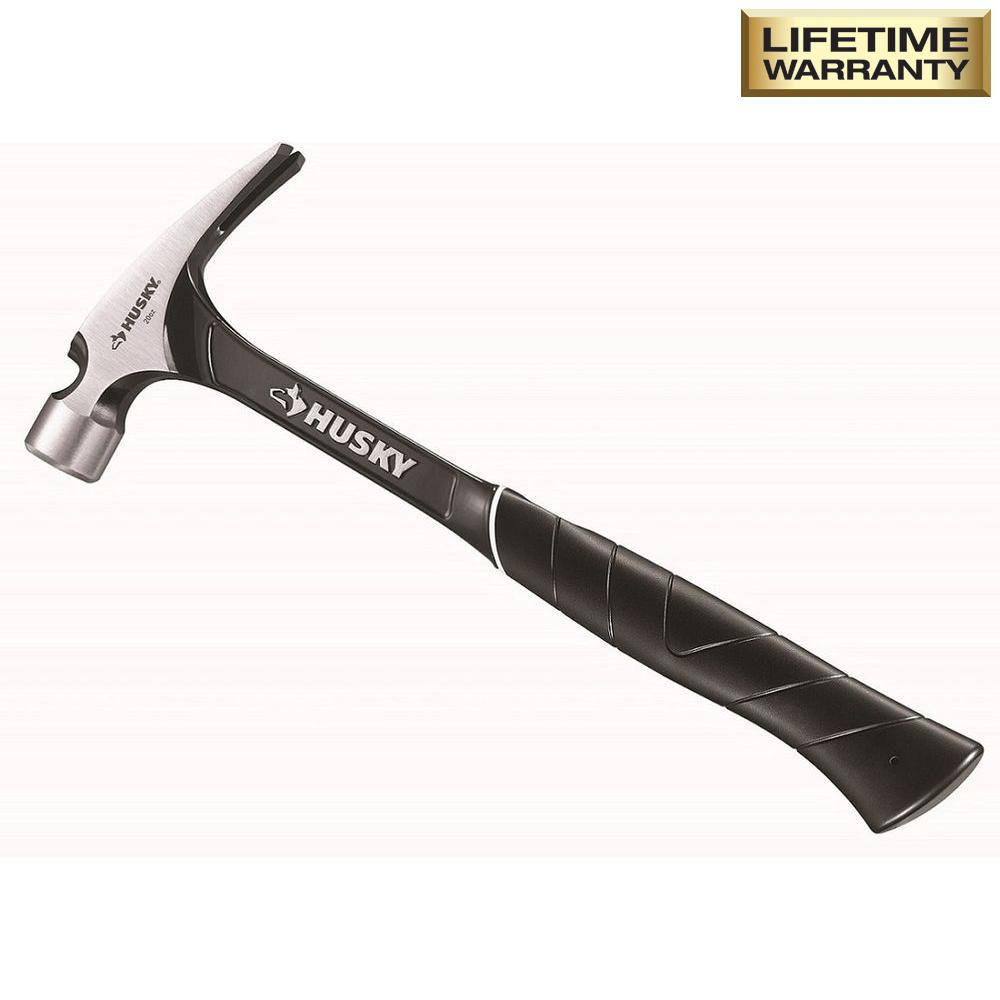 Overview

: a handheld, short, thin, very jagged toothed saw designed to cut drywall. Not ideal for entire drywall sheet remove or demolition. Ideal for cutting precise holes in drywall to install: HVAC ducting, electrical outlets & switches, plumbing pipes, etc.

Price

: $6 – $14. For the short, thin models.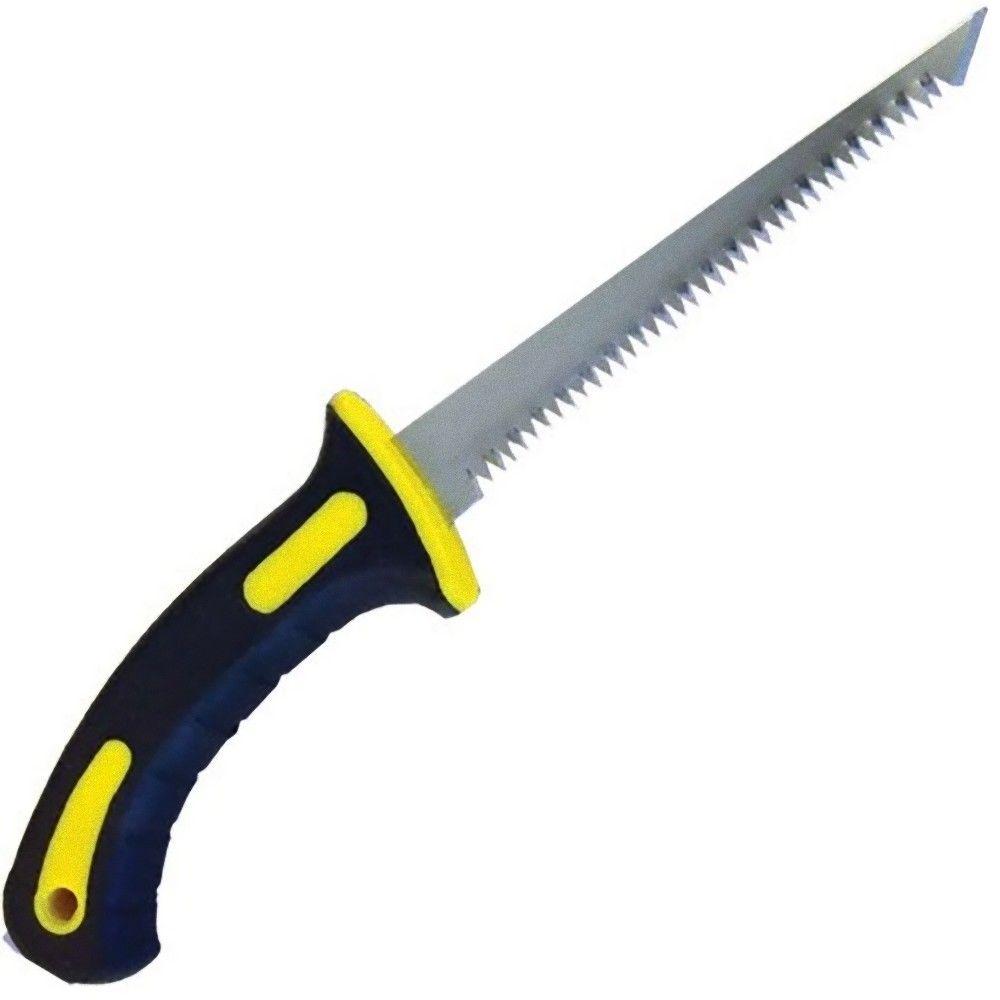 Note: a reciprocating saw is a must-have for demolition (also in "Power Saws").
---
WRENCHES
Overview

: a kit that usually has at least 1 or 2 socket wrenches (drive ratchets) that attach to every commonly sized socket. The drive ratchets can be set to only turn one direction at a time to optimize install or removal of hex head screws and bolts. The ratcheting mechanisms enables your wrist to move back and forth without needing to make full circular motions with the wrench handle. The sockets are female ended and fit overtop hexagonally shaped screws and bolts. Useful for almost every home project – wherever hex heads are found.

SAE vs. Metric

. The US uses a measuring system called SAE, named after the Society of Automotive Engineers who helped create it. E.g. inch, foot, yard, mile, acre, ounce, cup, pint, quart, gallon, etc. Metric is (virtually) the rest of the entire world's measuring system, e.g. millimeter, centimeter, meter, kilometer, hectare, gram, liter, etc.

Price

: $30 – $200. Depending on the brand and number of wrenches and sockets per kit.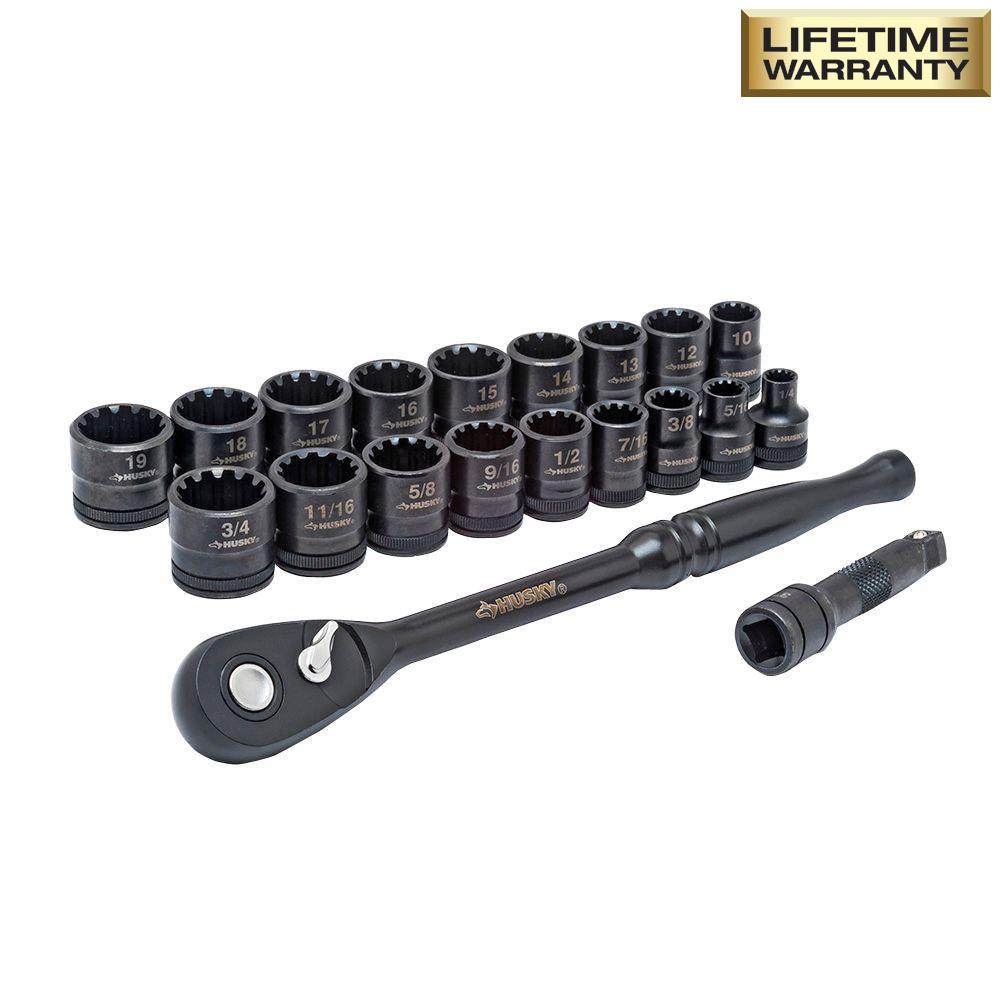 Overview

: a set of handheld wrenches, each with an open-end side and a box-end side. The set offers various standard sizes. Another tool useful for almost every home project that uses nuts and bolts or hex head screws. Some box-ends are designed to ratchet, allowing a back and forth motion without needing to make complete circles to install or remove nuts. Choose metric if you're not in the US or importing nuts & bolts to the US. Choose SAE if you're in the US or working with a US-made product.  

Price

: $20 – $140. Sets with a ratcheting box-end cost $20 – $70 more.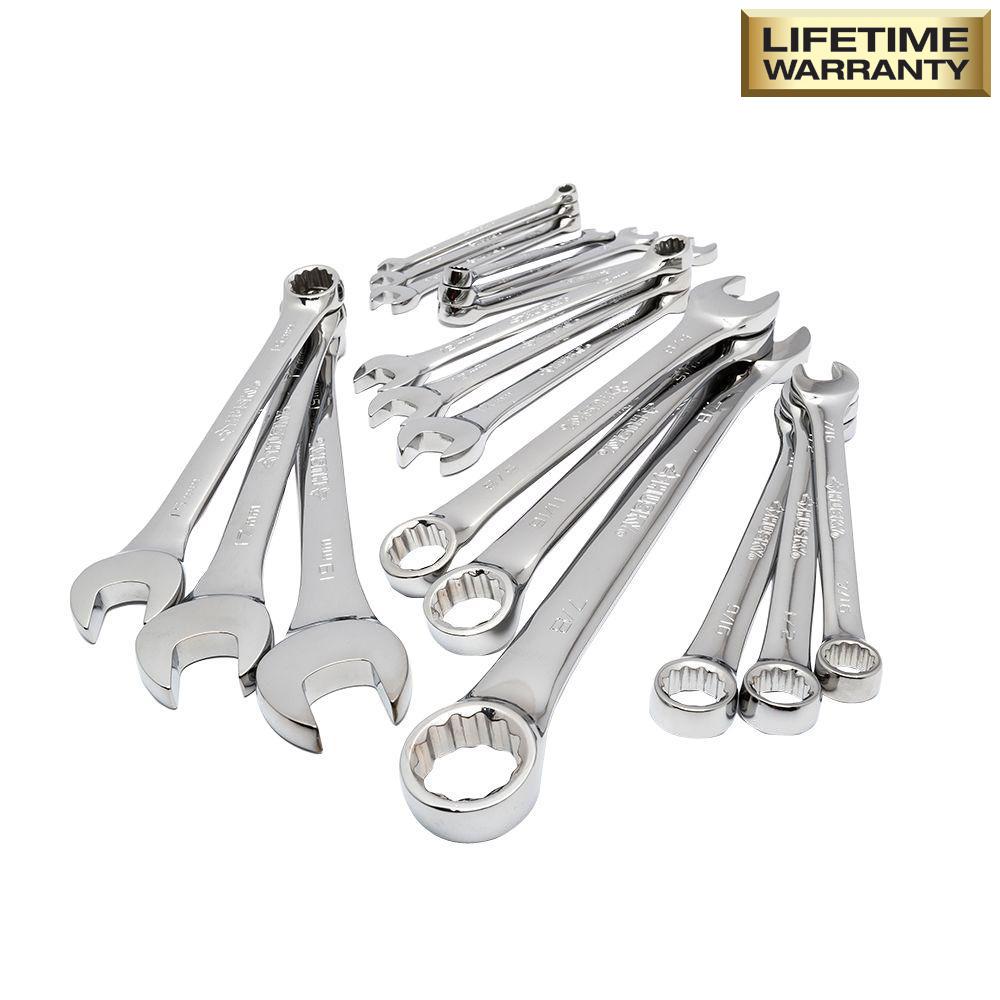 Overview

: a single handheld wrench with an open-end that opens or closes to accommodate most standard sized fittings. As the end easily changes size with a rotating gear, the two sides of the open-end remain parallel, flat and fairly smooth. Ideal for most nut / bolt home applications, but especially useful for plumbing.

Price

: $10 – $100.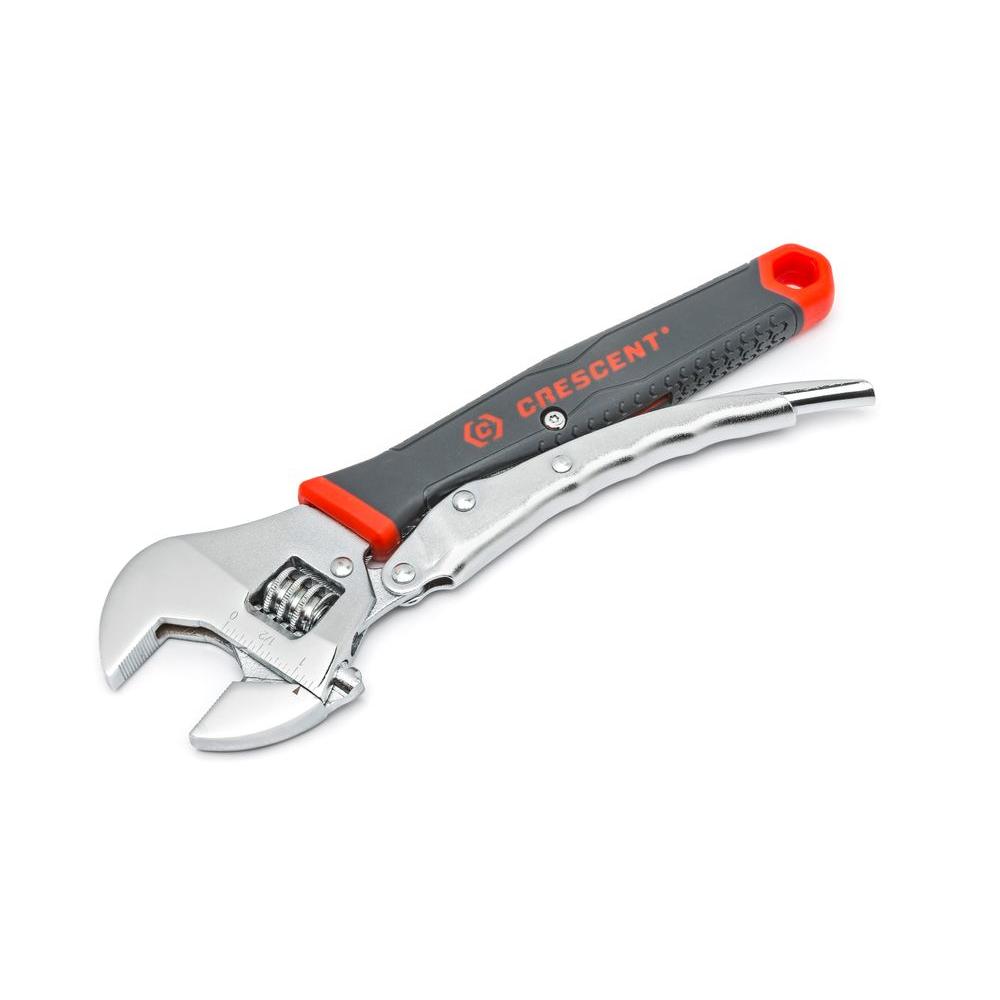 Overview

: a handheld wrench-like device with a head that is offset from the handles of the pliers. The openable end can lock-in to various grooves to adjust for different sized nuts, bolts, flanges, and irregularly shaped objects. The jaw has tiny teeth lining the inside for better gripping of objects.

Price

: $3 – $55.

Aka

: Channellock pliers – a specific brand, tongue and groove pliers, pump pliers, pushlock pliers.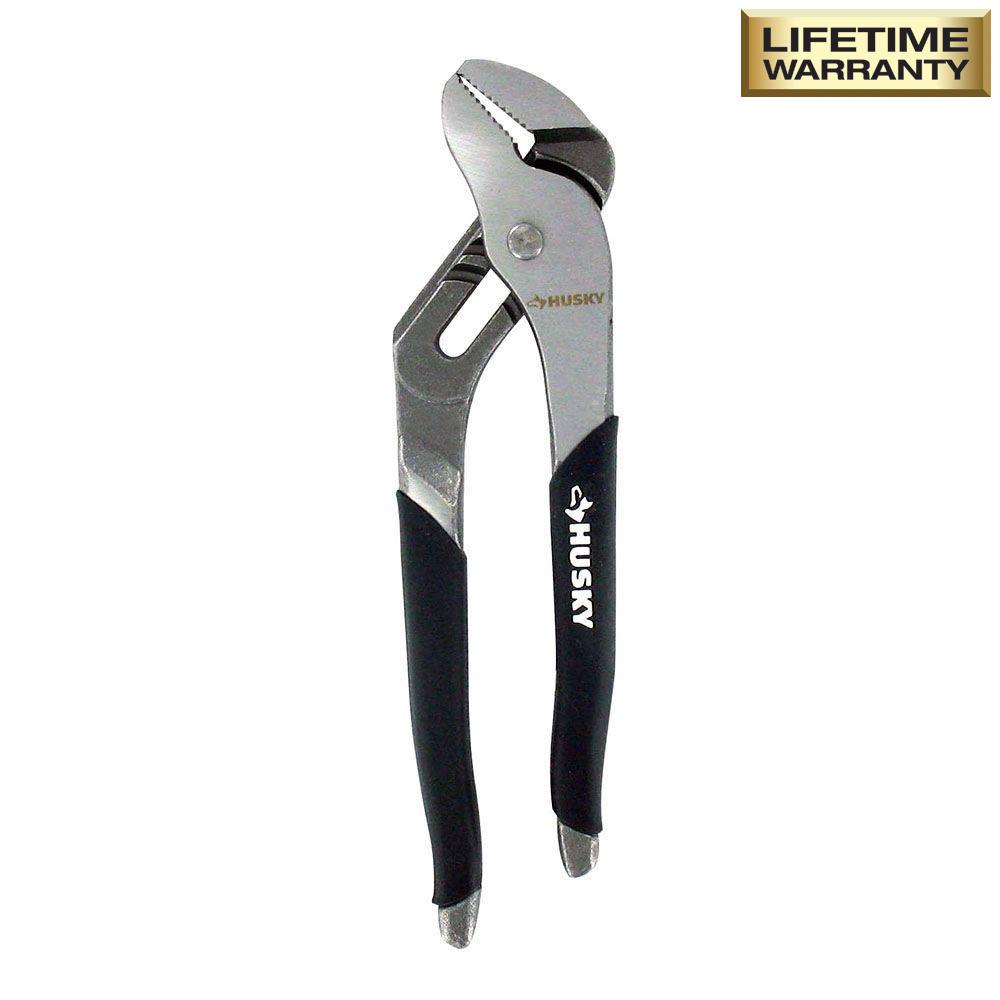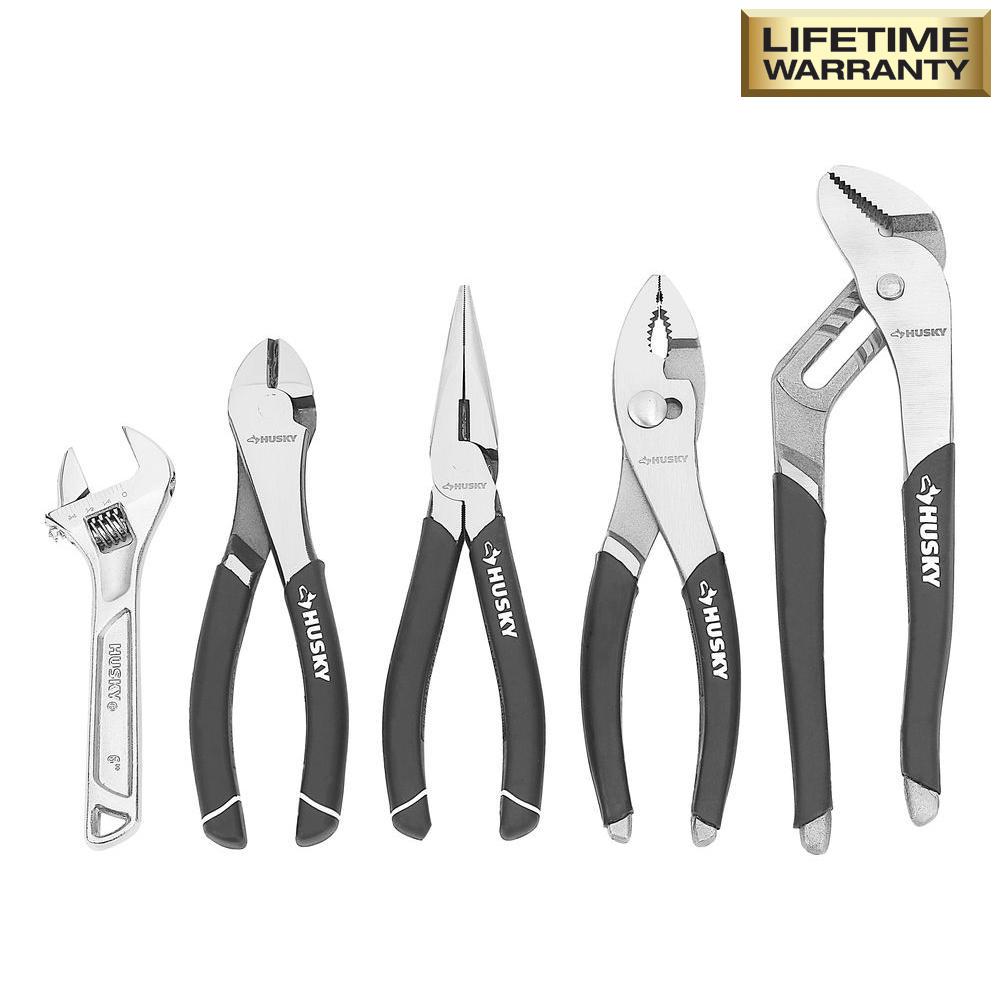 ---
DIY PROJECT KITS
Gift idea #34. Homemade fire pit making kit.
Step-by-step tutorial

:

How to Make a DIY Fire Pit in Your Backyard

.

Overview

: the ideal, low cost, do-it-yourself fire pit for your outdoor space. Assemble in 1 hour. The perfect gift for the busy human who wants a fire pit, but wants to make it his or herself.

Materials

:

30 pewter concrete retaining wall blocks. $2 a piece.

1 bag of pea pebbles

. ~$4.

1 bag paver base. ~$4.

Tools

:

Price for Materials

: $68.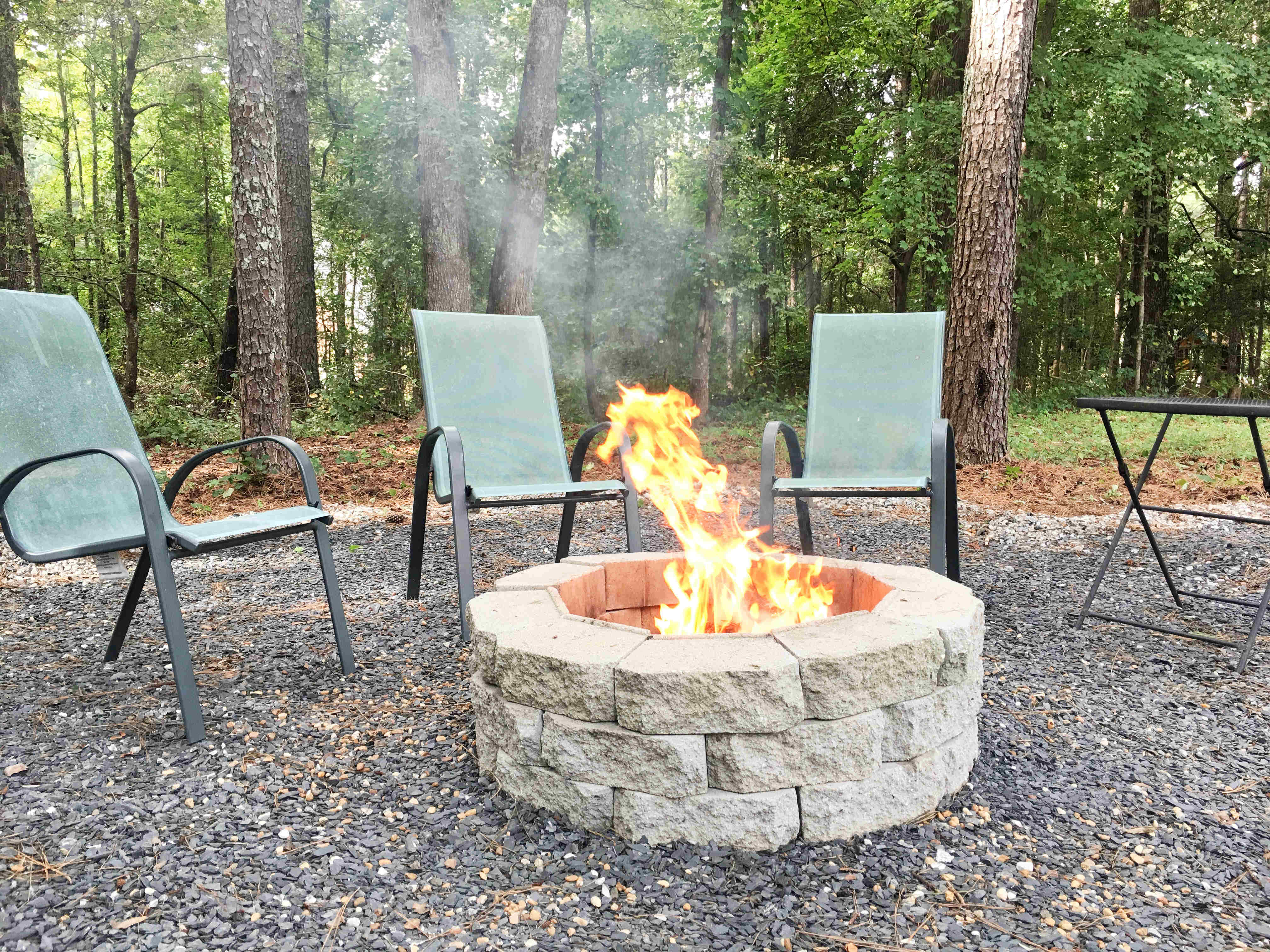 Gift idea #35. Wood workbench kit.
Overview

: Signature Development brand (first below) offers a foldable, self-assembled, wood workbench for any garage, shop or DIY workspace. The folding features makes relocating the workstation quick and easy. It comes as exact-length pieces of wood that you or your DIY friend can assemble.

Price

: $80.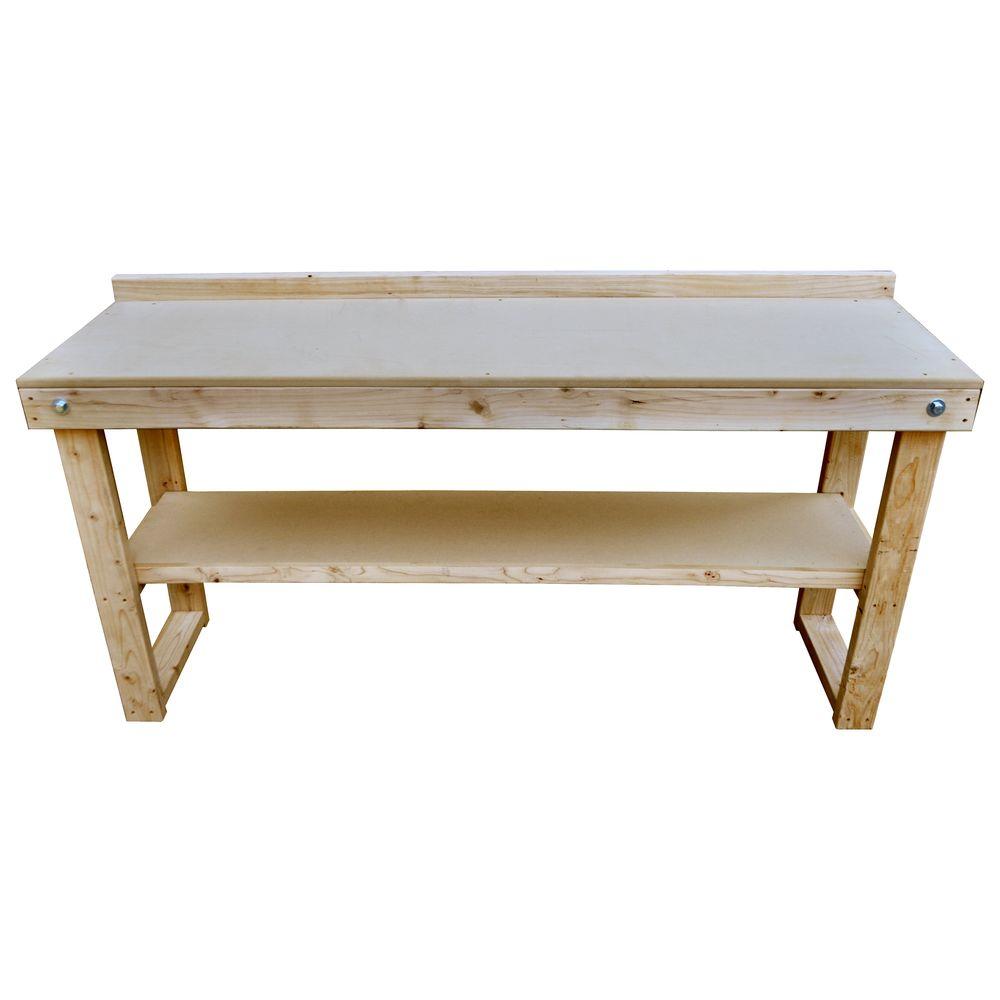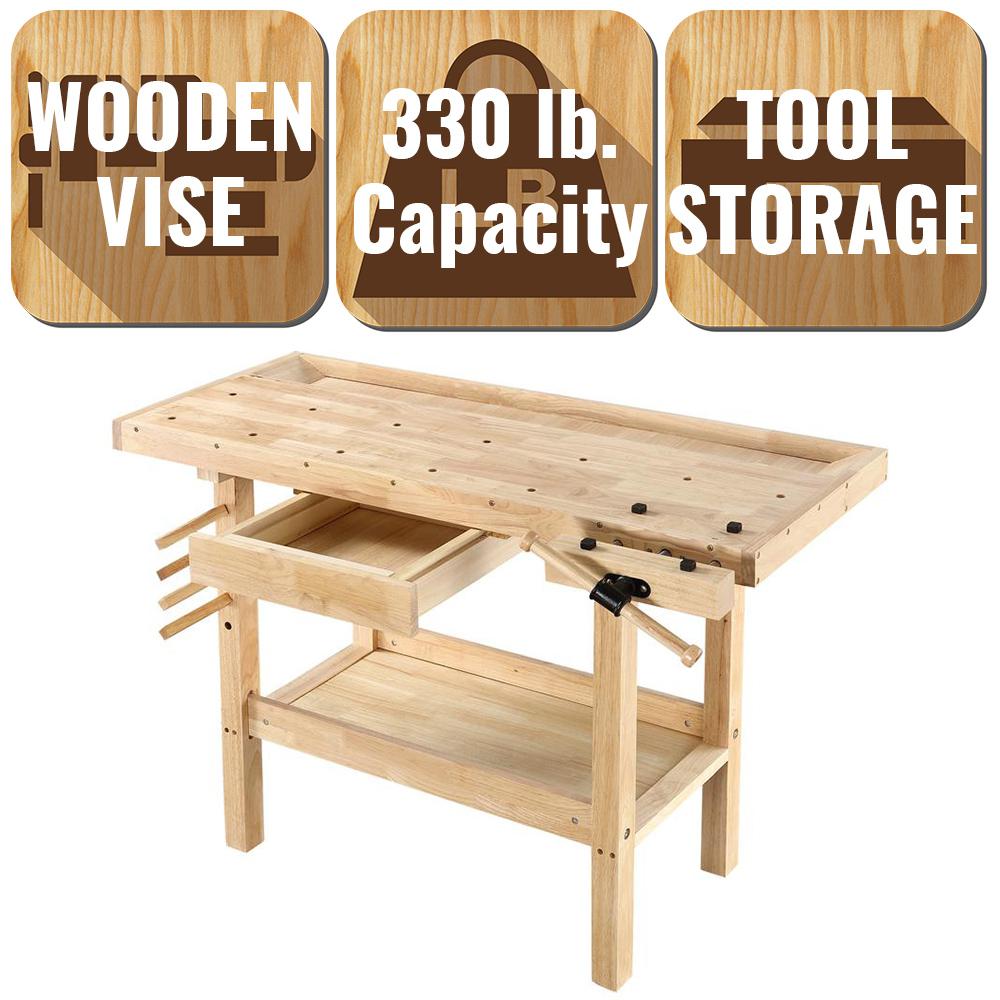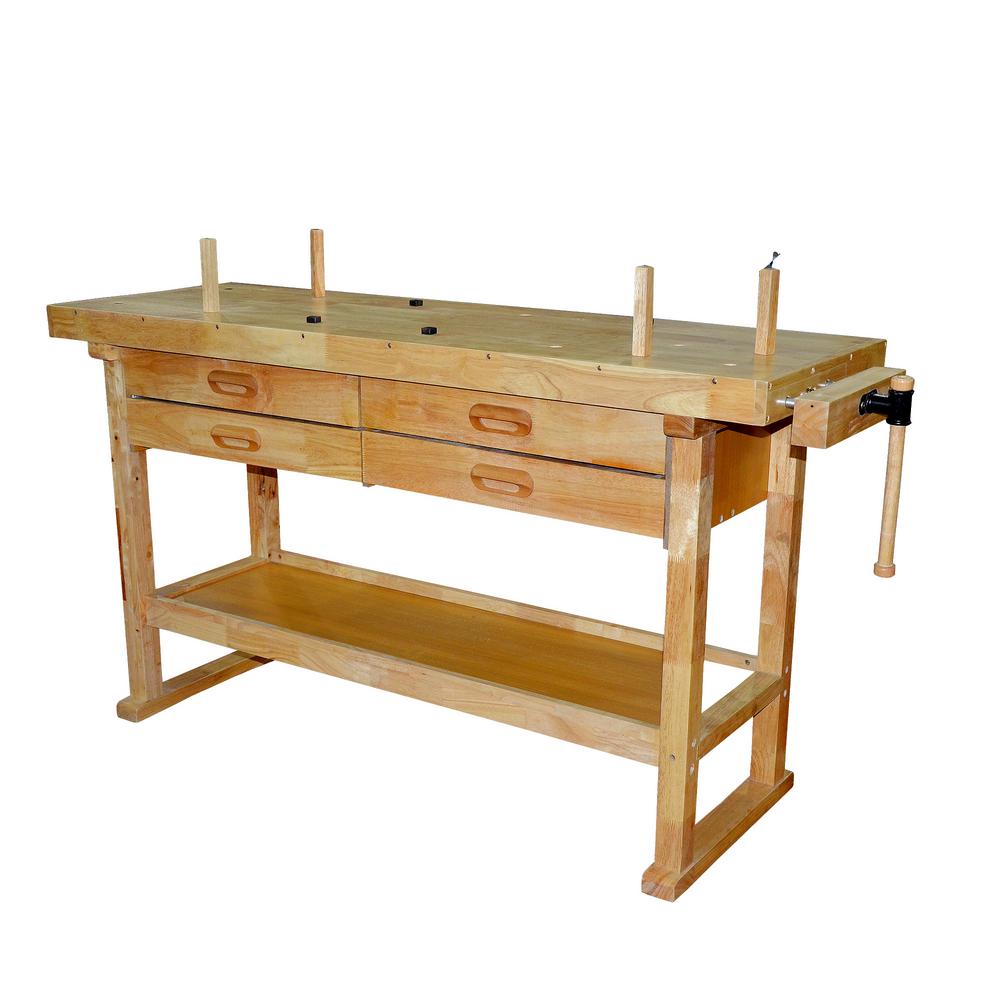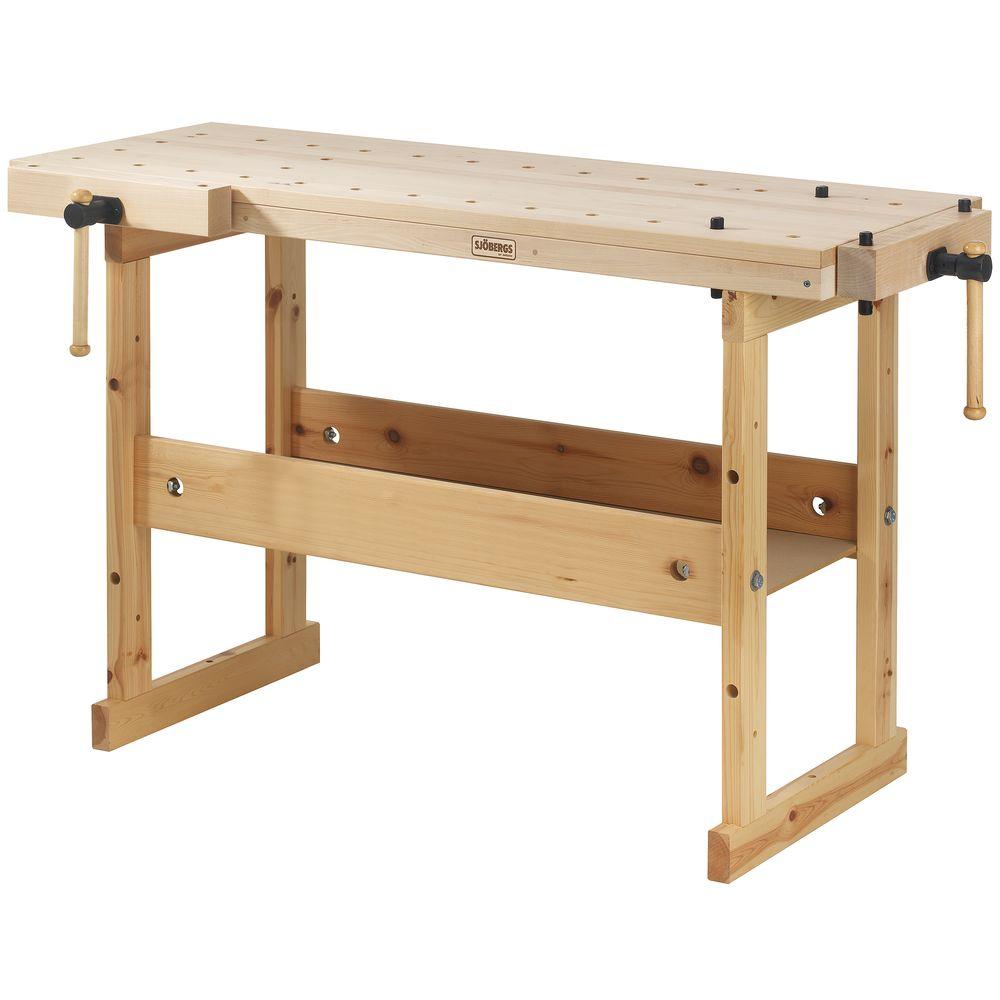 ---
TABLE MAKING ESSENTIALS
Detailed step-by-step tutorial:

How to Use a Kreg Jig for Pocket Hole Drilling, Screwing & Wood Furniture Joinery

.

Overview

: the quickest and easiest way to inconspicuously connect pieces of wood together with screws for DIY furniture, homemade decor and heavy duty crafting. Hiding screws on the back and underside of each wood joint is extremely difficult – the angle at which the screw must be installed allows very little room for error. To hide a screw head, you'd need to use a countersink bit, pre-drilled at that same perfect angle. Eliminate all the errors, guesswork and frustration by using a Kreg Jig to predrill the perfect angle in a non-visible area, hide the entire screw and attach two pieces together with excellent structural integrity.

Prices

:
*Note: the $20 system & $40 kit do NOT include the necessary clamp. These two Kreg item will NOT function without a separate face clamp, trigger clamp or the like.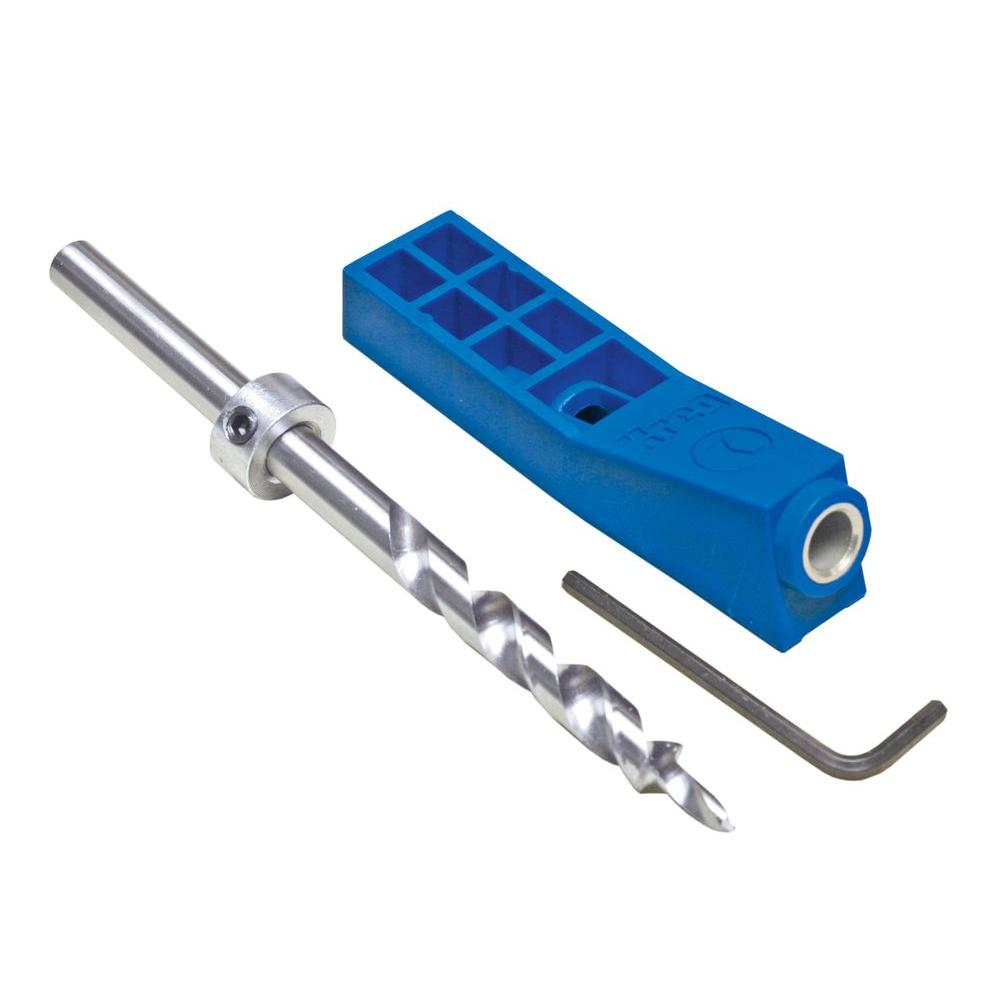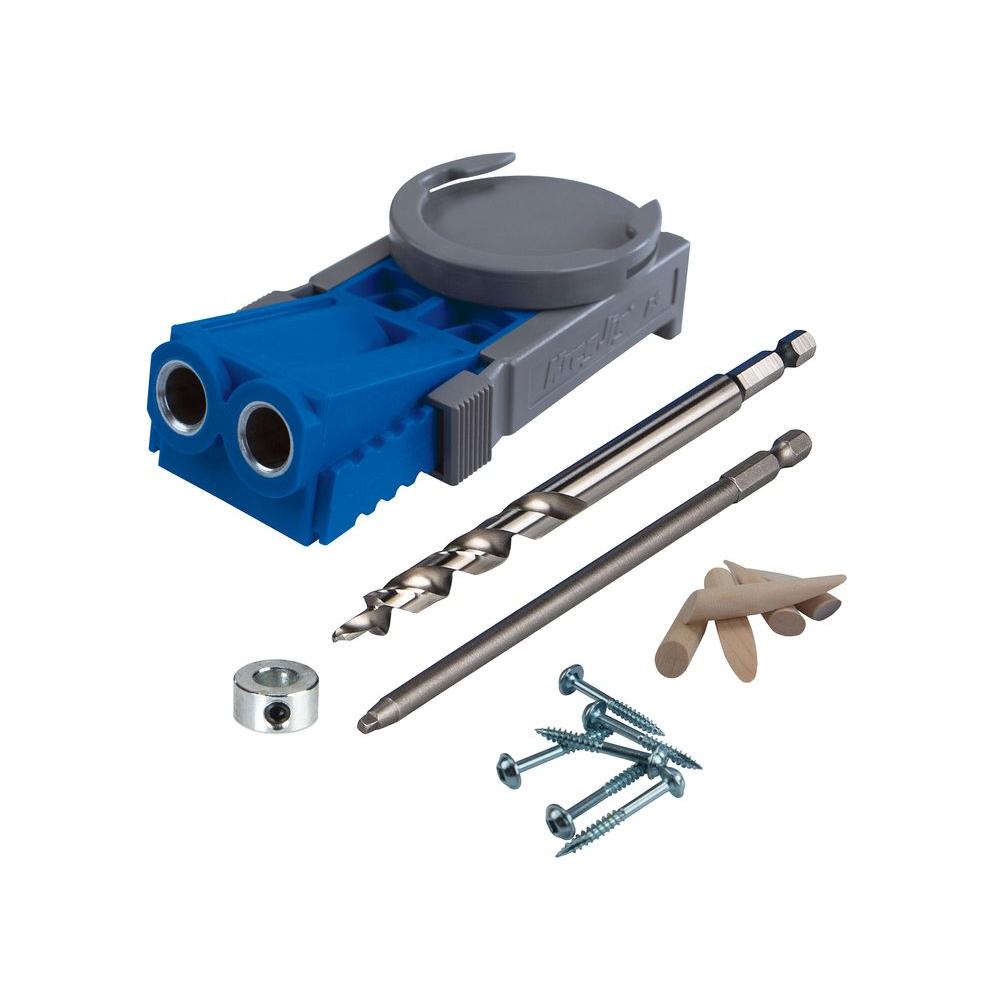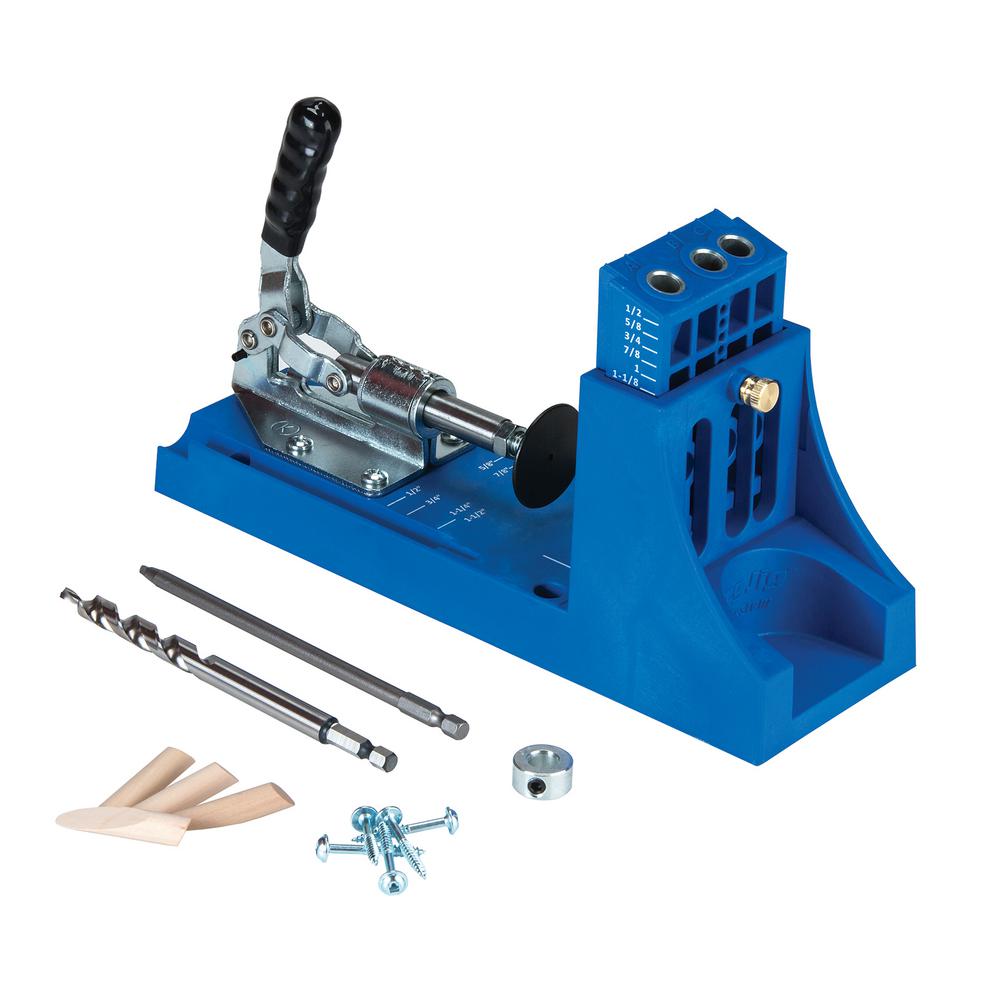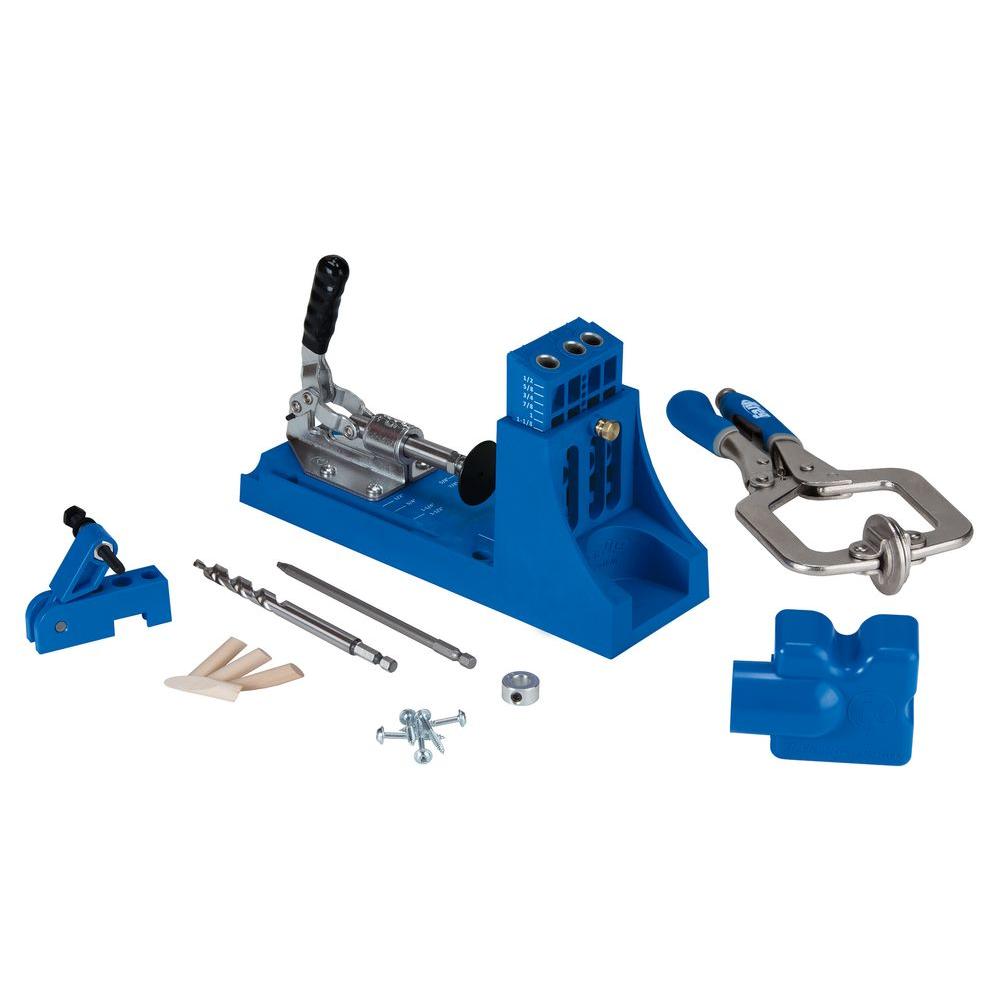 Overview

: the function of parallel clamps at a much more affordable price. Clamp pieces of wood together for ease of installing bugle-head screws / pocket hole screws OR to provide necessary pressure when joining boards with wood glue. Crucial for all glue + biscuit joints AND glue + tenon joints. Although ½" pipes and ½" pipe clamps are cheaper, they tend to bow at higher tension. The pipes and pipe clamps are NOT sold together.

Price

:

$14 – ¾" pipe clamp. Creates a clamping system for 1 black pipe,

sold separately

.

TOTAL PER CLAMP = $32 – $34.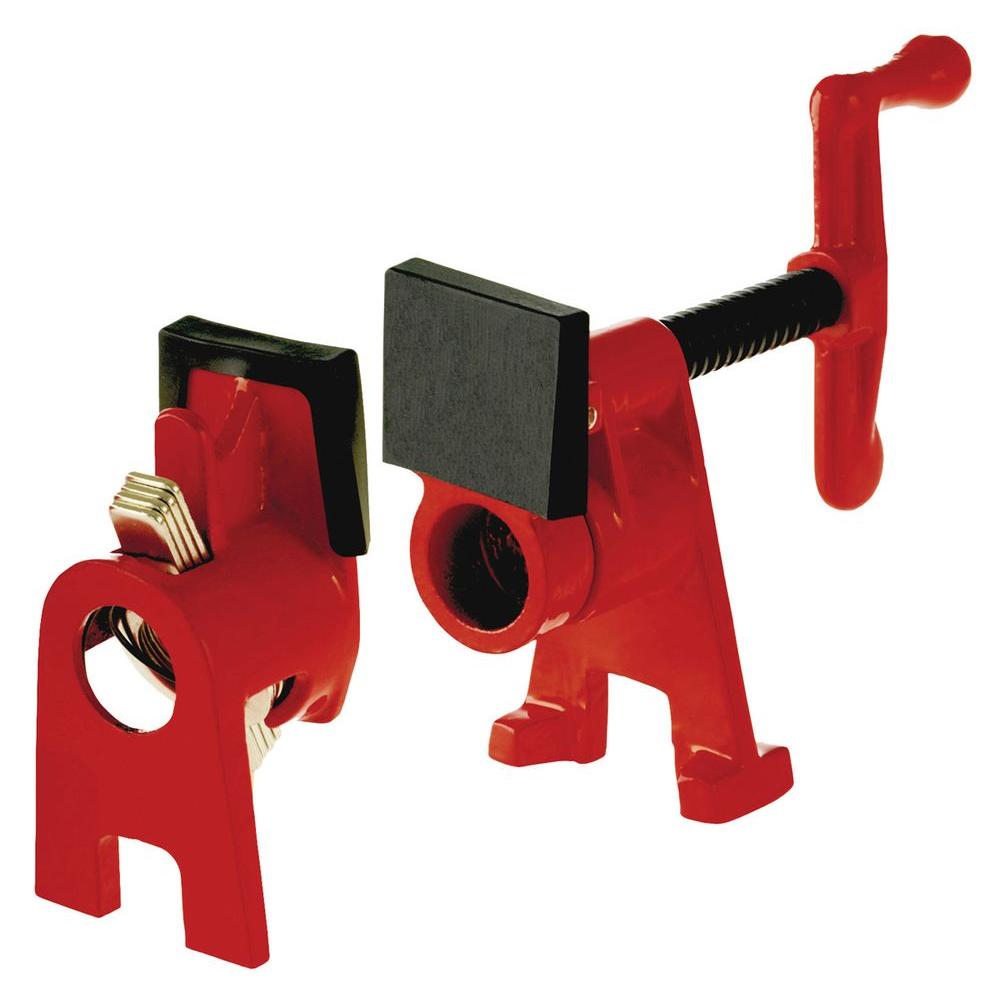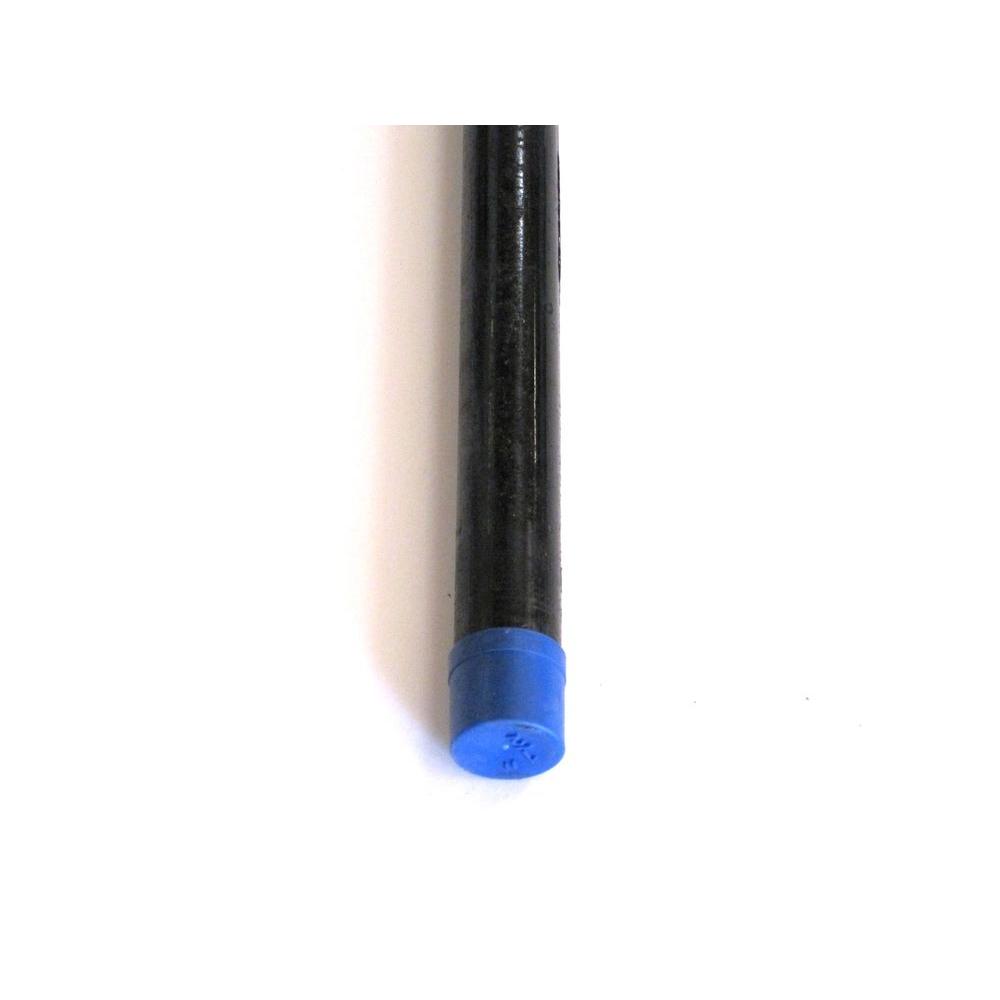 Overview

: a clamp that can be tightened or released using only one hand. Pump the trigger to bring the movable jaw together, or grab the release lever to immediately disengage all tension for quick removal or repositioning. Ideal for holding pieces of wood together for screwing, gluing, biscuit joinery and domino joinery. If you're using pipe clamps to hold your tabletop slats together, use trigger clamps to sandwich the tabletop while adding tension from the top and bottom to ensure the slats remain flat.

Price

: $25 – $40 depending on length. Price per clamp.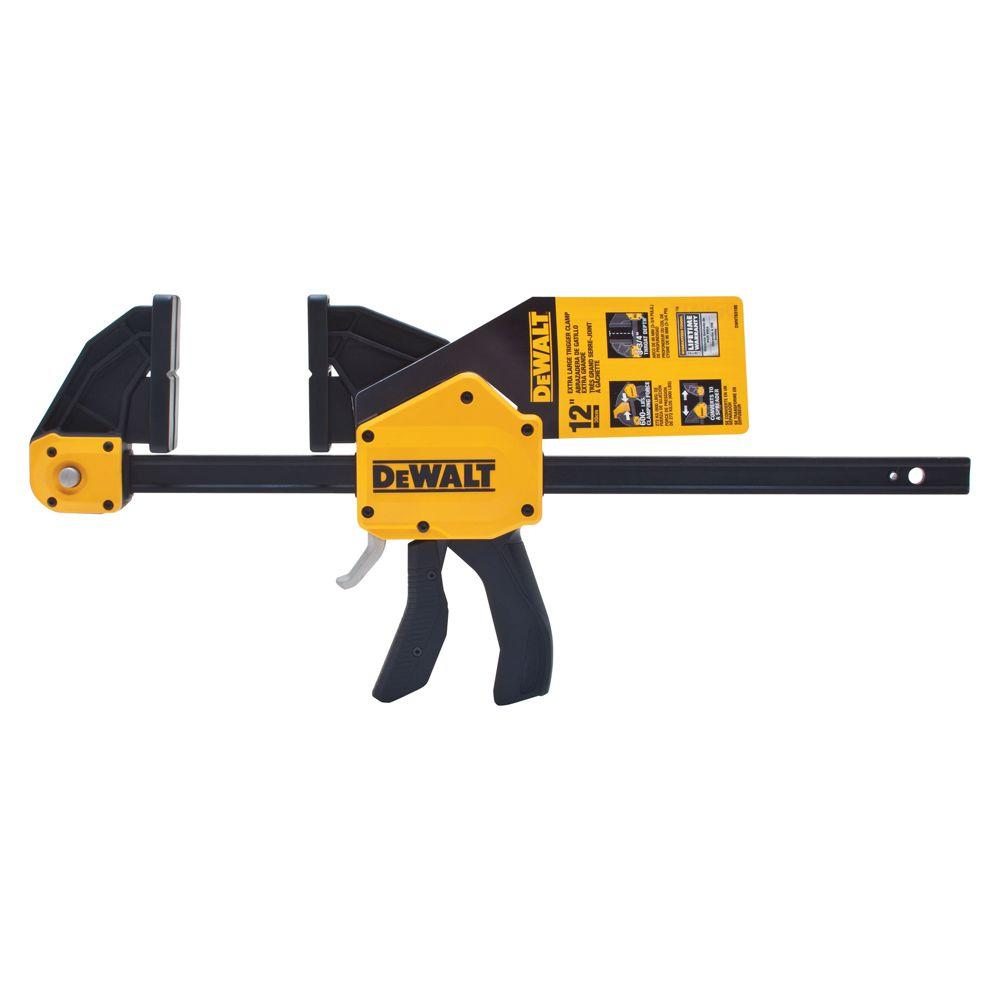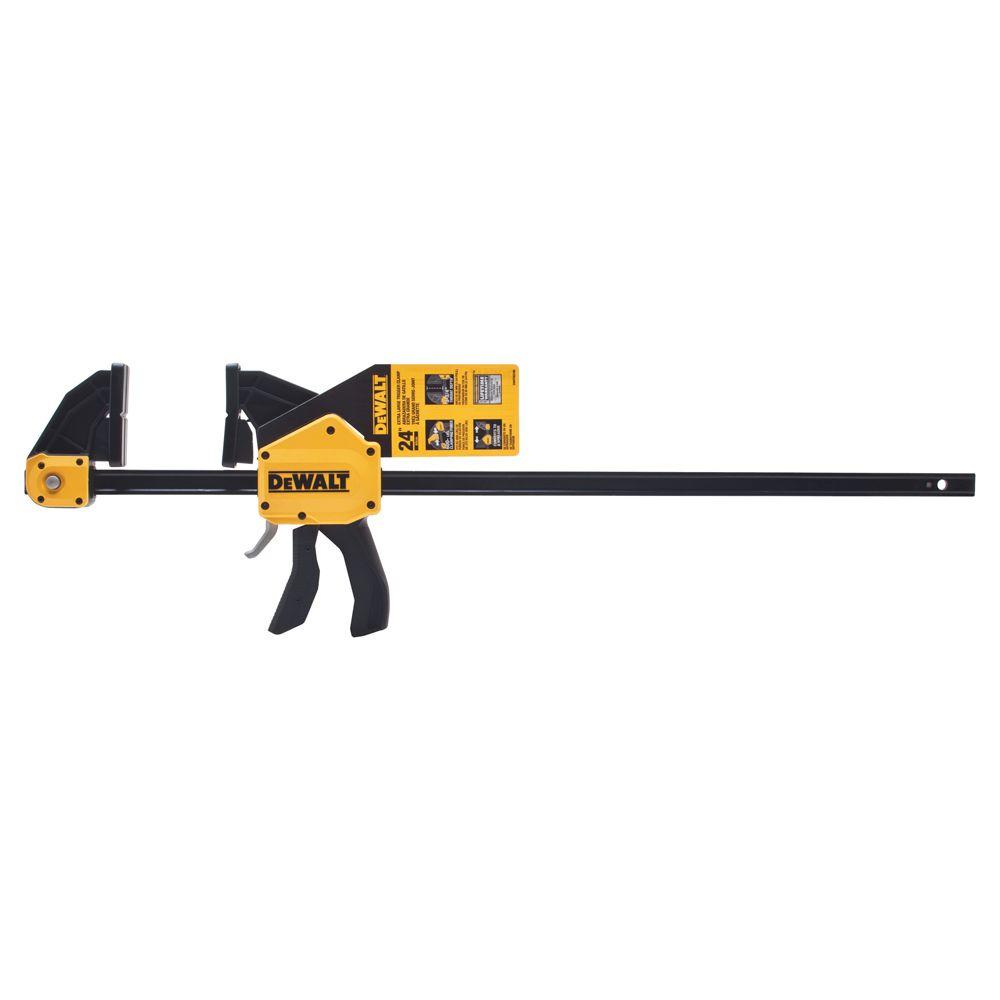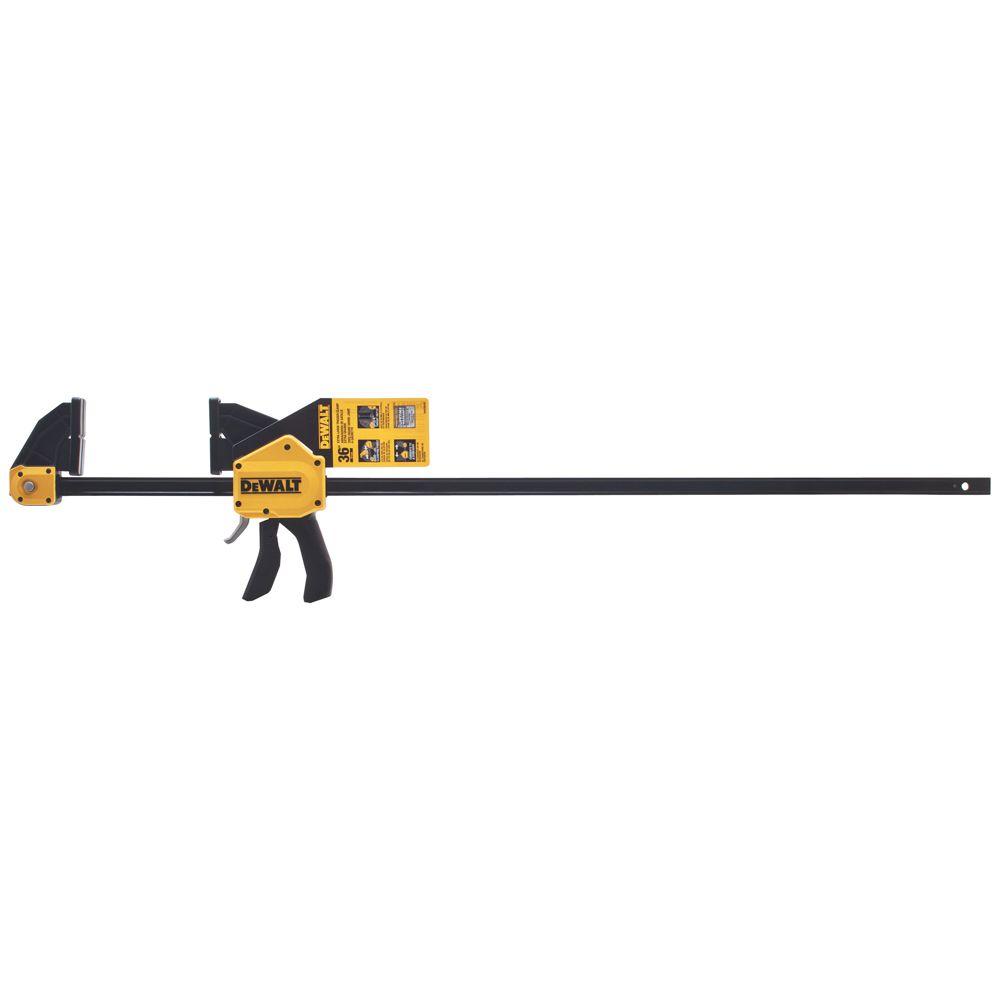 Overview

: the gold standard for clamping together more than two pieces of wood for screws, glue, biscuit or domino joinery. The parallel jaw ends and long metal rail help reduce bowing as tension increases. Each jaw offers even pressure to ensure the clamped boards remain flat.

Price

: $31 – $65 per clamp. Depends on length and brand.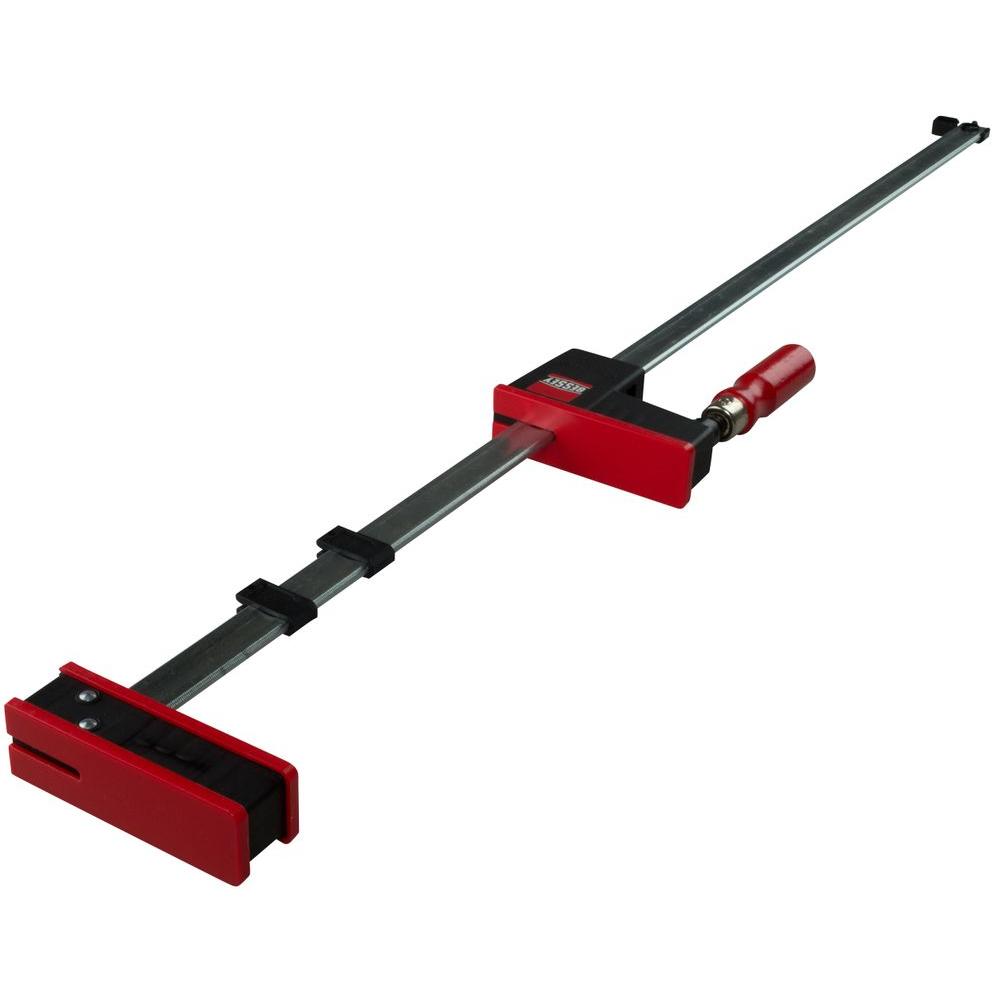 Overview

: an electric saw used to professionally join multiple boards together using thin, tiny football shaped "biscuits" and wood glue. The saw makes a half biscuit cut in one side of a board and another half biscuit cut in the opposing board. Glue is added to the board seams, the biscuit slots, a biscuit is added and covered in glue, and the boards are clamped together until the glue dries.

Price

: $100 – $200 for entry level models.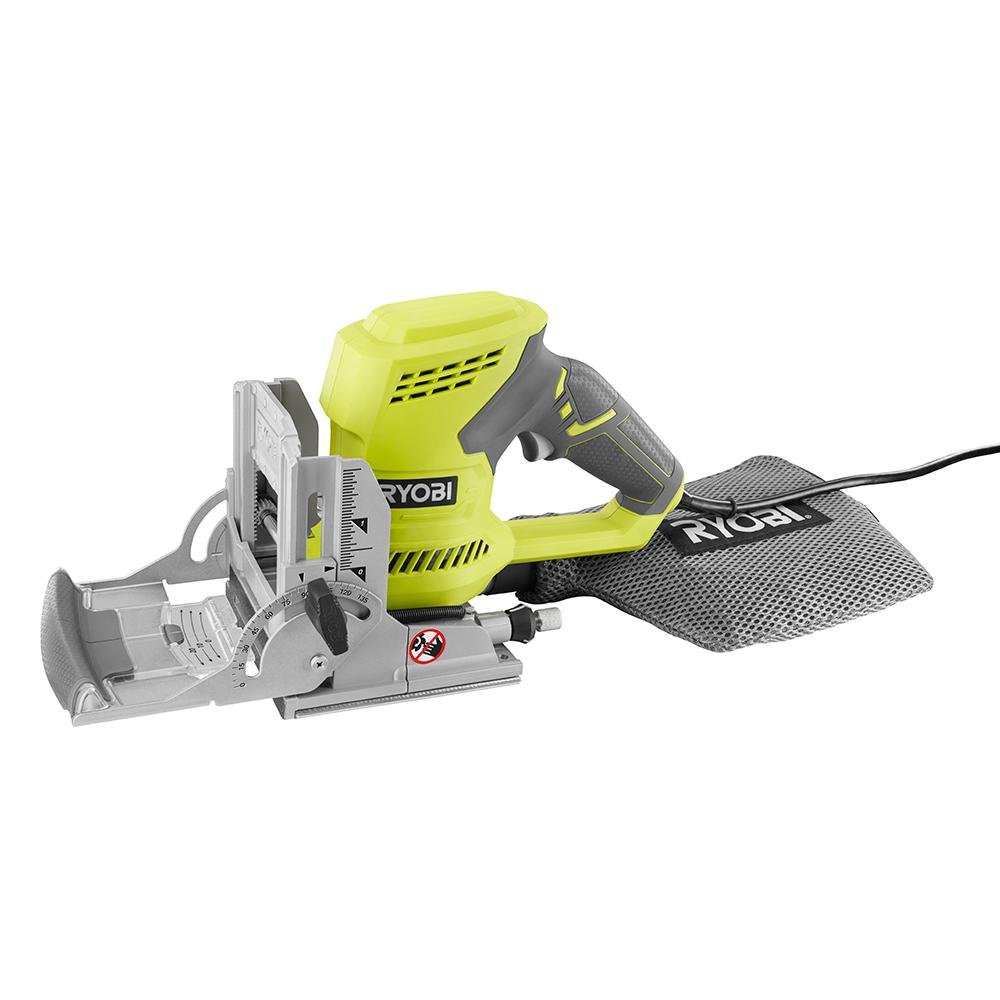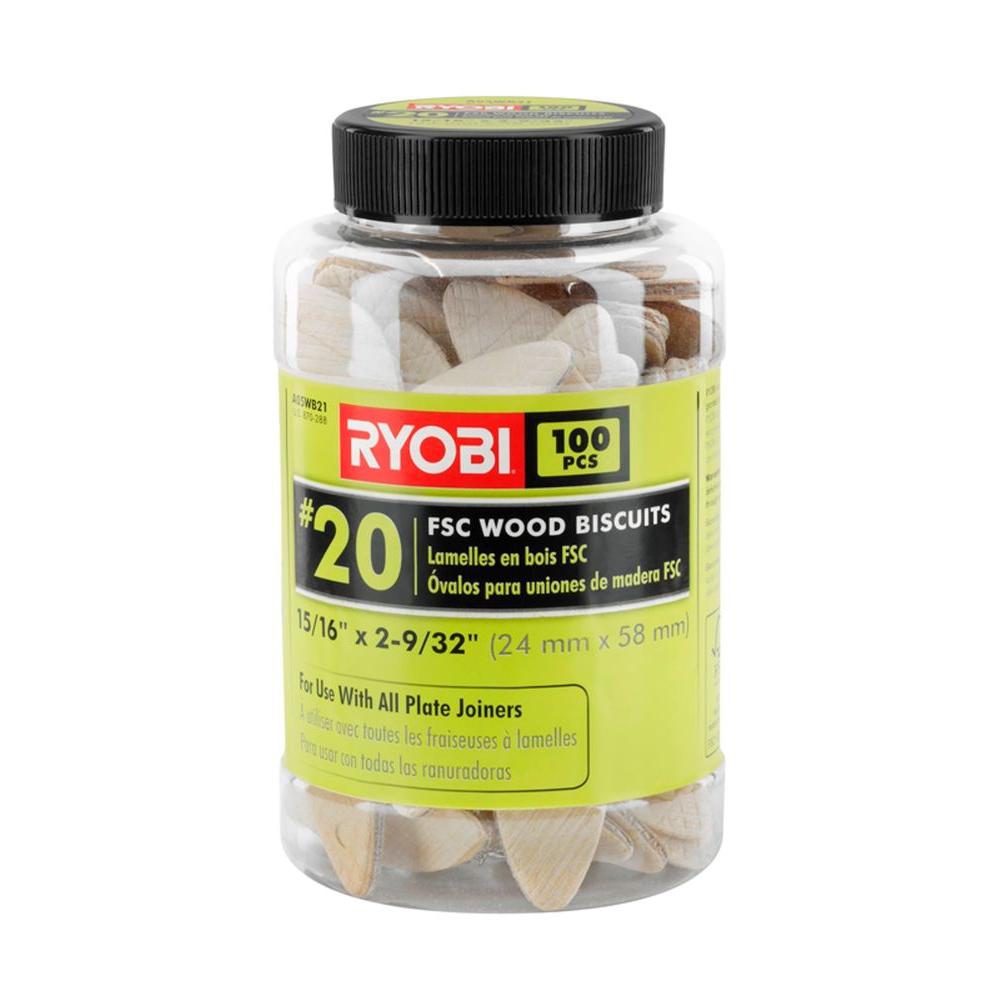 Overview

:

Festool brand

's version of an electric mortise (slot) cutter that allows two boards to be joined with a wooden tenon and wood glue. The tool cuts a hole or cavity in two opposing pieces of wood, each at about half the length of the tenon or wooden piece that will fills the slots and hold the boards together. The length and precise shaping of the tenons allow for a stronger joint than a biscuit joiner can offer. Tenon length and joinery also lessens the room for error, minimizing how offset each board is from the next to significantly reduce your tabletop sanding time.

Price

: $960 – Festool Domino DF 500 Joining System.

Aka

: electric mortise cutter for tenon joinery.
Gift idea #42. Jointer.
Overview

: the primary power tool used to remove wood from the bottom of a board to make it completely flat. A built-in metal infeed and outfeed table surround a spinning cylinder with 2 blades attached to it. You slowly push your board across the jointer to remove a very small amount of wood from the underside with each pass. The closer your board is to being perfectly square, the flatter your tabletop will be when it's joined together with screws + glue, biscuits + glue, or tenons + glue.

Note

: after being run through the jointer, the flat-bottomed board will NOT be uniform thickness. Flatten 2 sides of the board, run through a planer to create uniform thickness and rip through a table saw to make the board completely square for perfect joinery.

Price

: starting at $310 for a portable, benchtop model. Professional, large-scale jointers can range from $1,500 to $6,600+.

Aka

: jointer kit.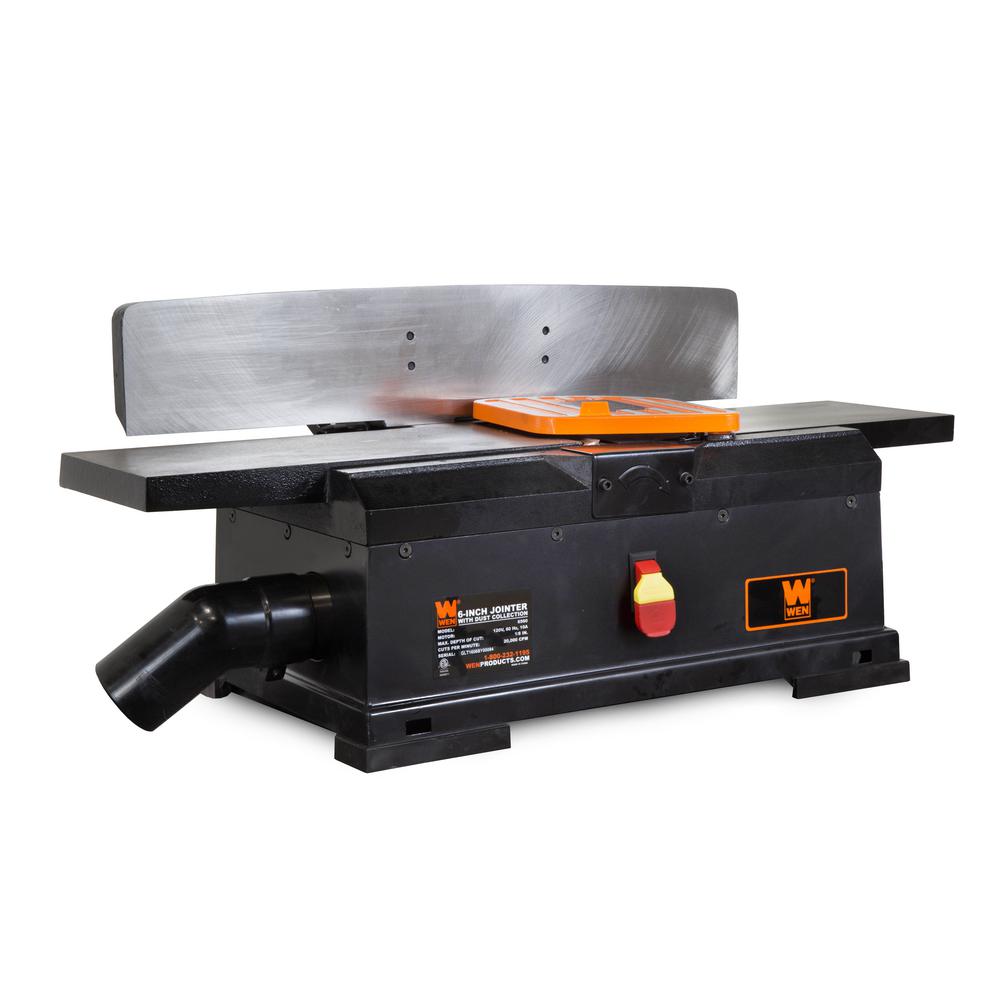 Overview

: the primary power tool used to remove wood from the top of board to make it exactly the same thickness all the way through. Like the jointer, a cylinder with attached blades spins to remove a very small amount of wood as the board passes through the machine. Another essential tool for making perfectly square boards. Square boards enable your tabletop to be flat and free from waves and warping. We're only referring to the portable and professional-use machine, NOT the handheld versions. Handheld version ONLY flatten out inconsistencies in boards or tabletops, they can't make a board the same thickness throughout.

Note: as mentioned in #42 Jointer, be sure to first run the board through a jointer on 2 sides, then a planer, and lastly rip with a table saw to create a very square board.

Price

: $245 – $600+ for benchtop versions. Professional-use versions range from $1,500 to mid thousands.

Aka

: thickness planer, corded planer, industrial woodworking planer.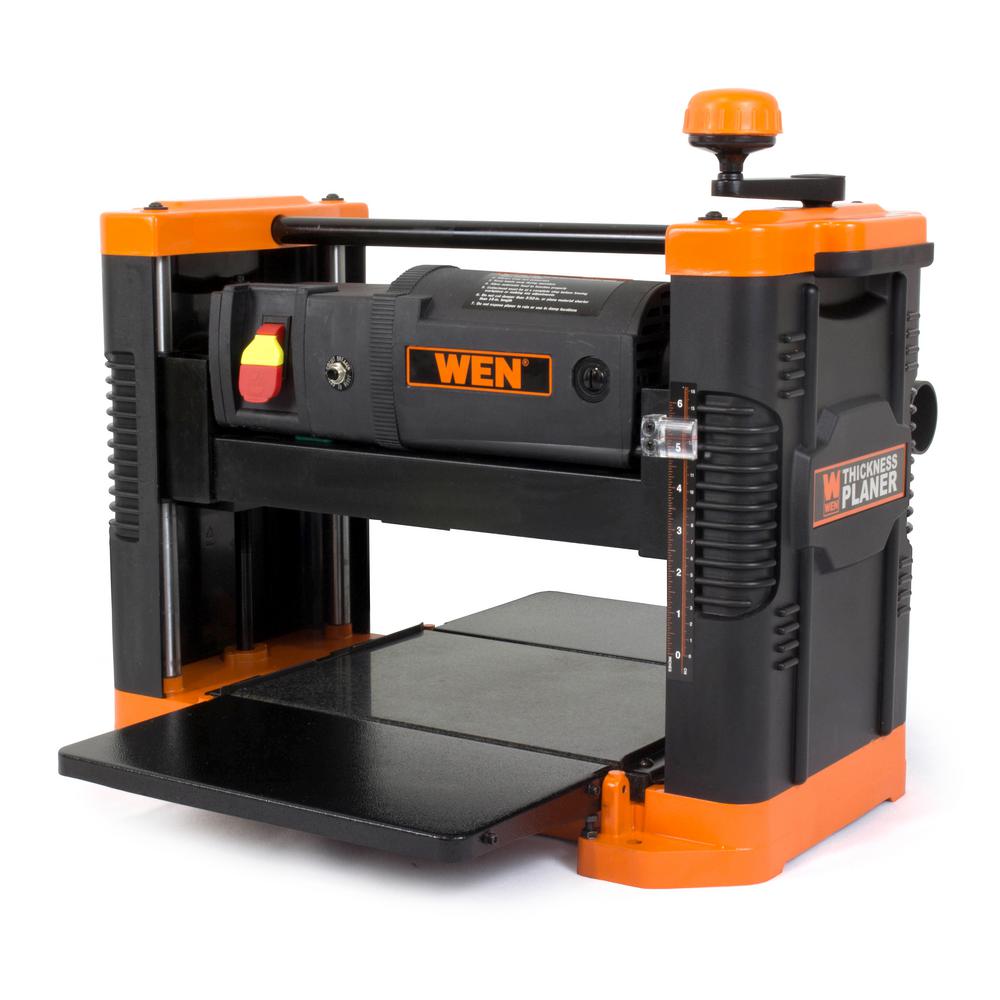 Note: the miter saw & table saw are both crucial for table making. See "Power Saws".
---
WOOD FINISHING & REFINISHING ESSENTIALS
Overview

: the liquid applied to softwoods like pine before staining. Pre-stain reduces the splotching and inconsistencies usually associated with softwood staining. A must-have for the DIY regular or woodworker who builds furniture and decor using dimensional lumber from the hardware store.

Price

: ~$13 for a quart. ~$38 for a gallon.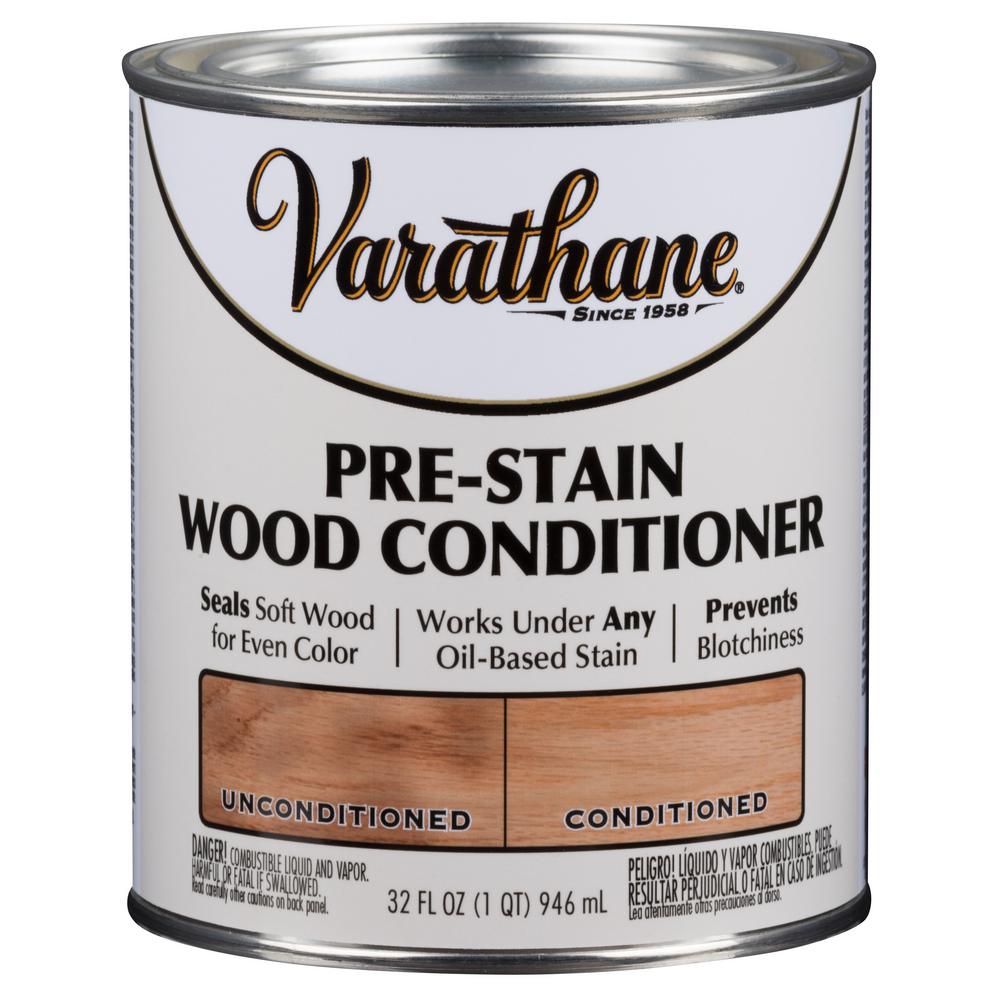 Overview

: the water or oil-based liquid rubbed onto wood to add a desired color, changing the overall pigment of the board or piece. Most dimensional lumber is harvested earlier than ever, and cheaper-to-grow / younger woods often yield a very pale color. Staining simulates much nicer, denser and more expensive hardwoods at a fraction of the price. The stain can also help prevent the wood from aging via exposure to sunlight and moisture.

Price

: $9 for a quart. ~$54 for a gallon.
Overview

: a type of clear coat that adds protection to the materials it's applied to without changing the overall aesthetic. Polyurethane goes on as a thick liquid and dries like clear plastic. Even though oil-based poly is more durable than water-based poly, the oil version add an amber hue to anything it covers. Water-based yields very little color change in comparison. Ambering can be desirable when added to raw wood or to mid-tone / dark-tone stains. Water-based dries much faster than oil-based. Choose your sheen based on preference: matte, satin, semi-gloss or gloss. We linked the water-based version above and below to avoid most ambering, and for application on light colored items. Use oil-based for heavily trafficked areas like floors and stair treads.

Price

: $16 for a quart. $48 for a gallon.

Aka

: clear coat, top coat, protective layer, urethane, poly.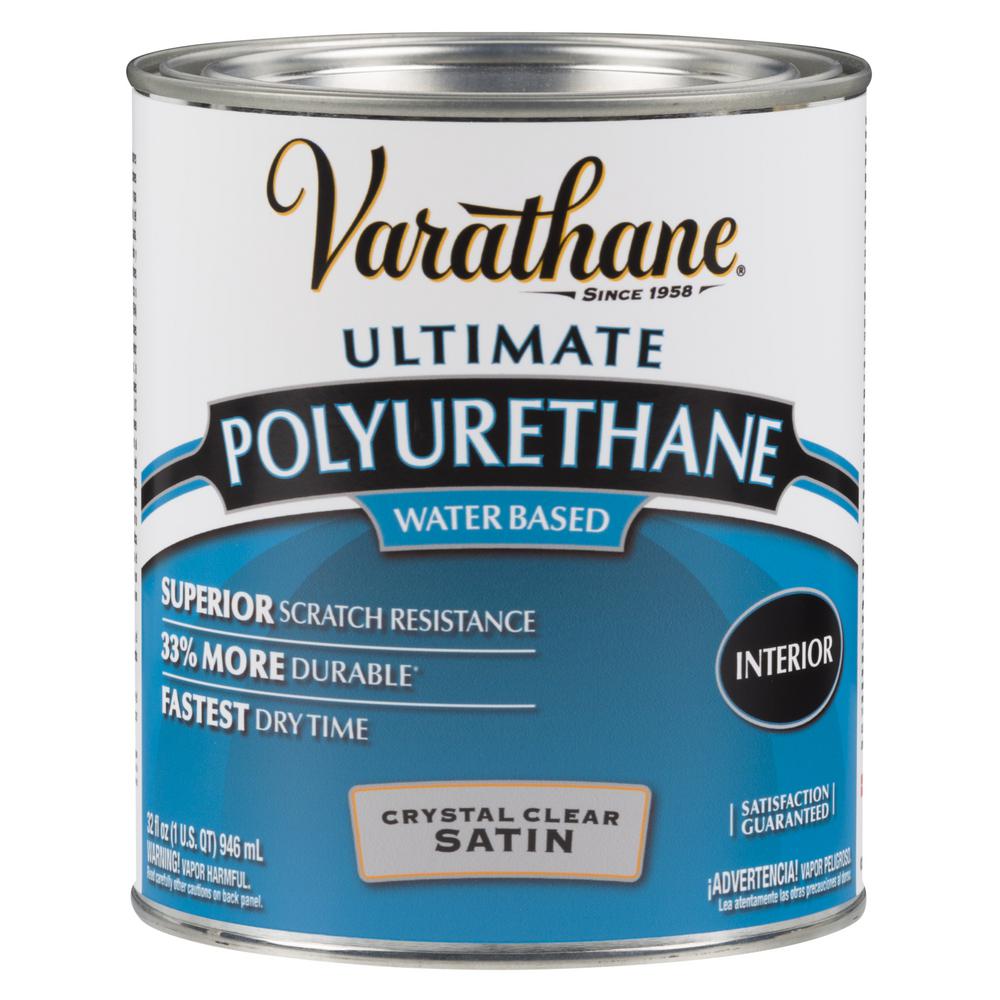 Overview

: another clear coat option providing protection for your wood board or piece. Further saturates the wood's natural color when applied. Not as strong as polyurethane, and it often takes at least a full day to dry. The "boiled" version of linseed oil, along with other additives, accelerate the drying process compared to the raw product. Also use to protect oil-based paints.

Price

: $12.19 for a quart.

Aka

: linseed oil, BLO, oil.
Overview

: furniture-grade wax that provides protection to the wood board or piece. Less protective than polyurethane, but dries within 15 minutes. Beautiful aesthetic when added to raw wood, stained wood or paint. Some products can add a very slight orange hue to the project. The finish is much more matte & muted than the bold & hard polyurethane vibe.

Price

: $12.10 for a 16 ounce can.
Overview

: similar to paint thinner. Use to clean up brushes, paint trays, etc. after oil-based liquid applications: polyurethane, stain, varnish, paint, boiled linseed oil, etc. Also used to dilute oil-based stain and varnish for a less color-saturated application.

Price

: $9 for a quart. $15 for a gallon.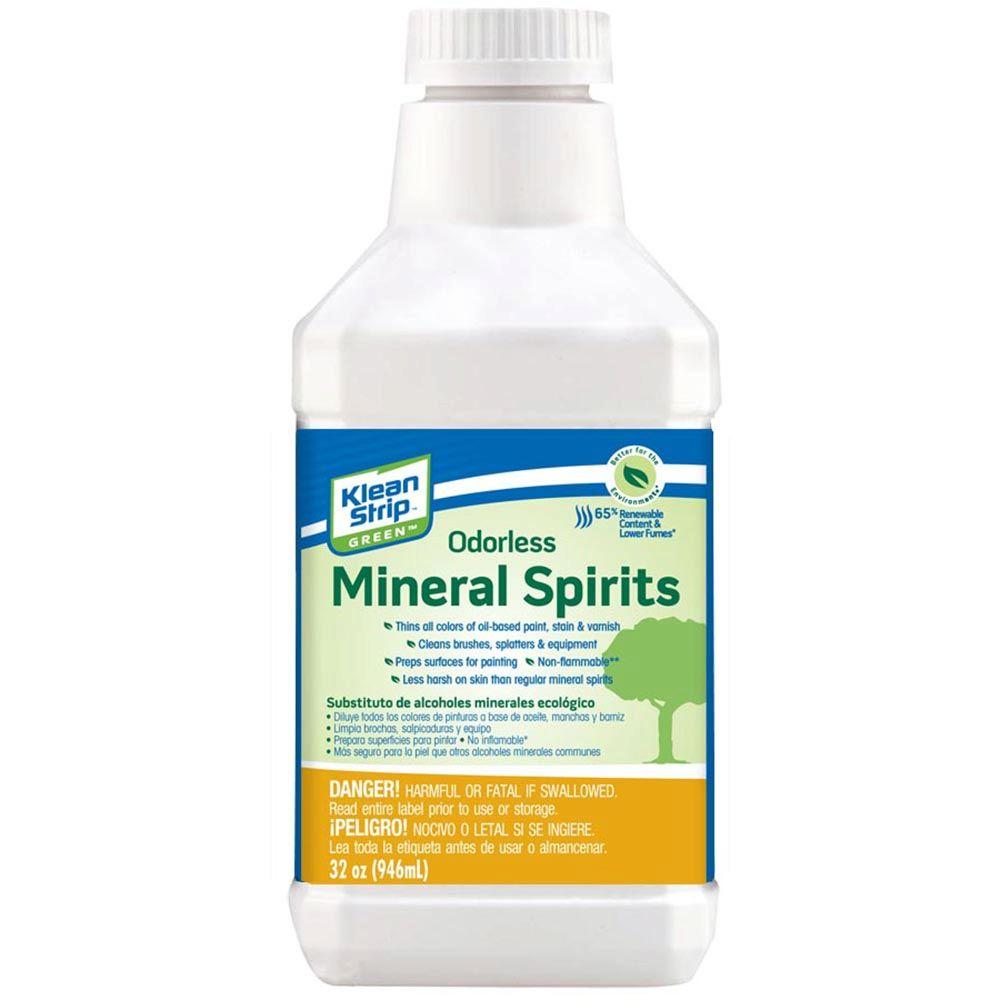 Overview

: low-lint paper towels used to apply stain, paint, polyurethane, boiled linseed oil and wax to wood surfaces or boards. Use to remove dust and debris from a board or piece before application of another product. Regular paper towels will add huge amounts of lint fiber residue to your project, which is NOT desirable. We try to keep a couple rolls of these on hand at all times.

Price

: 12 rolls for $25.
Overview

: protective, chemical-resistant gloves your doctor wears during friendly exams. Wear while staining, painting and adding clear coats to your board or piece. Cheap, disposable and easy to put on and remove.

Price

: $9 for 100 total gloves or 50 pairs.

Overview

: sandpaper sheets are often 9 inches by 11 inches, and used to hand-sand wood, metal and various materials. Sand with paper in hand or wrapped around a sanding block. Lower grit numbers mean a heavier sand and more removal of material. Higher grit numbers remove lesser materia and are used for finishing. Sand before applying paint and stain. Sand between coats of polyurethane for better adhesion. This 5-pack contains 100, 150 and 220 grit paper.

Price

: 5 – 9 in. x 11 in. sheets for $3.37.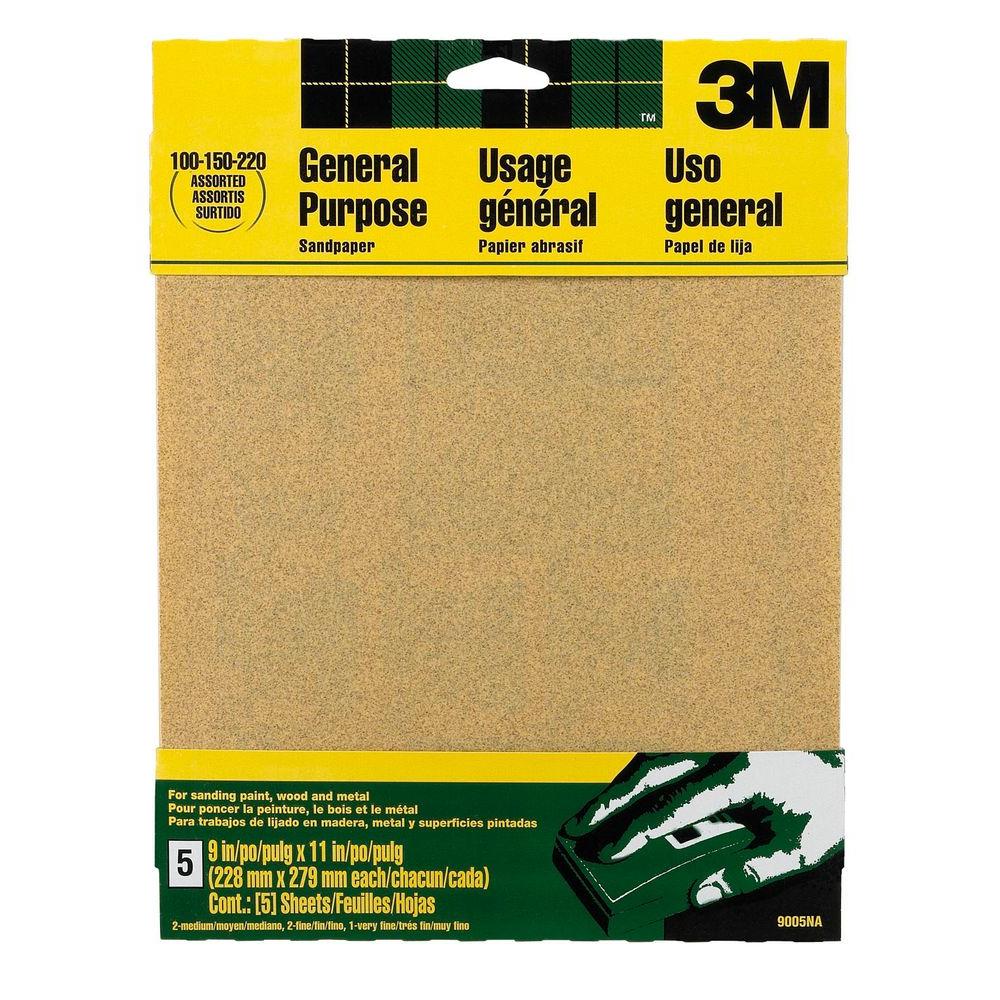 Overview

: the circular-pad, electric sander that spins and vibrates to remove material more efficiently and evenly than by hand. Ideal for flat surfaces, edges and curves. Built-in pouch collects some of the sawdust – remove to empty in the trash. Wet dry vacuums can attach to the sander in place of the pouch for highly effective sawdust removal.

Price

: $60 for sander and carrying bag. Orbital sanding discs:

$5 for a 4-pack of 60 grit

for heavy removal;

$5 for a 4-pack of 150 grit

for moderate removal.

$5 for a 4-pack of 220 grit

for smoothing before stain or clear coat application.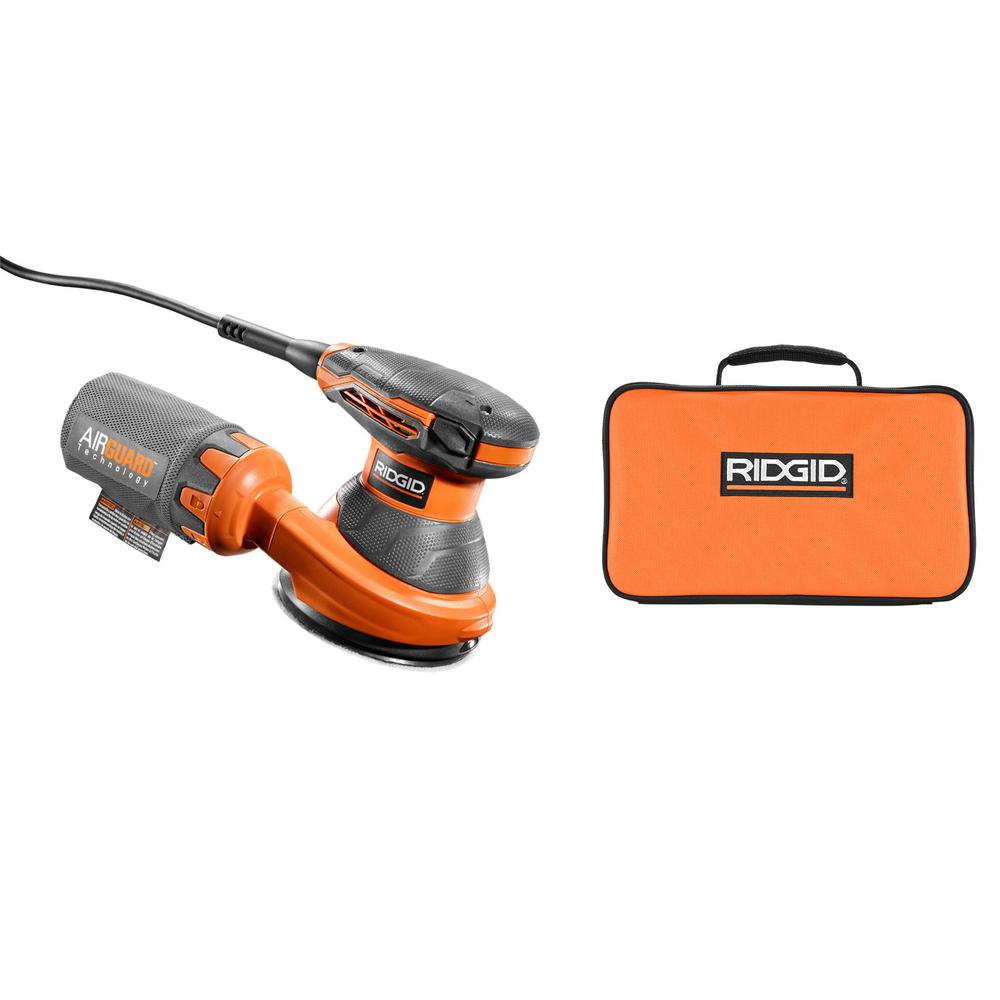 Overview

: the electrical sander with a rotating belt system, like a handheld snowmobile. Ideal for very efficient removal of material on flat surfaces ONLY, (i.e. sanding a tabletop). Removal of wood at angles, on edges and around curves is extremely difficult to achieve evenly and consistently. Choose the orbital sander for more intricate pieces, or simply choose to sand by hand.

Price

: $100 belt sander. $9.10 for a 3-pack of belt sandpaper (60 / 80 / 100 grit).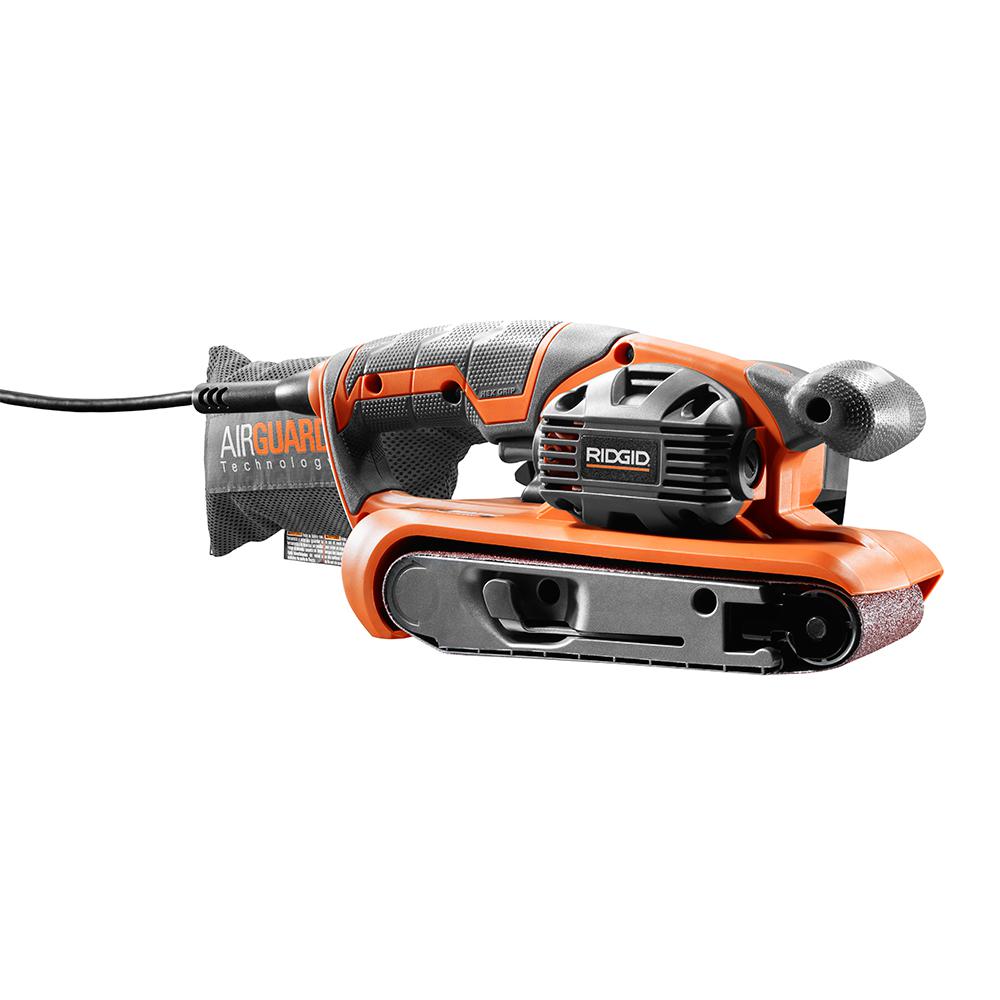 ---
BASIC WIRING EQUIPMENT
Overview

: needle nose or long nose pliers combined with a wire sheath remover AND wire cutter. An electrician, handyman or handywoman's must-have for all things wiring. The pliers have multiple circular cutting sizes to help remove all residential-grade wire sheathings or coverings, enabling a metal-to-metal connection for proper electrical flow. A necessity for

changing light fixtures

, wiring outlets, switches, junction boxes, installing your dishwasher, etc.

Price

: $18 for a higher-end brand.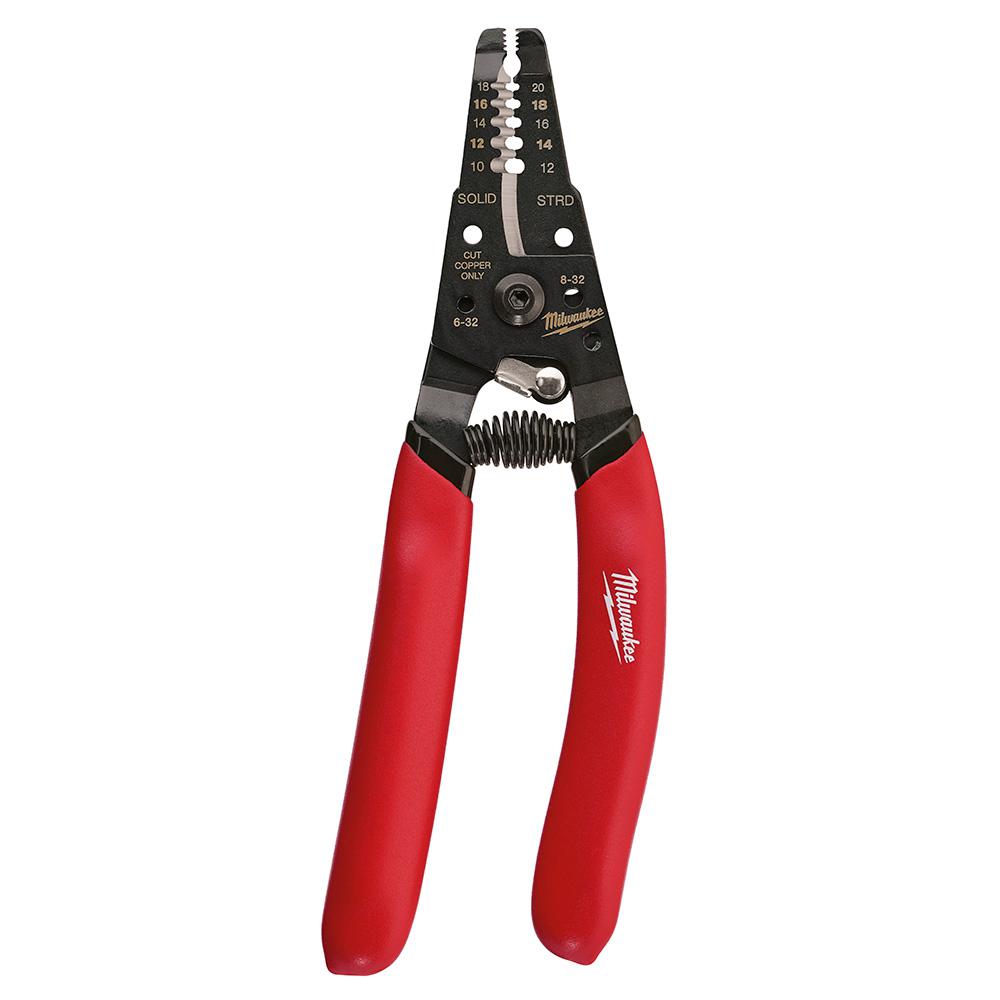 Overview

: the easiest way to determine if a electrical device or wire has power running to it. When changing or installing new outlets, fixtures, switches, appliances and junction boxes, it is ESSENTIAL to know that the wires you're working with are NOT hot or live. Prevent electrocution by simply touching the end of the voltage detector to the device or wire and making sure the detector alarm doesn't go off. Always test on something you know is hot before testing the fixture you are working on to confirm that your voltage detector functions properly.

Price

: $25 for a high-end brand. Not worth risking.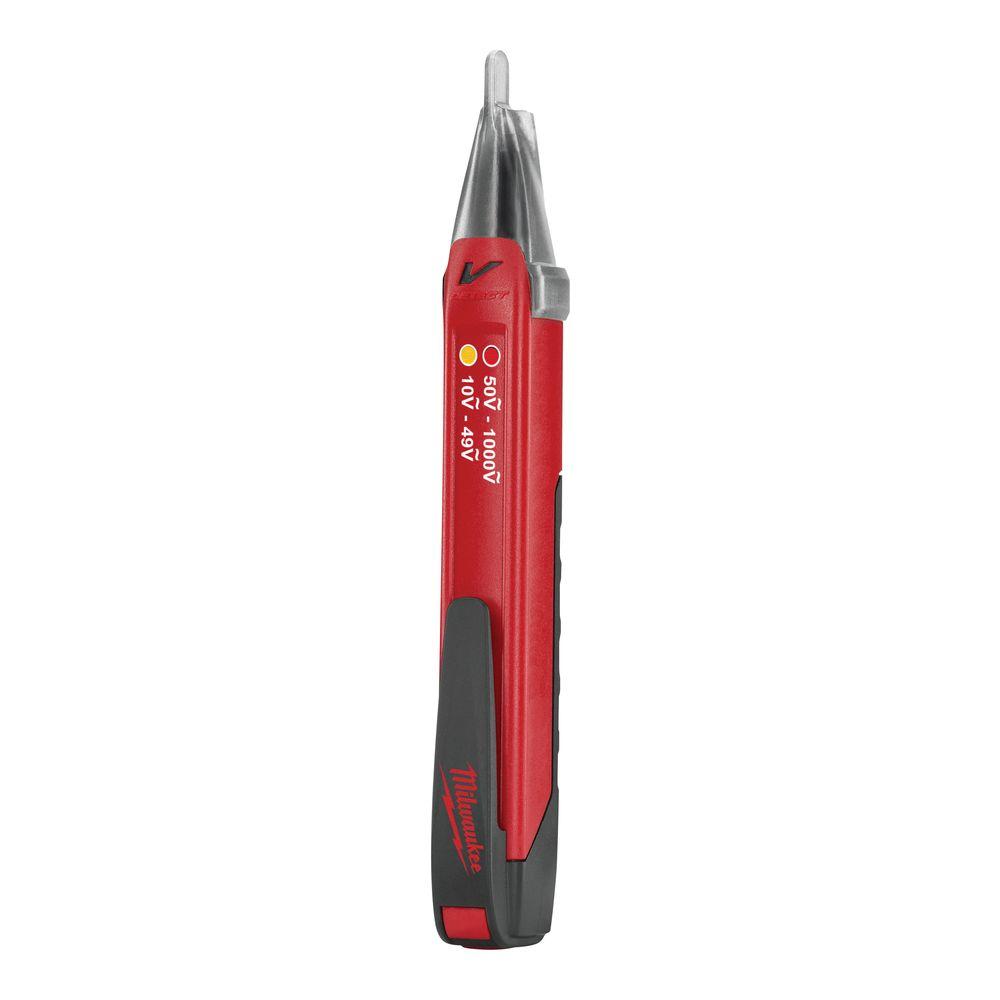 Gift idea #57. Bag of wire nuts / wire connectors.
Overview

: your means of safely connecting wire to wire. After determining that your wires are not connected to a live power source with your voltage detector, connect like-colored wires to each other using your wire nut or wire connecter. Twist the two wires together clockwise and apply the wire nut while turning it clockwise on the twisted wires until it's difficult to turn.

Price

: $5.38 for an assorted 25-pack.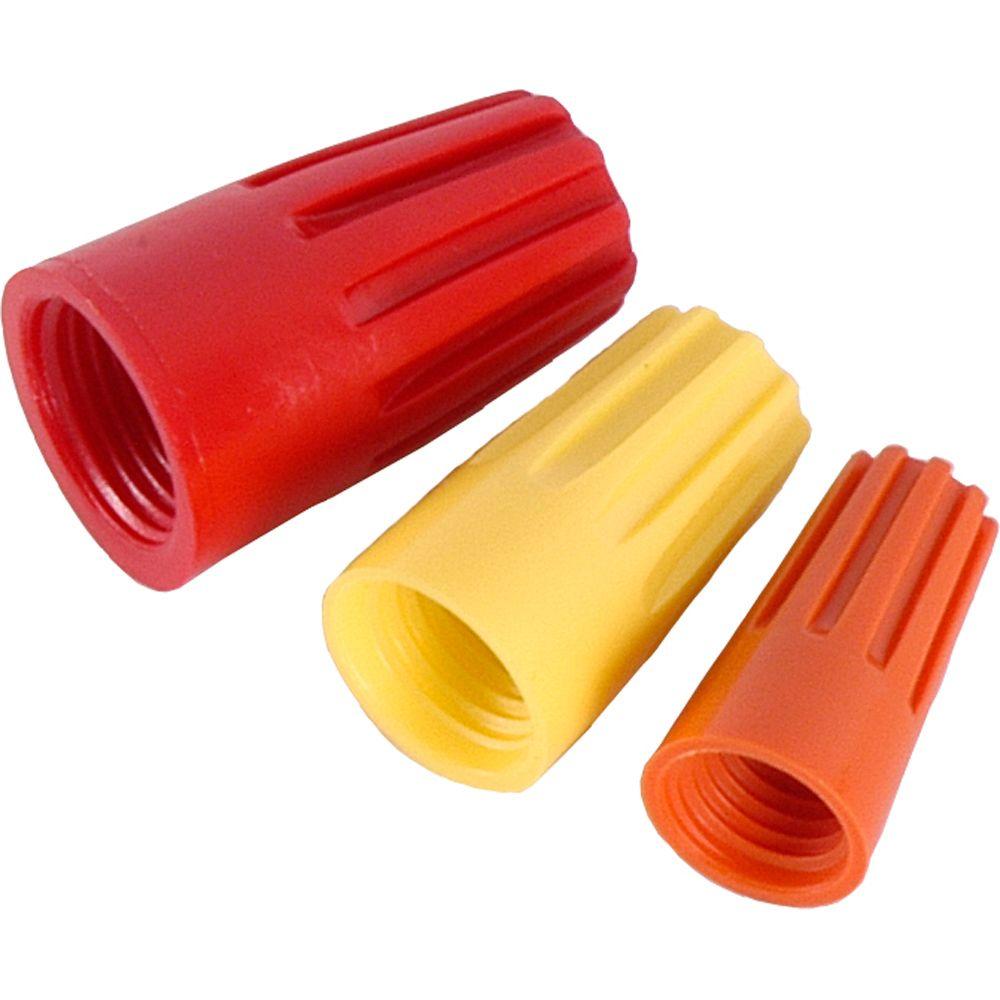 More gift guide ideas & inspiration.
Still shopping for the perfect gift for you friend or family member? Here are a few other guides we handpicked based on our passions, experience and products that have changed the game for our little household.
Best Holiday Gift Guide for Moms of Babies & Toddlers –

coming soon

!

Top 9 Gifts for the New Homeowner –

coming soon

!

Kitchen Holiday Gift Buying Guide For Home Cooks –

coming soon

!

Best 11 Holiday Gifts for the Craft Beer Lover –

coming soon

!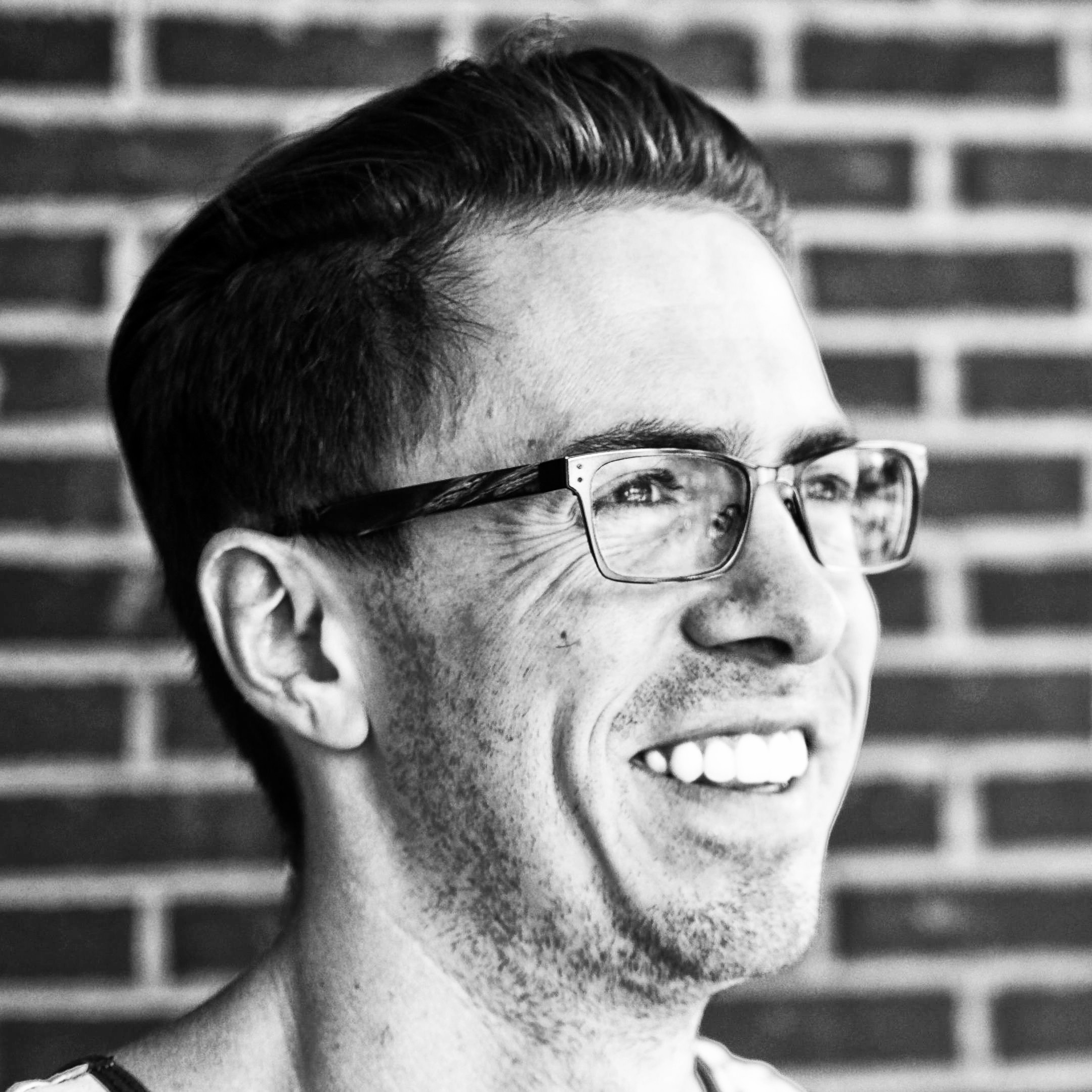 Dad-blogger. Certified nutritionist. Researcher, innovator, dreamer. Community builder, connector & networker. The perfectionist (slow as mud). The woodworker. The benefit-of-the-doubt, hypersensitive, feeler, emotron. Helper. Adventurer. The host. The "individual." Your listening ear. No friends – only the closest of brothers.
---
---