Italian Herb Spaghetti Squash with Burst Tomatoes Recipe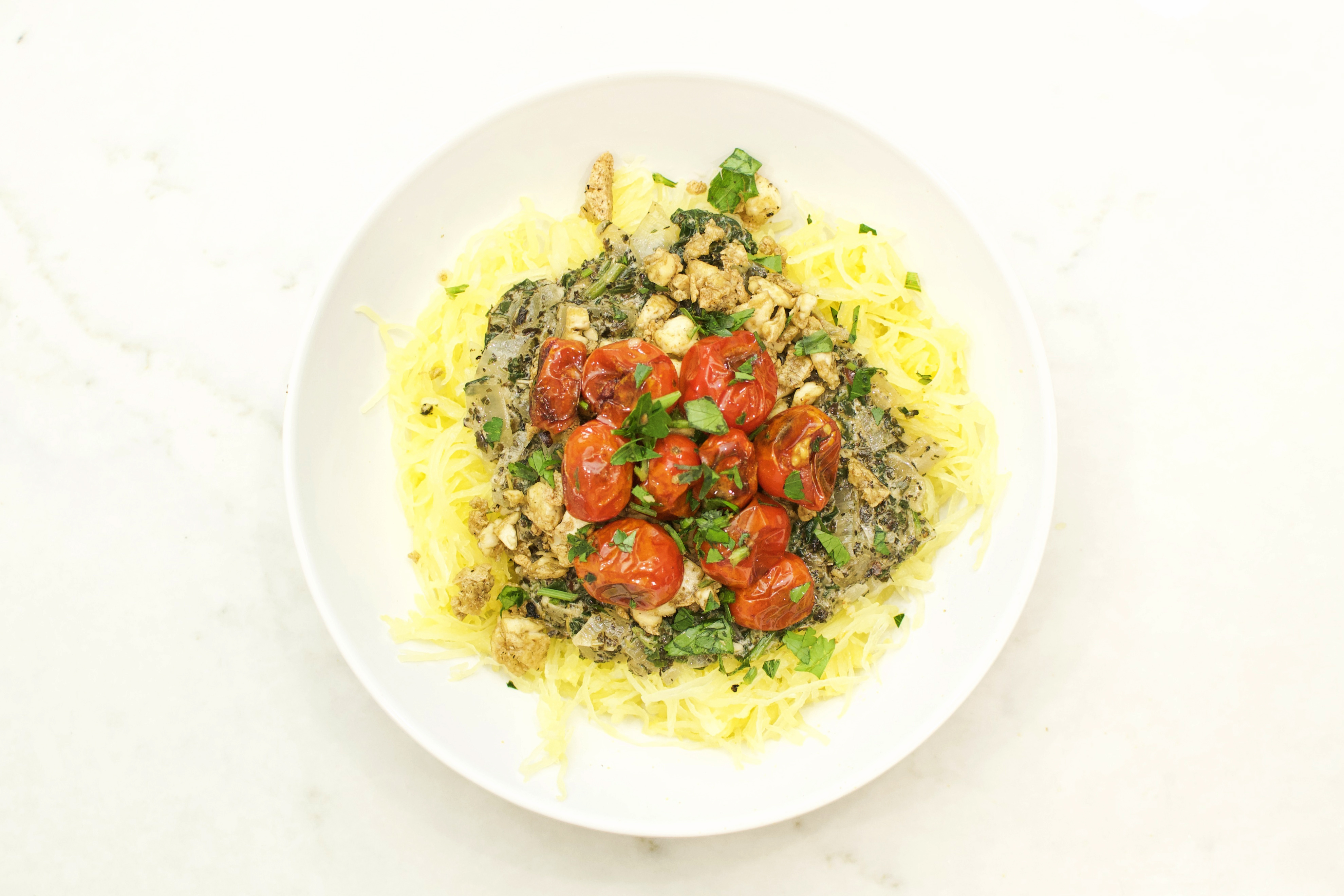 *This life-changing post may contain affiliate links, friend. Tap to learn more than you ever wanted to know.*
---
I love a good, quick weeknight dinner. We're talking a "just ran in the door from work or errand-running and my kid is screaming for food and it's 6pm and I have nothing planned for dinner" kind of quick dinner. But being a culinary diva married to a nutritionist means that it also has to be over the top delicious and somewhat healthy too. Challenge accepted!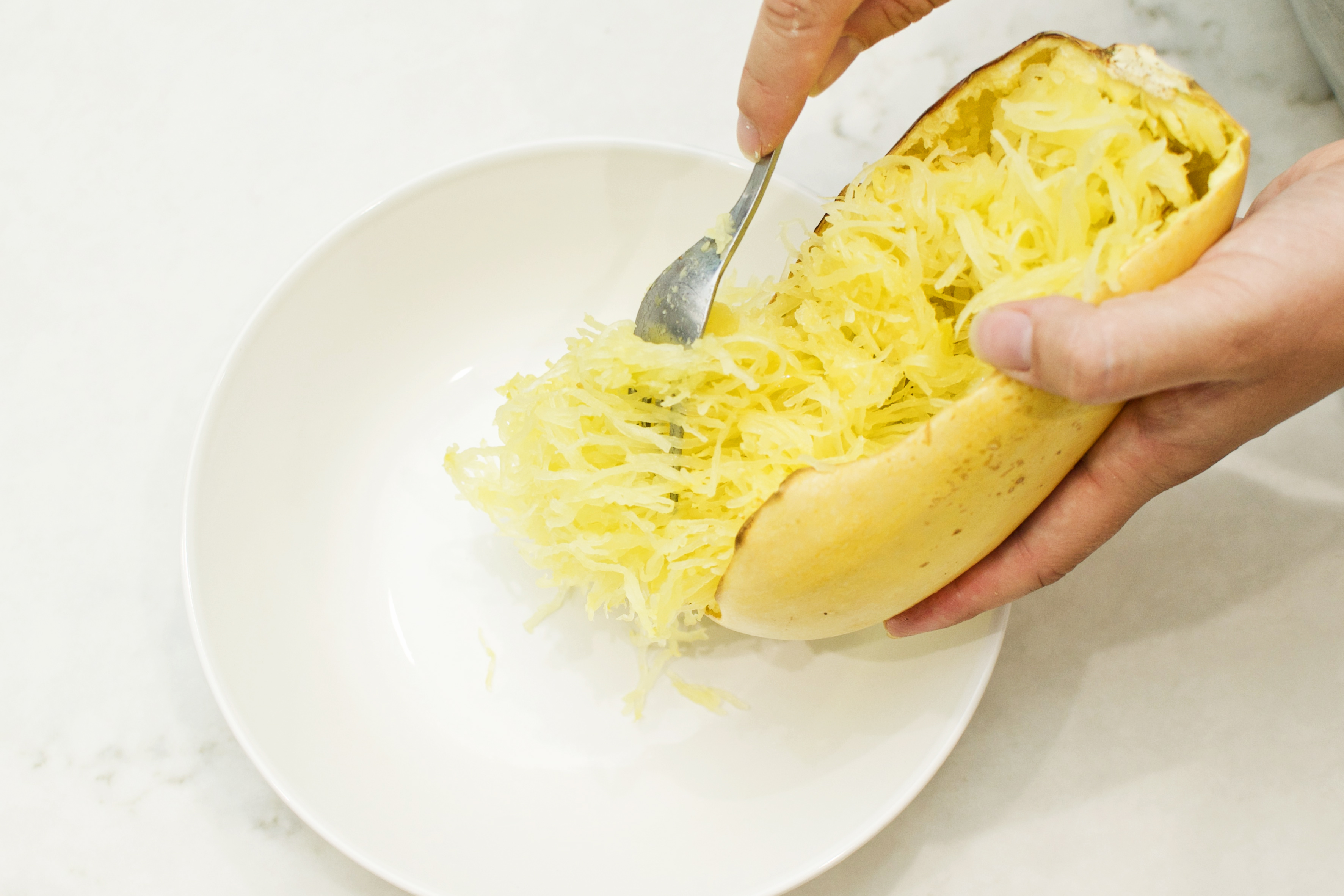 Having a few of these type of recipes on hand are crucial. In fact, I have such a passion for the last-minute dinner that I have about 20 freezer meals that I prepped before Canaan was born (over a year ago) still sitting in my deep freezer. We planned to use them for quick, no prep dinners, but haven't needed them. Banish the frozen pizza, friend. You've got this!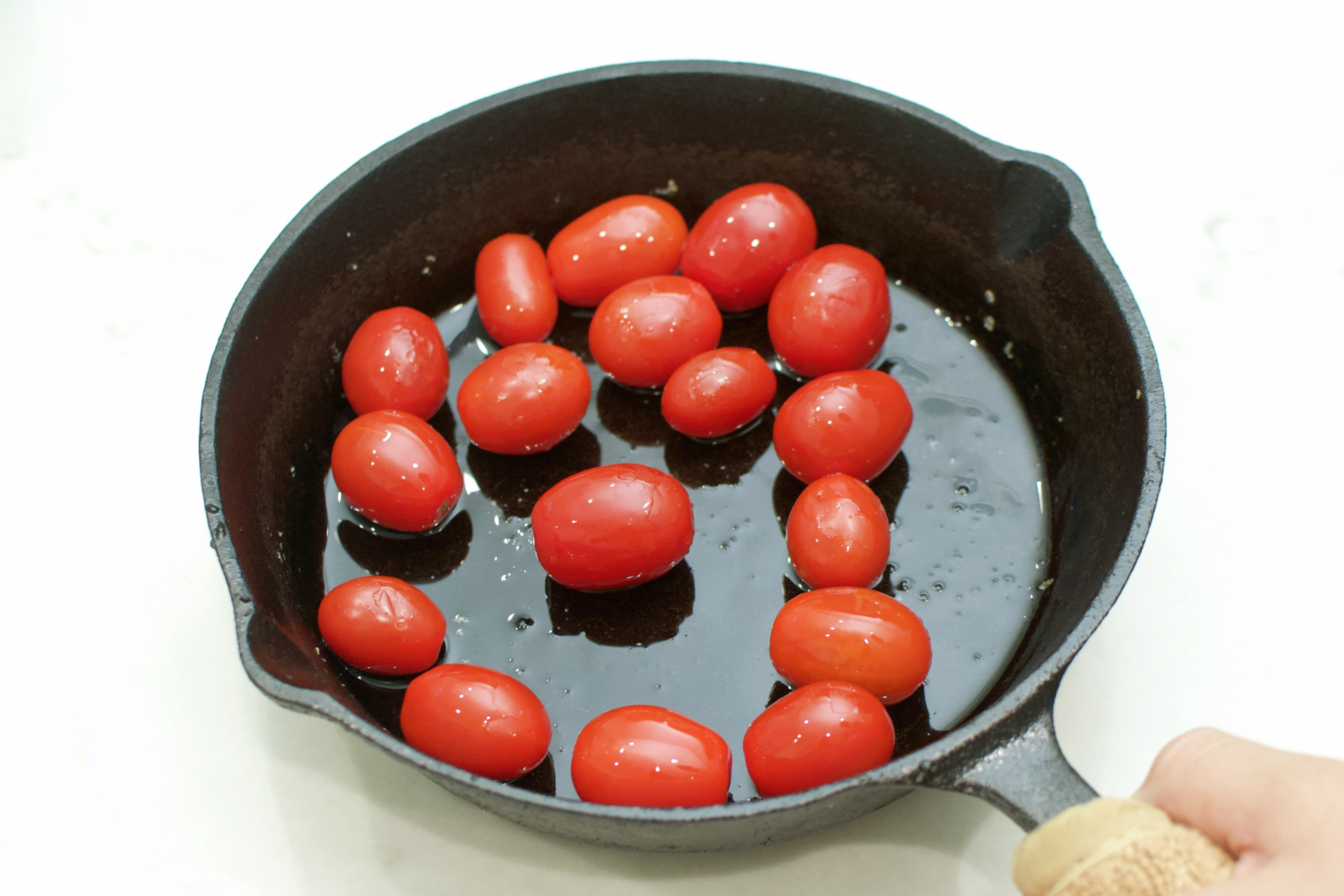 Here are my requirements. They must be:
Super quick to pull together (30 min or less).

Use mostly pantry / fridge / freezer staples I'm likely to have on hand. 

Incorporate veggie, protein and healthy carb for a balanced meal.

Be so flavorful and delicious that I'm actually excited to eat it. I would choose it even if I had more time to cook and prep (I'm not an eat-to-live kind of person).
Simply put: Quick. Yummy. Healthy.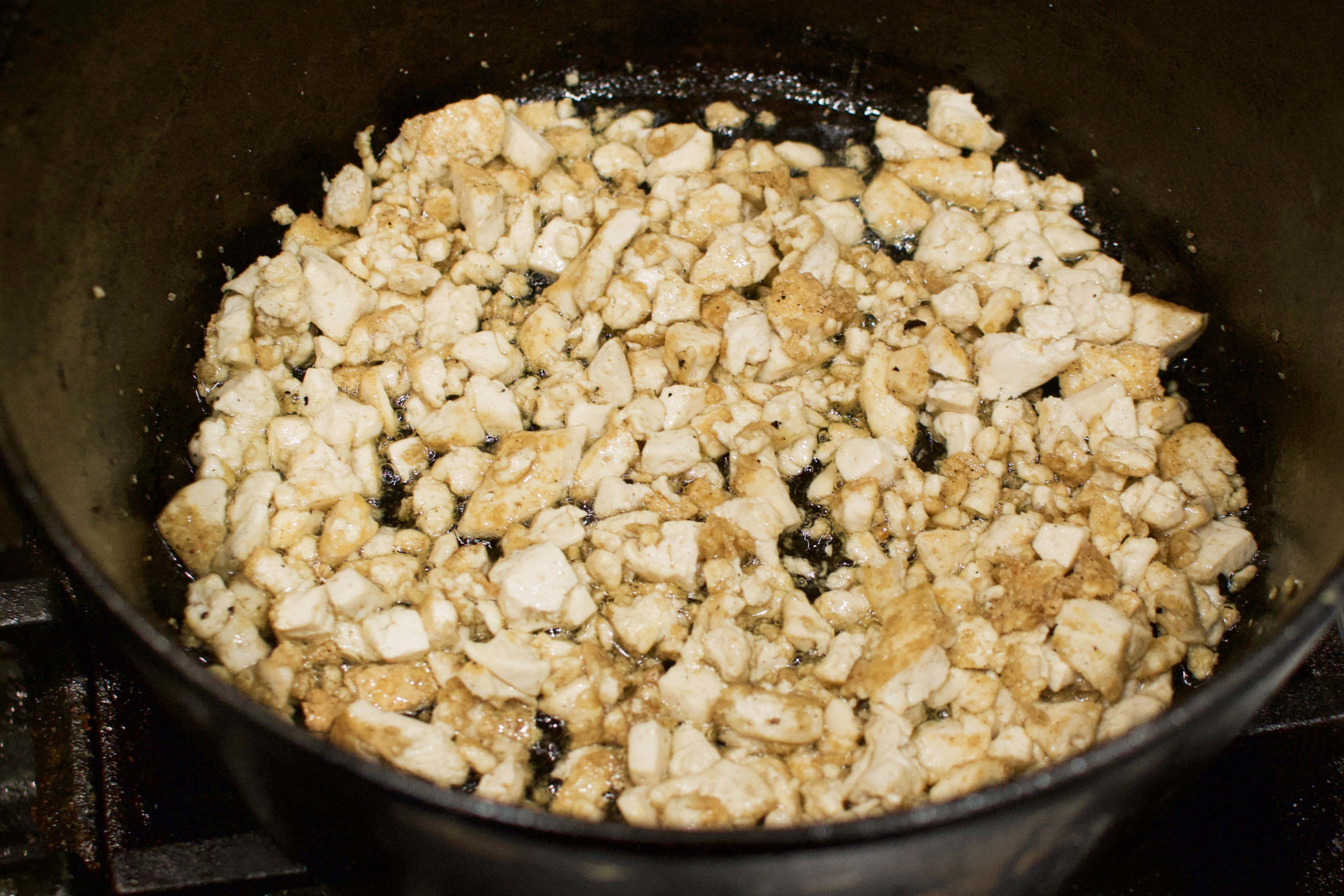 This is a favorite. All the markings of comfort food: creamy, rich, flavor-packed. Packed with veggies: spaghetti squash, spinach and tomatoes. And these burst tomatoes, y'all. They're important – they still have a bit of the freshness of raw tomatoes but the sweetness of cooked tomatoes. And they're pretty. They're just so pretty.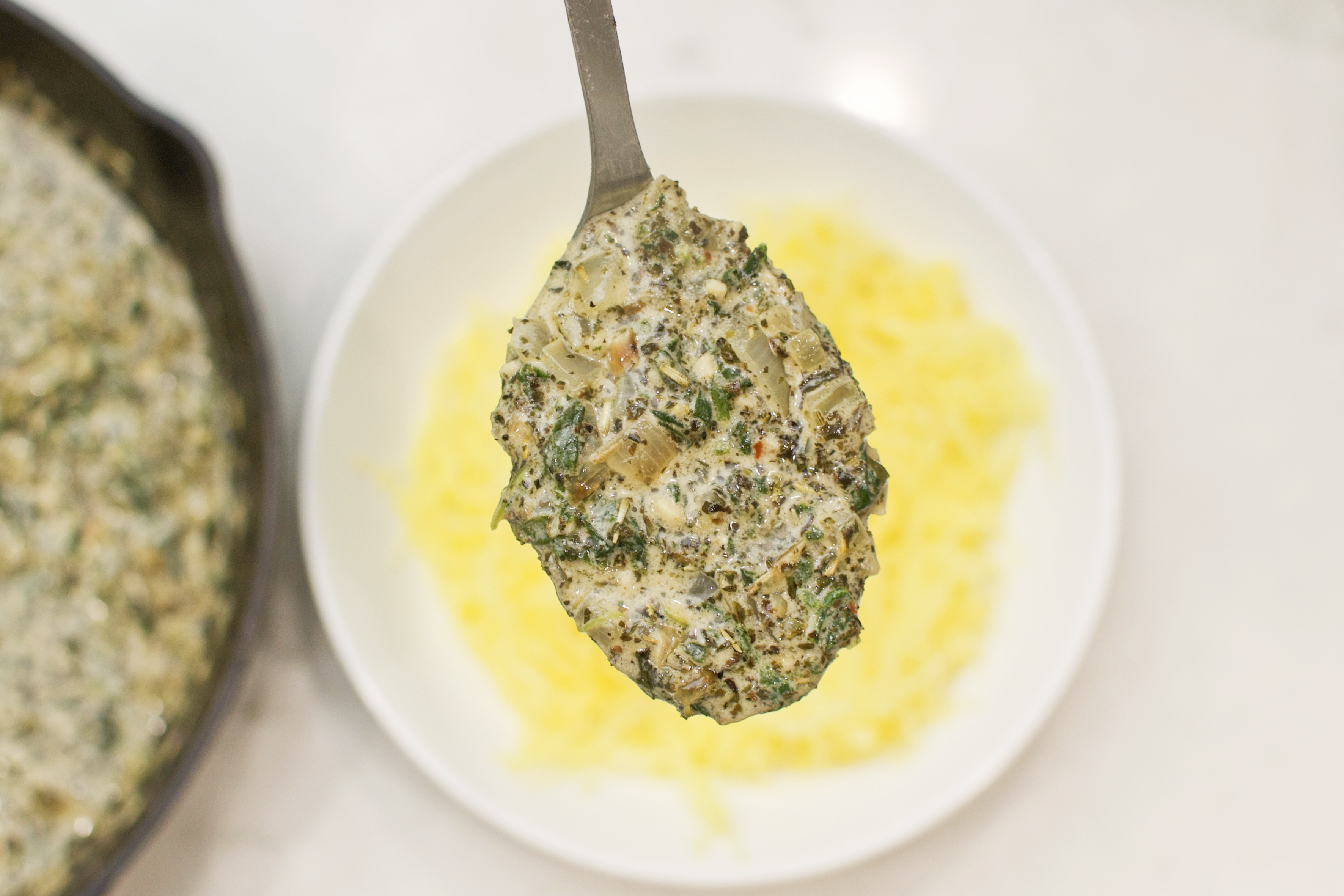 Want this meal to be even quicker? Tip: cook a few spaghetti squash over the weekend and store in a large food storage container in the fridge. Use that along with leftover meat or protein you already have on hand and this dinner comes together in about 20 minutes. Easy-peasy.
---
Chef this whole30, vegan spaghetti squash dinner recipe in 30 minutes or less. Blistered cherry tomatoes, crispy tofu, fresh basil, rosemary = flavor. Quick can be healthy AND tasty.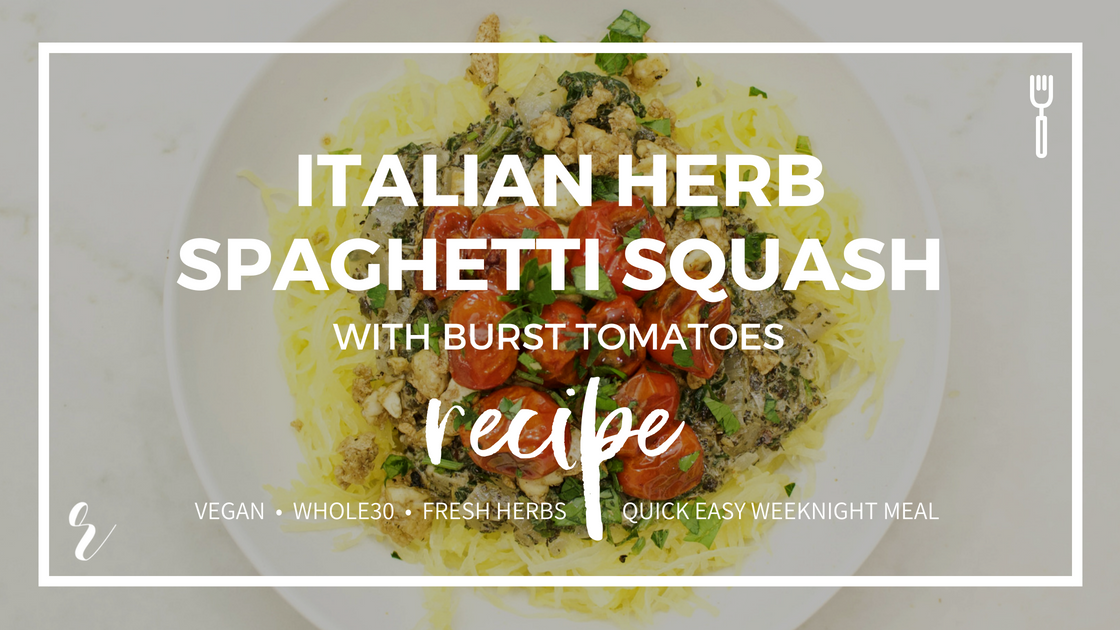 Insanely Tasty Ingredients
1 spaghetti squash (or 1 – 16 oz box of your favorite pasta. We recommend whole wheat thin spaghetti.)
2 tbsp olive oil (plus more for drizzling on the spaghetti squash)
Your choice of protein (a can of white beans, scrambled tofu, a fried egg or leftover chicken, beef or turkey are all excellent options)
Chopped fresh parsley or basil (optional: garnish)
Directions & Such
1
Preheat oven to 400ºF. Cut spaghetti squash in half lengthwise with a good, sharp knife. Scoop out the seeds, drizzle with olive oil and place on a baking sheet. Bake at 400ºF for 45-50 min or until the squash easily pulls into spaghetti-like strands when you pull the flesh with the tines of a fork. Once cooked, remove from the oven and pull all the flesh into spaghetti strands, set aside.
Pro tip: cook multiple spaghetti squash together beforehand and store in the fridge in a large food storage container. Then just start the sauce and pull your already-cooked spaghetti squash out of the fridge. HUGE time saver. You could also use regular pasta if that is more your style. Just boil according to package directions.
2
While the spaghetti squash is baking or pasta is cooking, start cooking your protein if you're not using leftovers. This is where you scramble up some tofu, fry an egg and set aside, cook chicken, beef or turkey. (Or pull leftovers out of the fridge).
3
Chop the onion, mince the garlic, chop up the parsley or basil for garnish is using.
4
Build the sauce: add the onion and 1 tbsp of the olive oil to a skillet and sauté over medium heat, stirring occasionally, about 10 minutes or until the onion is soft and starts to brown just slightly.
5
Add the garlic and sauté about 1 minute or until it is fragrant. Add in the coconut milk, frozen spinach and spices: dried basil, rosemary, parsley, crushed red pepper and salt. Stir until the spices are incorporated. Bring to a simmer and cook about 5 minutes or until the frozen spinach is thawed and incorporated and the sauce has thickened just slightly.
6
In a skillet add the cherry tomatoes and 1 tbsp of olive oil. Shake the pan to roll the tomatoes around and coat them in the oil. Cook over medium-high heat, shaking the pan every 30-60 seconds or so. You will hear the tomatoes start to sizzle and "burst". As you roll them around the pan, you'll see they are starting to get browned. Cook about 5-7 minutes, rolling the pan frequently or until tomatoes are burst and browned all over and your desired doneness.
7
Assemble: divide up spaghetti squash into bowls, top with sauce, protein, tomatoes and chopped fresh parsley or basil!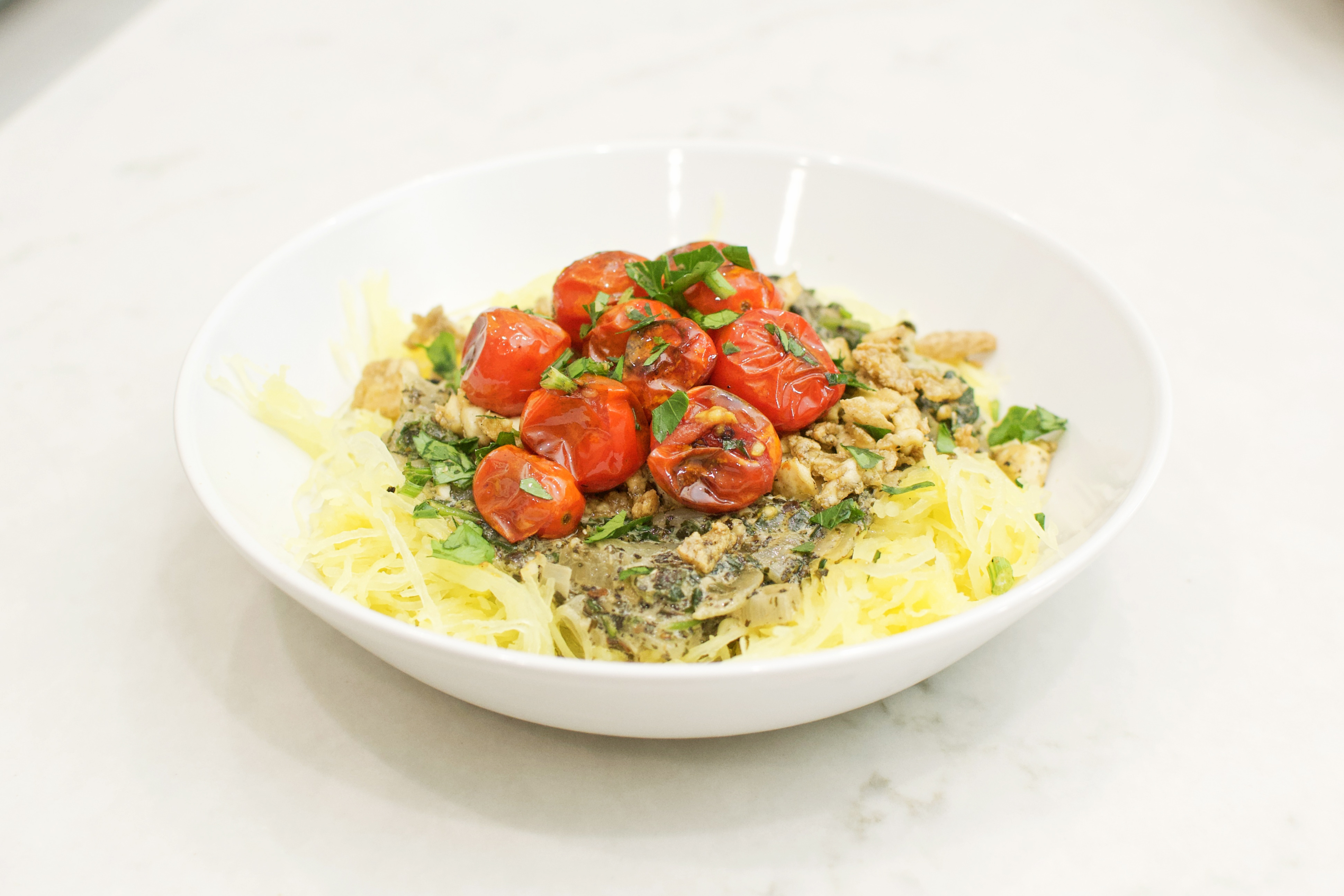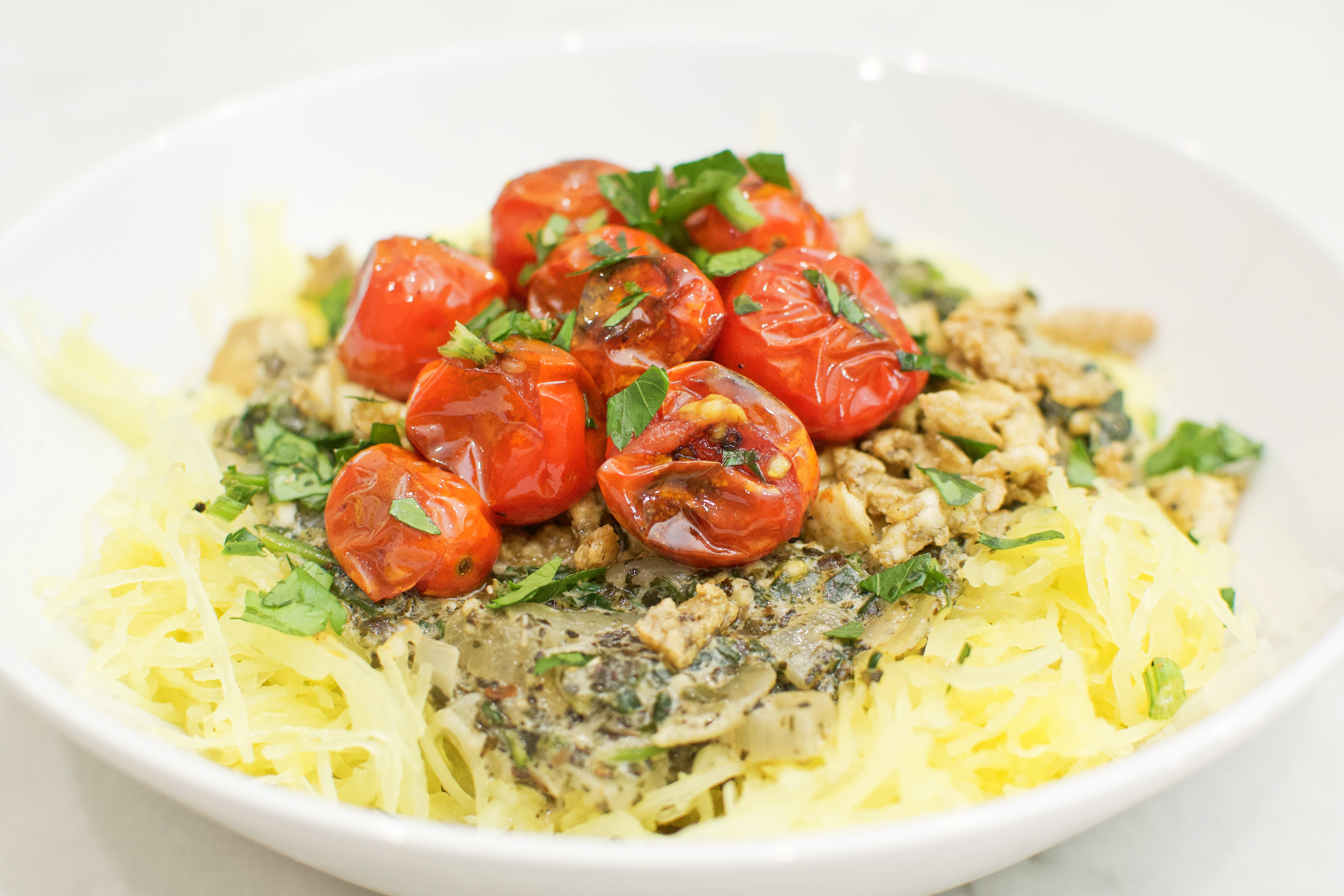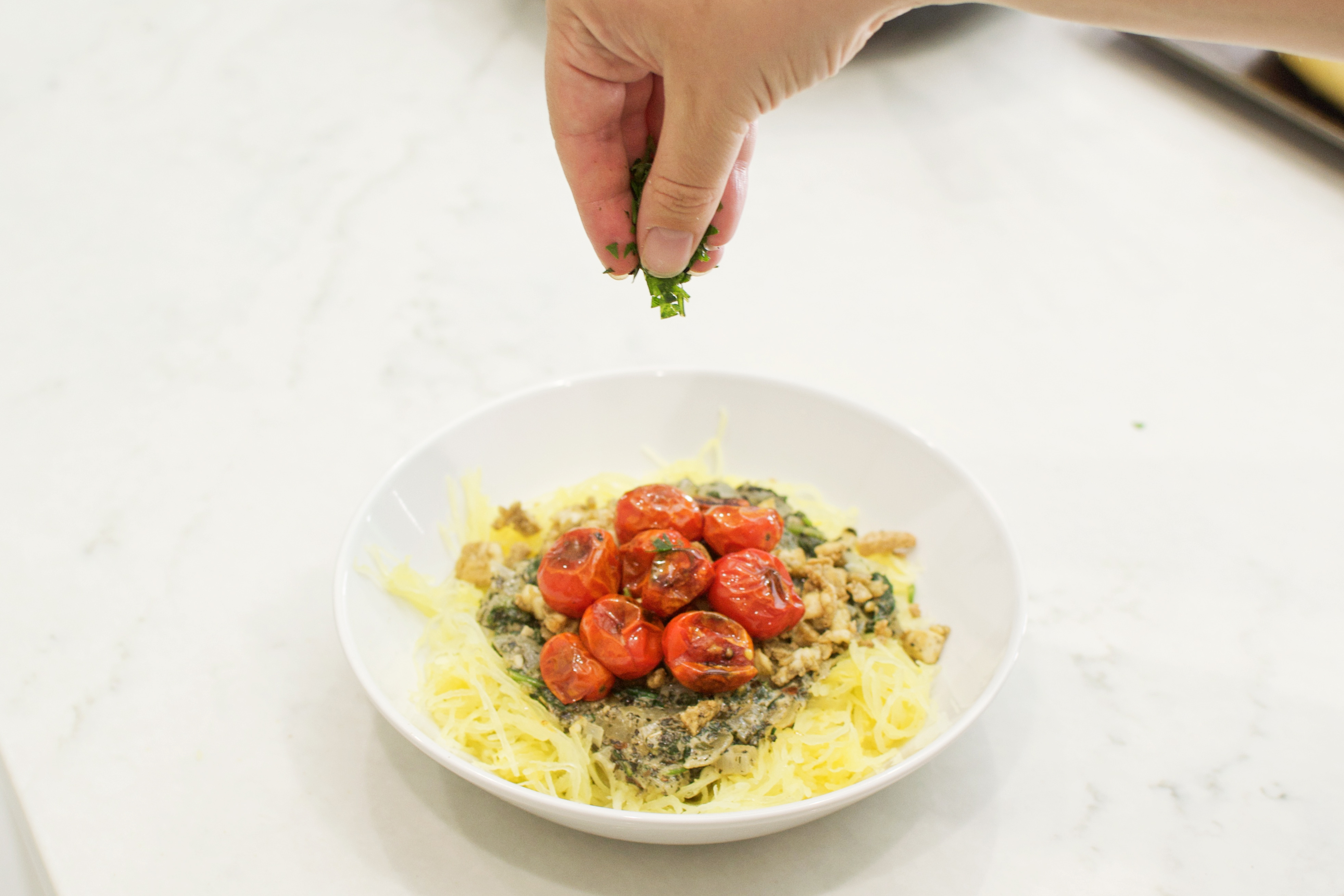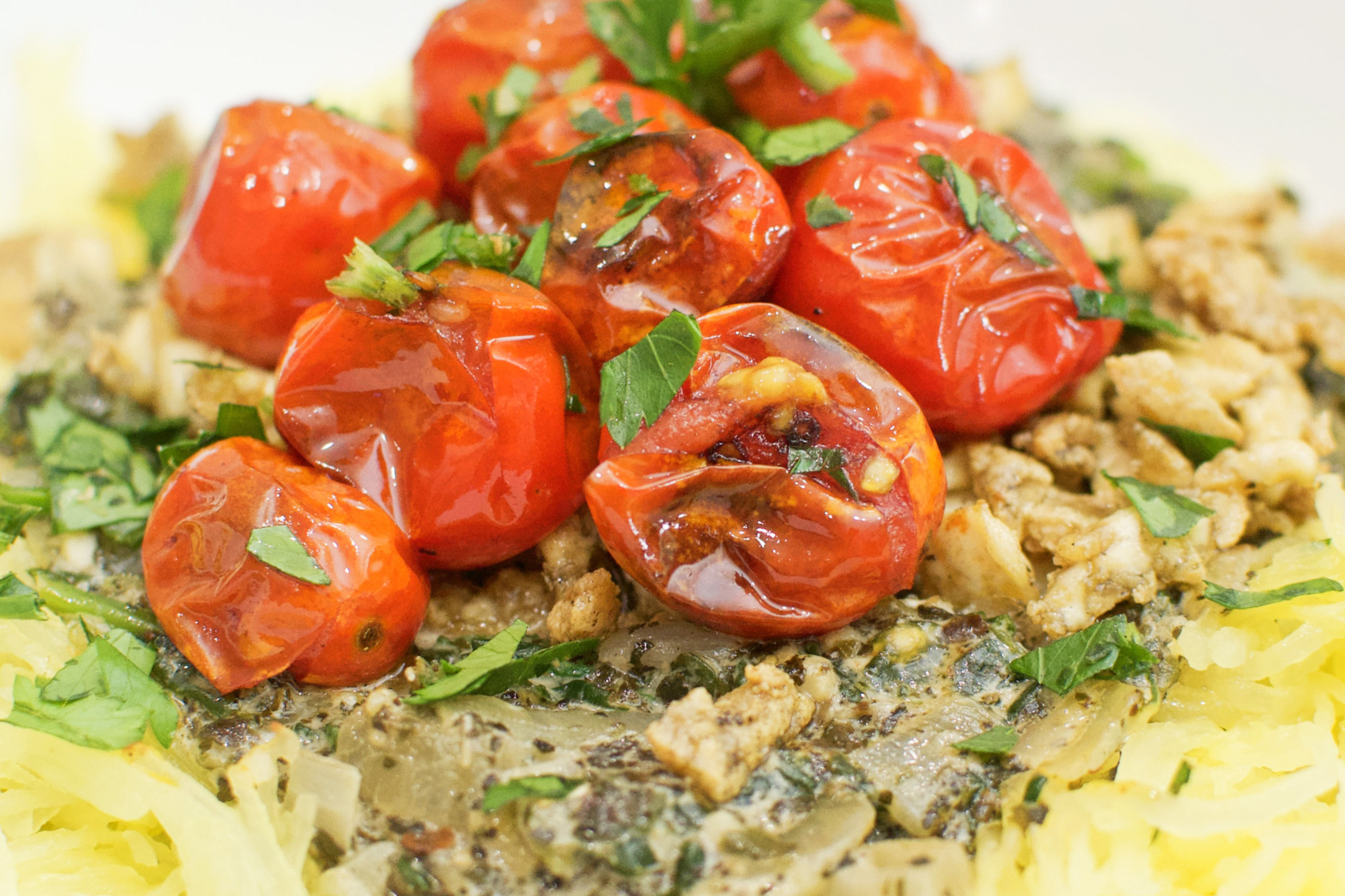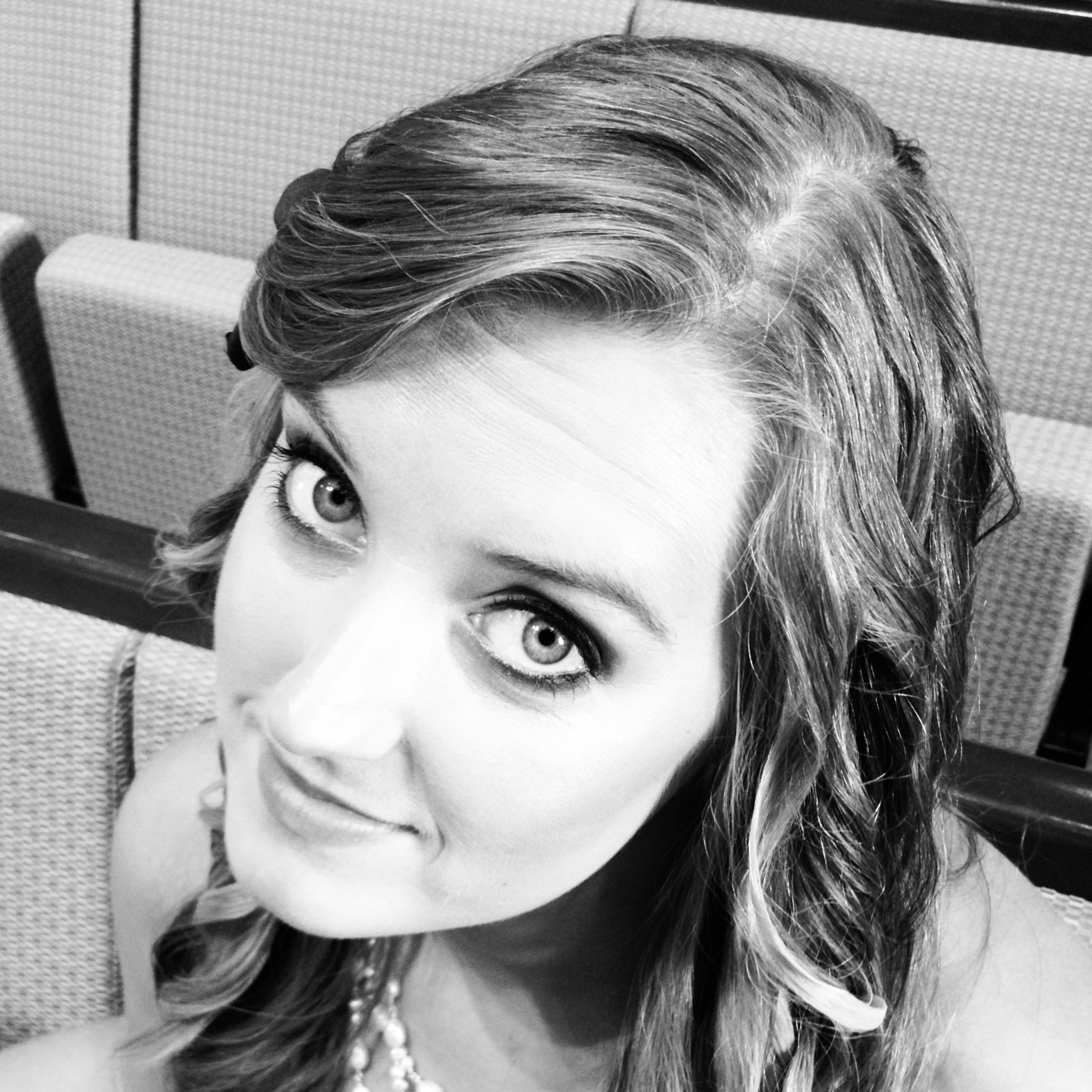 Mother-blogger (watch your mouth). Frugal Foodie. Never measured an ingredient in her life. Modern Minimalist. Hospitalitizer. The plan executor. The design eye. The sweet & salty, sugar & spice, fire & ice, no fuss, no frills, put your big girl panties on and take it like a woman. Achiever. Winner. The inclusivist. Your fierce advocate. Best friend to many. True to all.
---
---