How to Build a DIY Restoration Hardware Copycat Maison Bed Headboard | Part I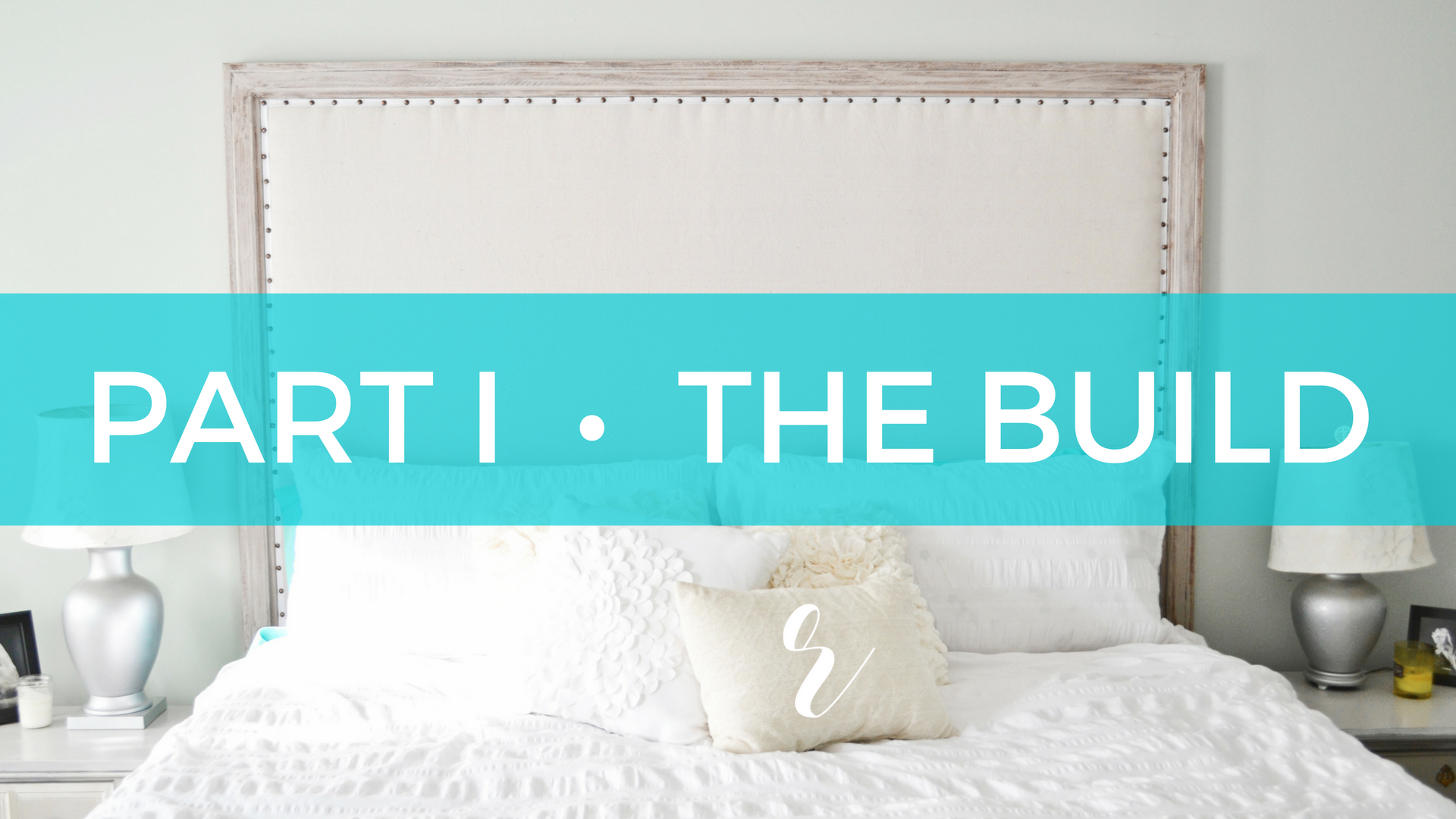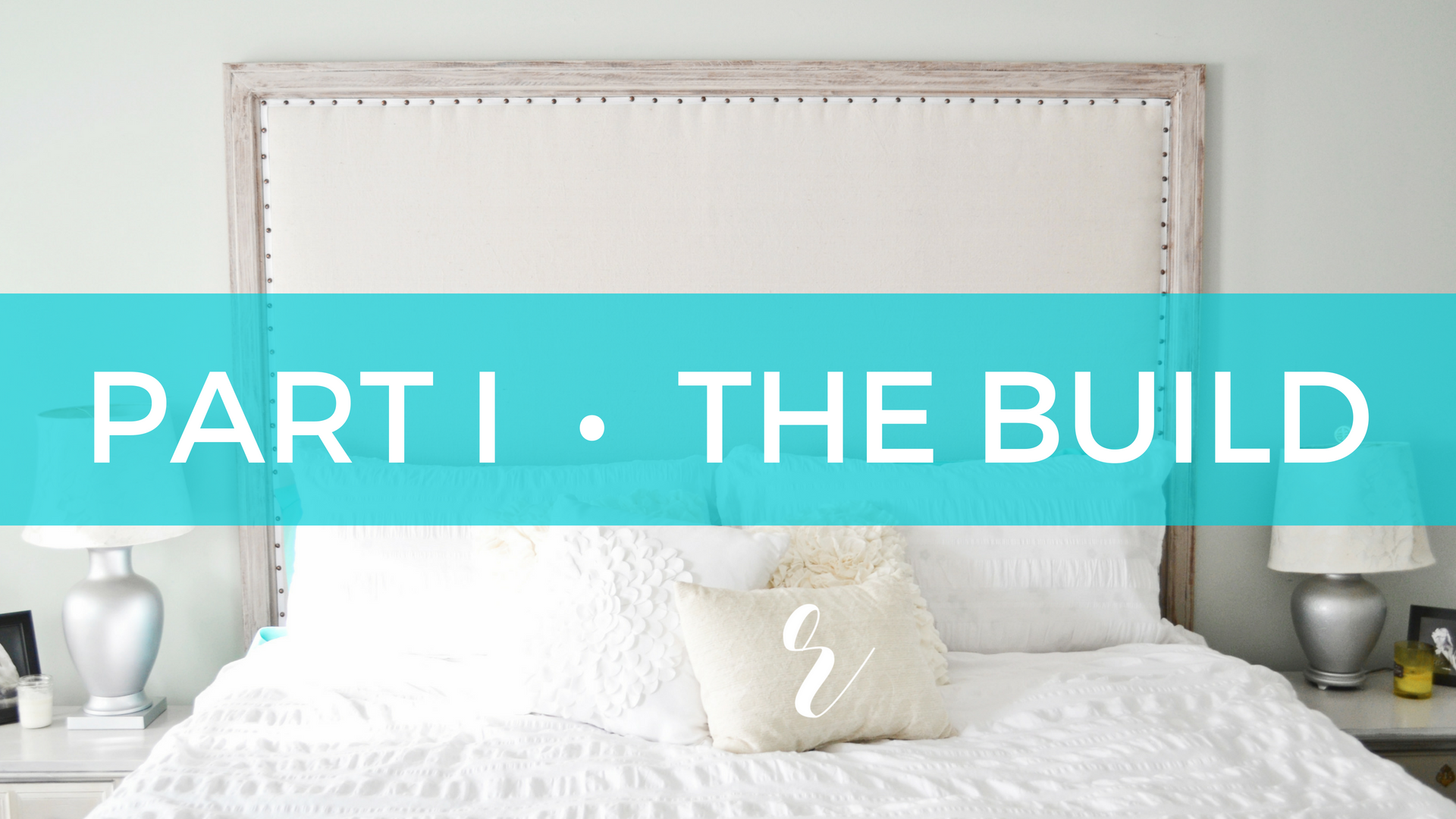 *This life-changing post may contain affiliate links, friend. Tap to learn more than you ever wanted to know.*
---
Restoration Freaking Hardware. *Sigh*. Why do you always leave needing wanting everything you see – perfectly space-planned and tastefully positioned in your own "home design studio". Better yet, outsource a Restoration Hardware design consultant to redecorate your frumptown fabrics, granny graphics & tacky trinkets with a cozy industrial chic vibe every 3 months (for seasonal relevancy). At that point you might strongly consider stoking the obsessive fire by investing in a brand new Restoration Hardware franchise down the street to allow 24-7 access, secret catnaps on the fragrant leather couches, and getting lost in the endless walls of dark, moody paintings to your melancholy heart's content.
Yet, you also want to avoid spending all your moneys and having to resort to eating ramen for the rest of your grown-upping. Alas, the discrepancy between the capitalistic dreams and the necessary capital to make them a reality. Is there a way to achieve the Restoration Hardware beauty with MUCH less cash-suck? You bet your brass there is. Pull up a wingback and we'll discuss the lucrative luxuries of the DIY game.  
What's the difference in price?
Restoration Hardware currently offers a king-size Maison Upholstered Bed in Antiqued Grey Oak for $2,595, including the bed frame and headboard. If they sold the headboard separately, I'd estimate it to be listed at at least $1,000 or more. We can make one for less than $200, including ALL materials. Ahh, I can see the sparkle in your eye. Or… uh… is that a tear of regret from overspending on trendy furniture?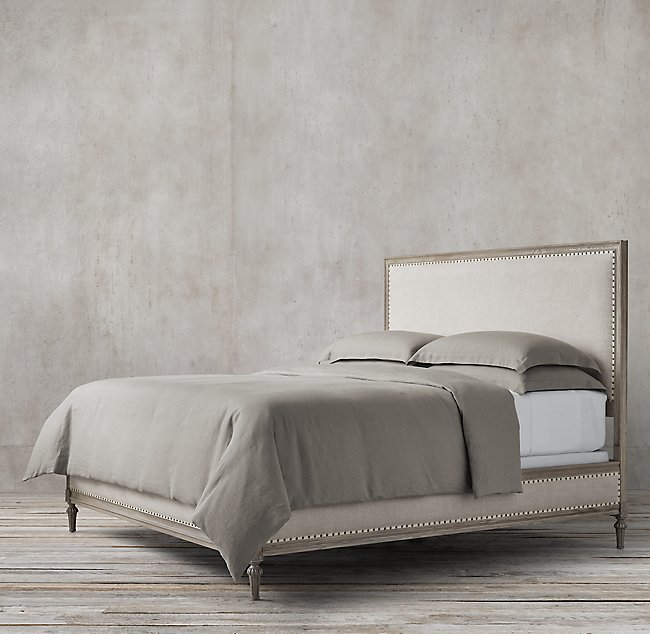 Where we got our inspiration
Liz had been eyeing this bed at Restoration Hardware for quite some time. By far, it was her favorite headboard, but our checkbook just didn't line up with our desires. We knew we had to find a way to DIY that beauty. Huge shout out to our friends at Imperfectly Imaginable for creating this fantastic Restoration Hardware headboard tutorial and Restoration Hardware headboard wood finishing tutorial! Inspired us when we needed it. And here's our creative spin on it:
How to build a rustic modern headboard
Materials
PART I – BUILD
(1) 4×8 sheet of 23/32″ thick pine plywood for $32.68.

17′ of pine cove moulding at $0.85 per linear foot, totaling $14.45. (Must have no shorter than a 5', a 5' and a 7' piece).

(6) 1x2x8 common boards at $2.42 each. (6) total is $14.52.  

(1)

11′ 9″ x 14′ 9″ canvas drop cloth at $31.98

for that cream / tan colored linen aesthetic. We only used about ⅓ of this large size – lots of extra cloth for other projects.

Warm & white cotton batting at 90″ x 108″

for $29.02.

1-1/4″ brad nails

at $4.02 for 1,000.

Construction adhesive (Liquid Nails)

, 1 tube for $2.58.

Caulk gun

for $3.97 if you don't have one.

3/8″ galvanized steel staples

at $3.22 for a pack of 1,250.
Antique brass hammered upholstery nails

at $1.30 per pack of 20. Buy (5) packs totaling $6.50 (100 nails).

White grosgrain ribbon 5/8″ wide

. 50 yard roll for $6.88.

More construction adhesive (same tube above).

Paintbrush. (Cheapest

3-pack of paintbrushes

at Depot – save the nicer brushes for coats that won't be covered in tinted wax. Not included in the budget).

(2x)

Behr Gentle Rain paint

, sample sizes, matte sheen, $3.27 each. (2) total $6.54. It's a soft gray. One for each coat.

Any brown paint you have lying around your home. Only need about a tsp.

Minwax paste finishing wax

, 16 oz. can for $14.64 (not seeing it sold online at Depot anymore).

Painter's tape

, 60 yards for $3.58.
(1) 1x4x12 dimensional lumber (pine) for $6.83. (Optional, but recommended for install as a cleat. See Part III post).

Deck screws 3″ long

, 73 for $6.93.

Deck screws 1-1/4″ long, 184 for $9.48.
Tools
PART I – BUILD
Miter saw (or) hand saw with guide. (My fave:

Dewalt 12″ double-bevel sliding miter

. Best for the price:

Ryobi 10″ sliding miter

).

Table saw

(or) circular saw. (Linked the table saw I currently use & love).

Compressor

& brad nail gun with nails (above). (Mine at home. Keep an eye out for compressor plus nail gun deals to save money).

Heavy-duty staple gun

for $18.97. Staples in the material list. To attach the cloth to the plywood.

Pencil.

Measuring tape

. (Mini-version for ease of use, 12 ft max length. Up to a

26+ ft measuring tape

to for rooms, framing, joists, etc).

(Optional, but recommended)

600 lb. trigger clamps

. Helpful for holding casing tightly in place while attaching it with nails. They don't carry my Irwin brand anymore, but Dewalt products haven't failed me yet. 300 lbs. of pressure can hold items in place, and 600 lbs. can squash them. I'd send back my 300 pounder if I could.   

(Optional)

2 saw horses

. Functions like a portable workbench.
Hammer.

– I thought hammers were all the same until I brought home one with a 20 oz. head. Beefcake. Demo'd & framed part of our master bath with this killer.

Scissors.

Needle nose pliers.

Old rags.
Impact driver (or standard cordless drill). Avoids predrilling & prevents screw head stripping with insane amounts of pulsating torque. Here's the

Rigid drill/driver kit

I bought.

Stud finder.

Level

. 12" length is a great start for shorter projects. It's magnetic & attaches to any metal you're working on for a hands-free approach.

Reuse that miter saw above to crosscut the 1×4 cleats.

Reuse that table saw above for a 45º rip of the 1×4 cleats.
Budget
Part I (build) cost = $136.44 materials + 18.97 staple gun =

$155.41
Part II (finish) cost = $38.14
Part III (install) cost = $23.24

Total project cost (part I, II & III)

=

$216.79

Total project cost (part I, II & III) for DIY regulars

=

$152.98
Note: DIY regulars should be able to subtract up to $63.81 from the total cost per standard household building materials. E.g. brad nails, construction adhesive, caulk gun, staples, wax, screws and stapler.
Step 1. To the hardware store! Away-ay-ay-ay-ay.
Snag all the materials above. Make sure to assess your tool inventory in case you need to borrow some from a friend or neighbor. If you're planning to invest in one of the power tools above, I'd highly recommend purchasing a miter saw. Other than a power drill & impact driver, my miter is my MOST used item in that category.
*Pro-tip for choosing your 1x4x12 & 1x2s: you're handcrafting furniture using dimensional lumber (e.g. pine) designed to be hidden behind drywall. Be VERY selective with every board. This only applies to your 1×4 cleat & 1×2 headboard trim in this project since plywood is pretty consistent, and cove moulding is very flexible. However, apply this mentality to all others DIY builds. Pick up the lumber, stare straight down the length of the board with face up, and then edge side up. Notice any twisting or warping or cupping or bending? Throw it back. You need this cleat to sit perfectly flat on your wall AND your headboard so it doesn't face-dive off the wall. Sort through the pile of boards until you find a relatively straight 1x4x12, and 6 straight 1x2s.
Step 2. Before you cut, measure your bed.
Our king size bed is 76″ x 80″. We added 2 inches on both sides of the mattress. The comforter flows over the sides of the bed and hides the bottom edges of the headboard ever so slightly. Do you have a king? California king @ 72″ x 84″? Queen @ 60″ x 80″? Full size for extra snuggles @ 54″ x 75″? You may want to measure your bed just in case.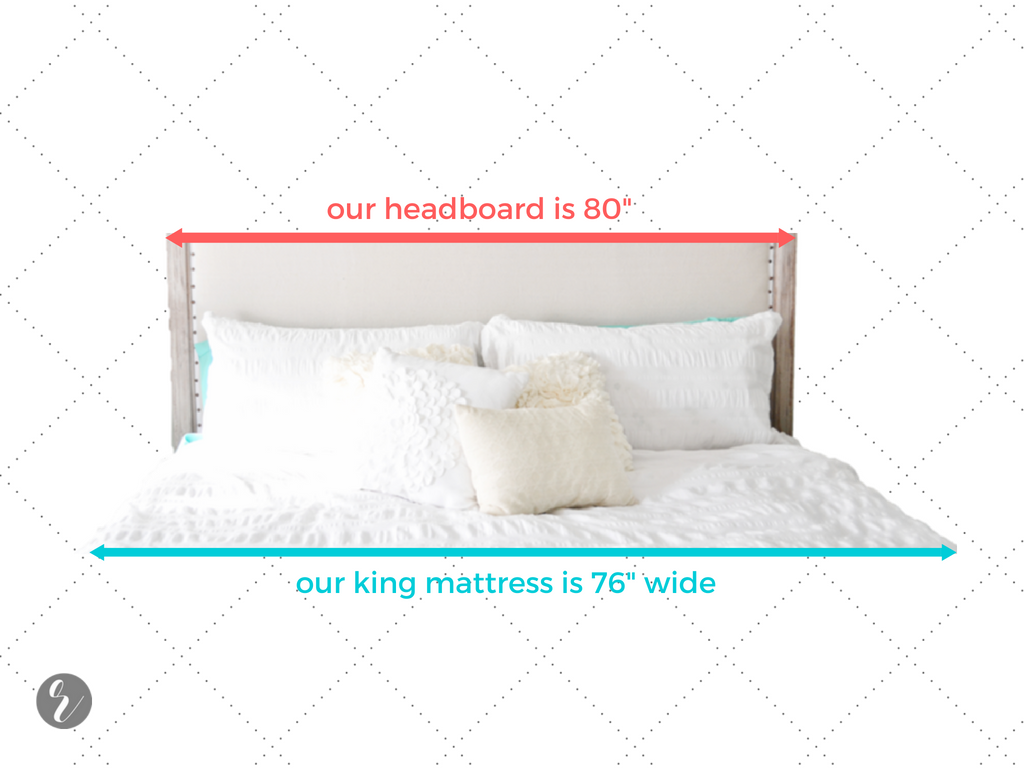 Consider dry fitting a piece of cardboard on the wall behind the bed where the headboard will be. You may choose to have more or less overhang on the sides depending on your duvet / comforter / etc. Do you have a visible bed frame or does a bed skirt cover it? If visible, do you want to match the bed frame width to the headboard width?
*Note: our measurements below allow the casing to hang over the plywood by 3/4″ on all sides. Adjust your casing cut length if overhang isn't your preference.
Step 3. Saw things.
CUT LIST – BUILD (based on our king bed)
(1) – 4′ x 8′ @ 78-1/2″ or the width of your bed (ours is 76") plus 4″ minus 1-1/2″ for a 3/4″ outer 1×2 trim on each side. Since the ply is already 4′ x 8′, you only have to cut one side.

(1) – 1×2 @ 80″– both ends 45º, non-parallel vertical cuts, longest point measurement – outer / top 1×2 trim.

(1) – 1×2 @ 78-1/2″– both ends 45º, non-parallel flat cuts, longest point measurement – inner / top 1×2 trim.

(2) – 1×2 @ 48-3/4″– one end 45º, one end 90º, non-parallel vertical cuts, longest point measurement. Outer side 1×2 trim (left & right).

(2) – 1×2 @ 48″– one end 45º, one end 90º, non-parallel flat cuts, longest point measurement. Inner side 1×2 trim (left & right). See the diagrams!

(3) – pine cove moulding pieces, cut to fit. Will roughly be 46-1/2″, another at 46-1/2″, and 75-1/2″. Measure!
(2) – 1×4 @ 48″ – 45º bevel on one long edge of each board. The "cleat".

(1) – 1×4 @ 48″ – square cuts, use the leftover piece from the 1x4x12. The "spacer".
Step 4. Headboard… ASSEMBLE
CANVAS
Lay your cut plywood on 2 saw horses for ideal access above and beneath. You could also use a table, workbench or anything else you have.

Apply a light amount of construction adhesive to the plywood for roughly even coverage. This goo will adhere the batting to the ply to ensure it doesn't move.

Double layer batting and cover the entire piece of plywood. Press down on the batting evenly to spread the construction adhesive. Consider using another scrap piece of plywood to compress batting. Wait 5-10 minutes for the adhesive to barely begin to secure the batting.

Unwrap your drop cloth canvas & cut it lengthwise to overlap the plywood by a foot on each side. Grab a pal and gently place the cloth on top of the batting without allowing it to move.

While holding the cloth against the wood, flip over the entire plywood piece. Pulling opposing ends of cloth somewhat tightly, use your heavy duty staple gun to attach the fabric to the backside of your ply. Repeat at least every couple inches until the fabric is clearly taut.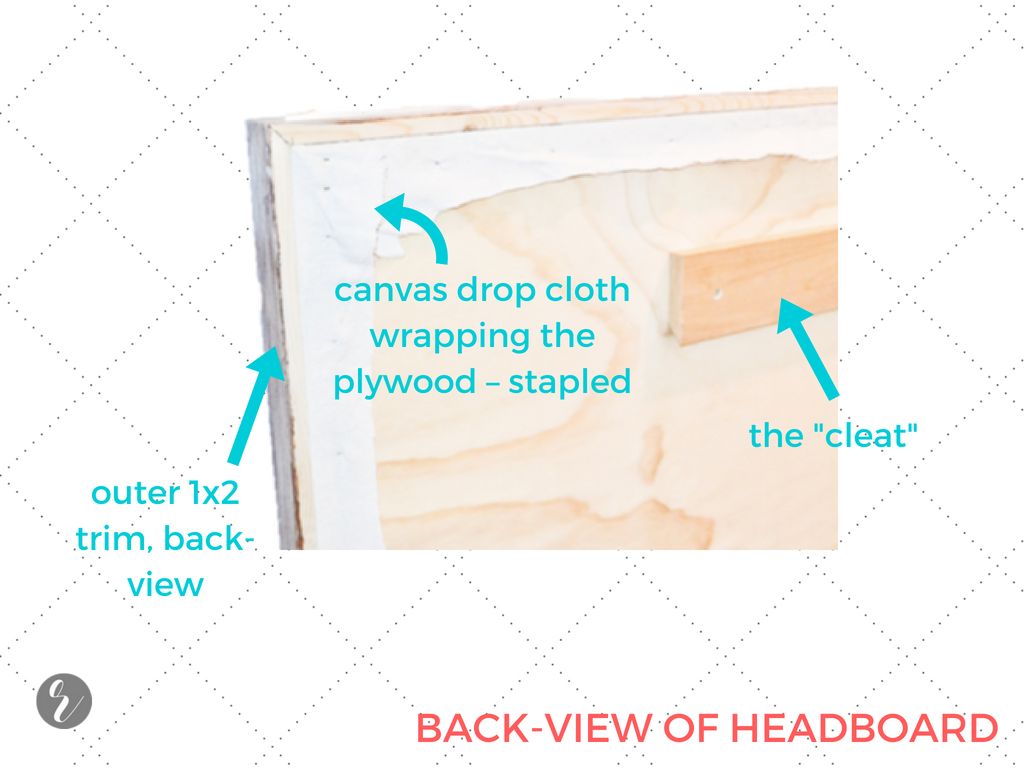 TRIM
Fire up your compressor and regulate to ~100 PSI. Apply 5 drops of air tool lubricant inside the connector piece of the nail gun. Attach the nail gun to the compressor.
Tip: always test your nail gun on 2 pieces of wood with similar thickness to the actual piece you're assembling. Is the nail head sticking out a little? Increase your regulated pressure. Is your nail head too deep and may risk poking out the other side? Decrease your regulated pressure.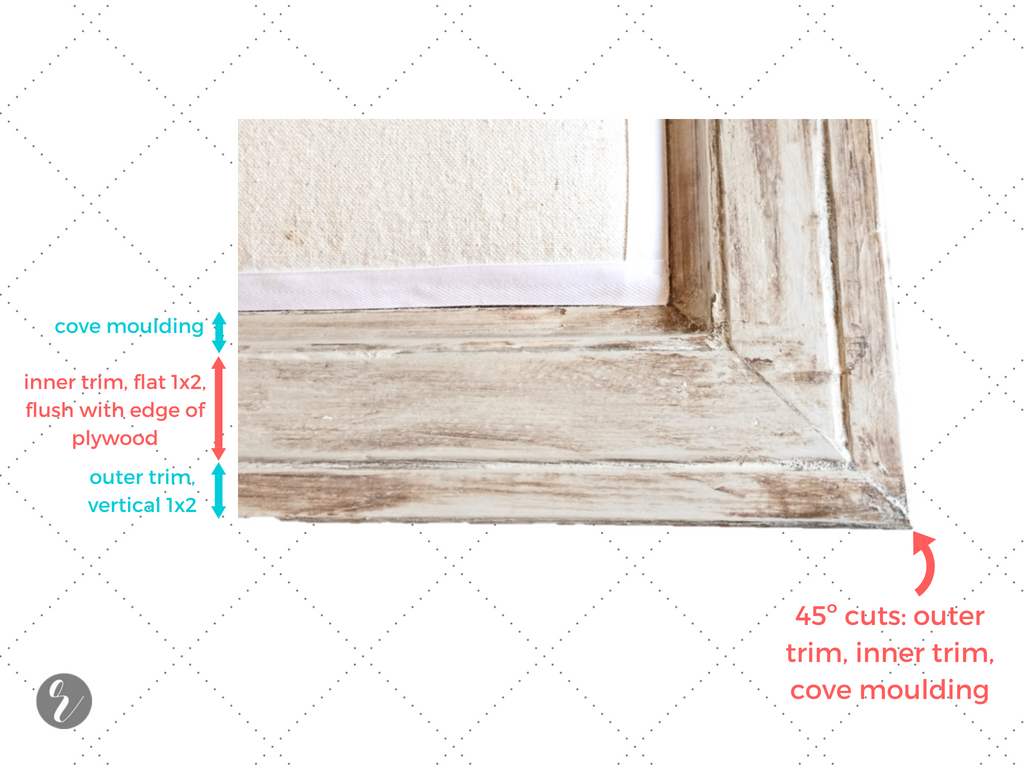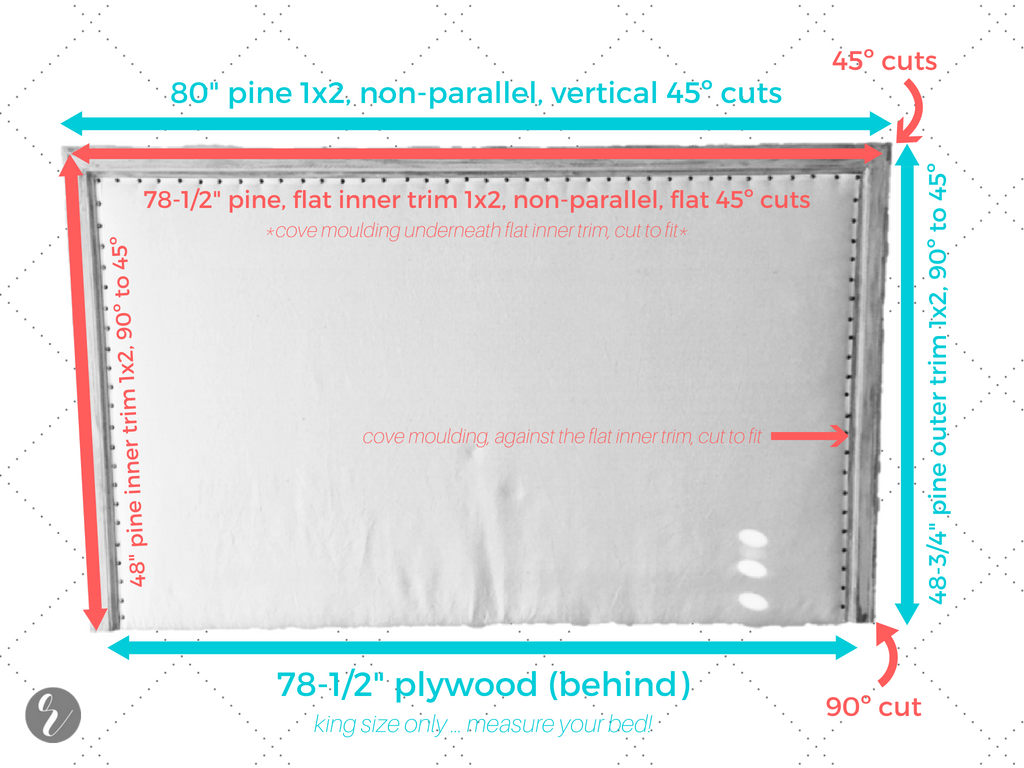 Snag your longest piece of inner 1×2 trim. With headboard face side still down, hold it up under what will be the top of the headboard, flush with the edge of the plywood. Use trigger clamps to hold the casing and compress the batting & canvas between the casing & plywood. Once it's perfectly centered, secure it with 1-1/4″ brad nails from the backside.

Repeat step #7 with the 2 side pieces of inner 1×2 trim with 90º ends flush with the bottom of the headboard (or close). Flush the inner trim with the edge of the plywood. Clamp & attach with 1-1/4″ brad nails.

Attach your longest outer 1×2 trim on the very top of the headboard with brad nails. It will perfectly cover the top of the inner 1×2 trim AND the plywood. *The inner trim 1x2s are perpendicular to the outer trim 1x2s.

Repeat step #9 with the 2 side pieces of outer 1×2 trim with 90º ends at the bottom. Make sure these cover the inner trim AND plywood.

Now for the pine cove moulding install. These go on the inside edge of the flat, inner trim pieces. (3) pieces total. Alongside the inner 1×2 trim, measure the distance between the bottom of the headboard and the top right corner where 2 inner trim pieces meet. Should be relatively close to 46-1/2″. Do the same for the left cove moulding piece (~46-1/2″), and the top cove moulding piece (~75-1/2″). Miter saw them accordingly, with the same angles as the other trim piecs: left cove is 90º to 45º, top cove is 45º to 45º, right cove is 90º to 45º. Double check these angle variants before cutting.

Nail in all (3) cove moulding pieces with 1-1/4″ brad nails. Make sure you angle your nail gun. If your gun is perpendicular to the headboard, your nails will likely poke out the back of the plywood.
*Rule of thumb integrity: when you hold a piece of wood you're going to nail gun through, ALWAYS keep your fingers a solid distance away from the entry point. 1" plus the length of the nail is a minimum. If your brad nails are 2" long, your nondominant hand should remain 3" away from the tip of the nail gun when in use. If your nail hits a knot or a piece of metal, the nail will take a 180º turn and poke right back out the face of your wood. Save yourself a trip to the ER.
Check out our post How to Finish a DIY Restoration Hardware Copycat Headboard for a step-by-step on adding paint, 2 variant applications of wax, white ribbon, nailhead trim and crucial tips and tricks in between.
Part III is titled How to Install a DIY Restoration Hardware Copycat Headboard. We'll walk you through the details of a cleat-style headboard installation. It's the quickest, easiest, safest and level(est?) approach to hanging one of these beauties.
One step closer.
You're now one step closer to having the dopest rustic modern headboard as the backdrop to your master sanctuary. Now with the $800+ you just pocketed in design savings, you should hire a butler to promptly deliver fresh-squeezed swag-juice to you every morning on a tray constructed from precipitated ego essence. Then hire a cleaning human to enable your home to look like a Restoration Hardware showroom at least 1% of the time (while the immaculator is still present). On a more rational note, you should sell your house, buy a craftsman style tiny house, furnish it completely with Restoration Hardware DIY elements, and use your exorbitant dispensable income / time / sanity to park it in Waco, Texas and befriend on your favorite HGTV couple. We'll send you off with the route details for the Magnolia Market Fixer Upper Tour of Waco so you can sophisticreep with a bit more social etiquette. Apparently copycat DIYing can fulfill your dreams (or make you tabloid famous).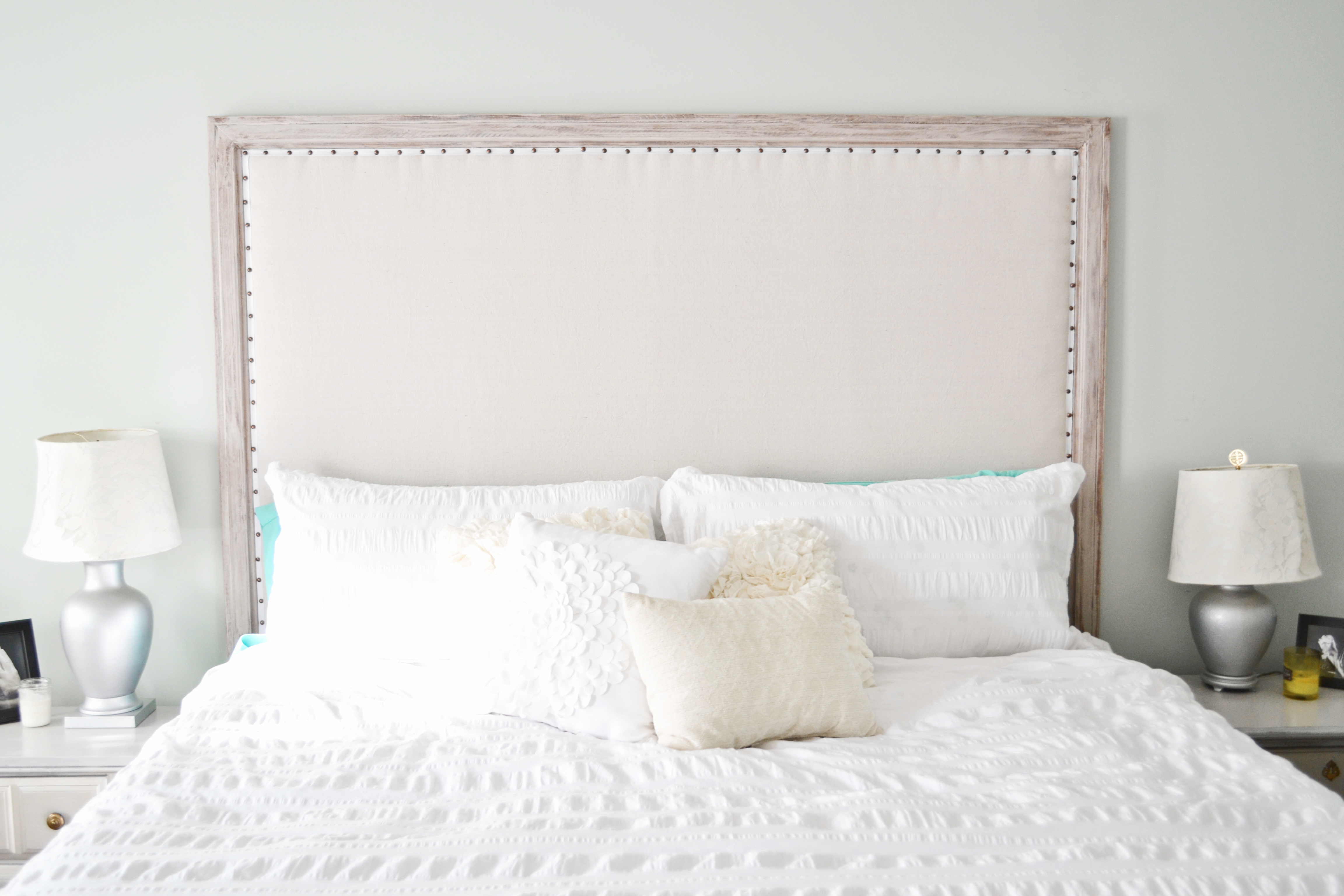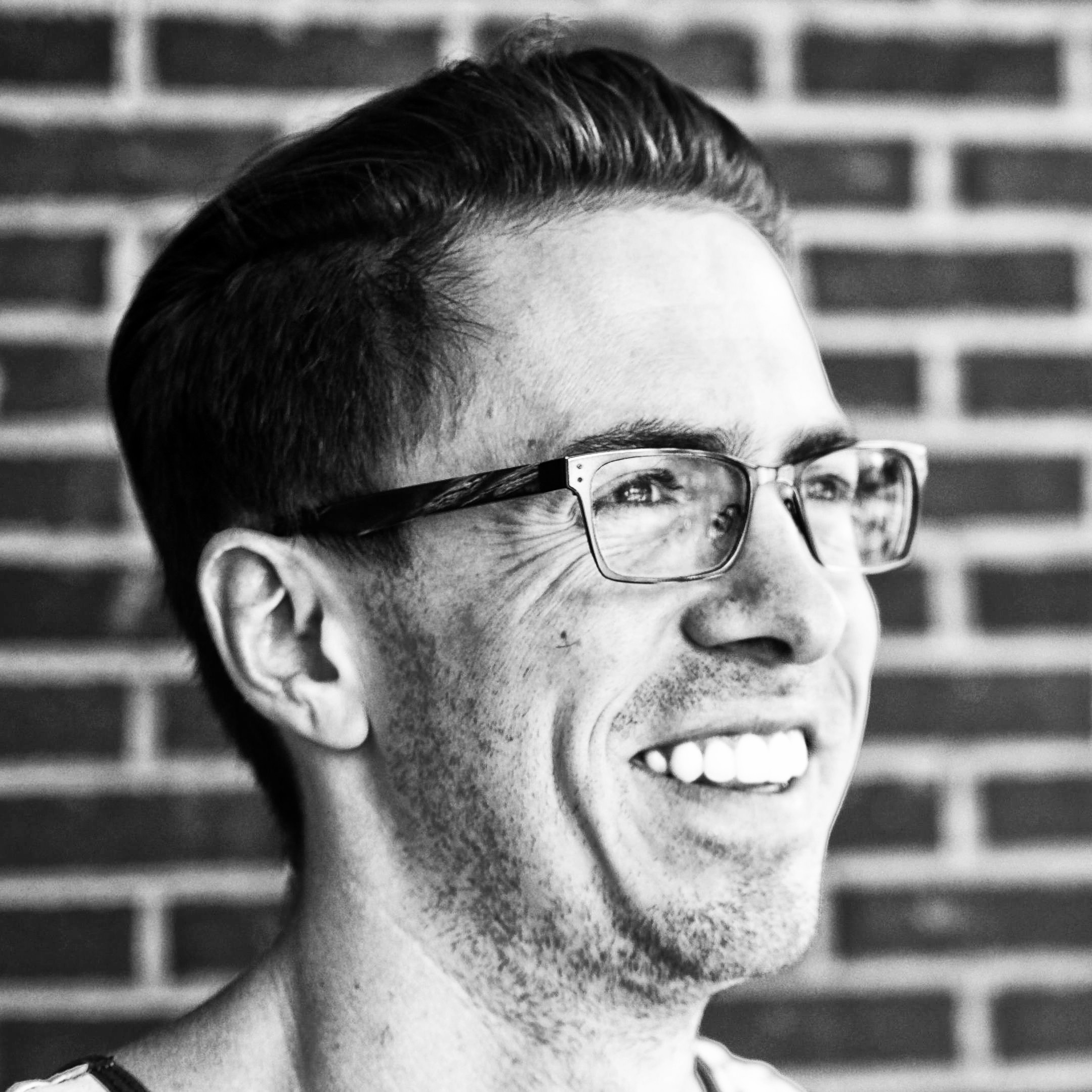 Dad-blogger. Certified nutritionist. Researcher, innovator, dreamer. Community builder, connector & networker. The perfectionist (slow as mud). The woodworker. The benefit-of-the-doubt, hypersensitive, feeler, emotron. Helper. Adventurer. The host. The "individual." Your listening ear. No friends – only the closest of brothers.
---
---